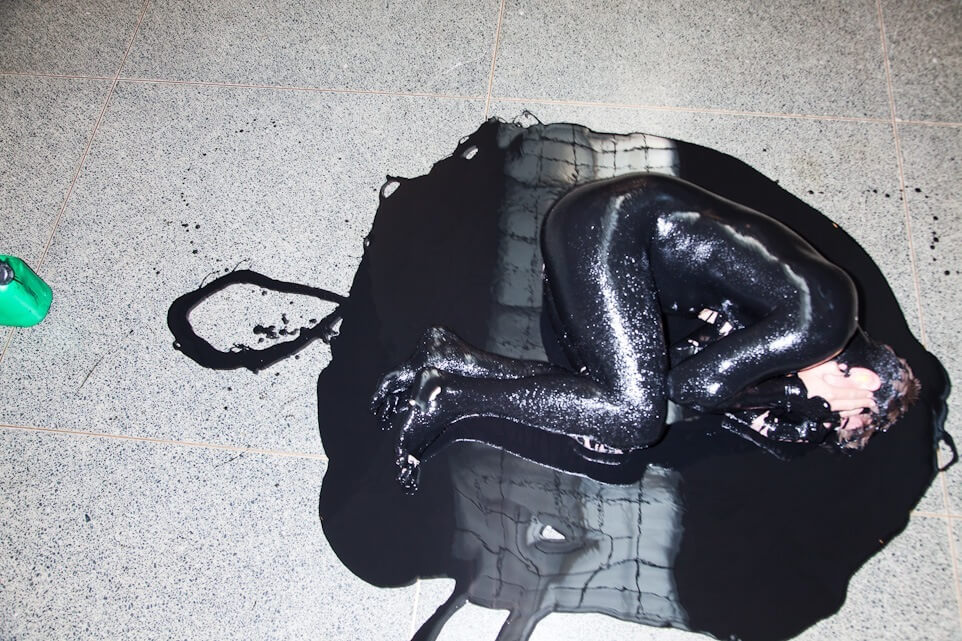 What will we remember about the oil industry in 2014? Aside from falling oil prices and ongoing debates about fracking (did you know New York state just banned it?), there are more and more signs this year that 'social licence' is becoming the industry's largest challenge (like this Canadian industry expert points out). Where would oil companies be without the consent of governments, universities, faith and art institutions? Archbishop Desmond Tutu wrote earlier this year:
People of conscience need to break their ties with corporations financing the injustice of climate change. We can, for instance, boycott events, sports teams and media programming sponsored by fossil-fuel energy companies. We can encourage more of our universities and municipalities and cultural institutions to cut their ties to the fossil-fuel industry.
This movement has grown massively in 2014. Here are the Art Not Oil coalition's 10 highlights in no particular order. They are the year's biggest hopes, wins, disappointments, and calls to action related to oil's sponsorship of culture.
Did we miss something out? Tell us in the comments.
1. Ireland's biggest traditional music festival hands back Shell's cash
Shell this year became the headline sponsor of Fleadh Cheoil na hÉireann, Ireland's biggest traditional music festival. And this alongside test drilling and gas flaring at the Corrib gas field, miles away from Rossport whose community tirelessly resisted the laying of a gas pipeline for over a decade. Campaign group Shell to Sea vowed to stage a protest at the opening of the festival, but it didn't even get to that point: the festival's organisers got the message and handed Shell's cash back. Their press release:
In keeping with the ethos of Fleadh Cheoil na hÉireann as an inclusive, community driven and family focused event and to avoid any unnecessary distractions on the eve of the festival, we have respectfully decided to return the financial support received from Shell.
2. Everything is awesome at Lego
After a series of actions by Greenpeace and millions of views to this video, Lego caved in and said it would not sign any future co-promotion contracts with Shell.
 3. High-profile divestments
The very same week, Glasgow University announced they would become the first in Europe to divest from all their holdings in fossil fuel companies. The university closely followed the Rockerfeller Brothers Fund, heirs to part of the world's largest oil fortune, and a long and growing list of other charitable, government, faith and educational institutions. Bizzarely, also the very same week the ex-head of the Science Museum Chris Rapley gave the Guardian an extended statement about how Shell's sponsorship and "very helpful inputs" for the climate change exhibition were invaluable to his museum. Huh?
4. Tate on trial for BP cover-up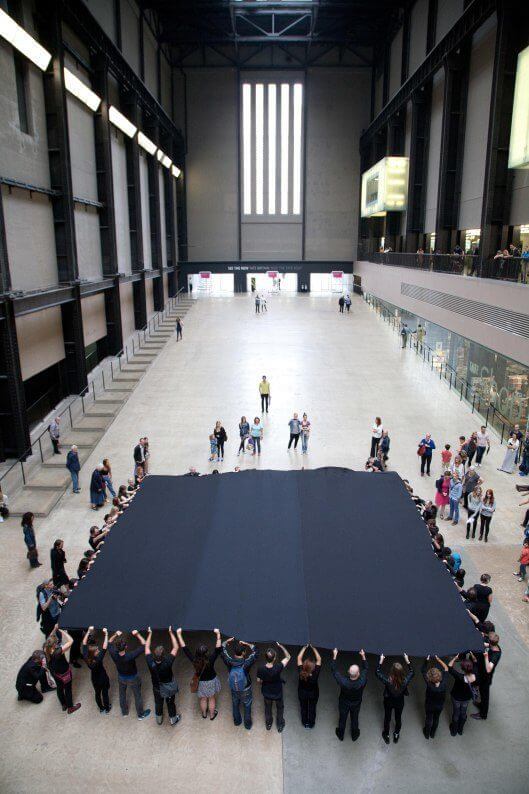 The amount of cash BP hands to Tate, British Museum, National Portrait Gallery and Royal Opera House is secret. Each of the four institutions receives £500,000 a year (based on £10m overall for 5 years), which makes for an embarrassingly small 0.5% of Tate's annual budget. But Tate refuses to disclose the exact amount as well as the details of its decision-making over the sponsorship – so we took them to court.
Drawing on Malevich's iconic painting as well as Tate's black rectangles of redactions in documents it released to us in the Freedom of Information appeals process, Liberate Tate staged a mass performance that brought a huge fabric black square into Tate's turbine hall.
The outcome of the Information Tribunal hearing should be out in the next few weeks, so watch this space.
5. Ken Saro-Wiwa remembered at Southbank as Shell concert series ends
London's Southbank Centre announced that its Shell Classic International concert series would be replaced with an International Orchestra Series, leaving Shell out of the picture! Community choir Shell Out Sounds had been staging musical interventions against Shell at the Centre – and to celebrate Shell's exit, a group of people have paid for seat K43 in the balcony of the Royal Festival Hall to be dedicated to Ken Saro-Wiwa. They explain:
By dedicating the seat to Ken Saro-Wiwa, we are both celebrating his life and the end of Shell's sponsorship. This dedication creates a tangible link to the people of the Niger Delta impacted by Shell's injustices within the Royal Festival Hall. Seat K43 also serves as a reminder for the Southbank Centre to move forward and to develop a stronger ethical funding policy that would mean Shell, and similar companies, can never return.
6. National Gallery privatises its soul to a Shell-shaped devil
…or that's the story told by an unsanctioned theatrical intervention by BP Or Not BP? that burst into the press launch of the gallery's Rembrandt exhibition.
Staff at the gallery are  facing the threat of privatisation which could see up to two-thirds of workers' roles outsourced to private companies – thus an alliance between PCS union and anti-oil campaigners is born.
7. 25th anniversary for BP Portrait Award at National Portrait Gallery 
25 performers from Art Not Oil, scattered throughout the National Portrait Gallery, simultaneously had oil poured over their faces in a dramatic protest against the gallery celebrating 25 years of sponsorship from BP.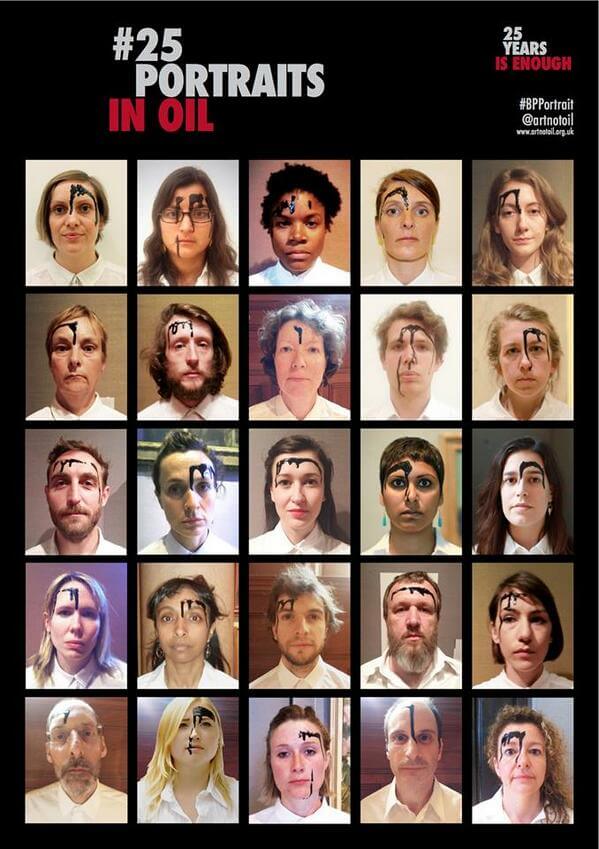 See 'Picture This' for a timeline of the 25 years, as well as commentary from artist Raoul Martinez, whose work has competed for the Portrait Award, and from Gulf Coast activists Karen Savage and Cherri Foytlin.
8. Sydney Biennale drops sponsor Transfield – company running asylum seeker detention
Over 90 artists signed a petition for all links to Transfield to be severed, and a number of artists pulled out of the show in February, saying
We make this statement in light of Transfield's expanding management of Manus Island and Nauru immigration detention centres. We act in the wake of the death of Reza Berati from inside Manus Island detention centre on February 17. We are in urgent political circumstances with a government that is stepping up their warfare on the world's most vulnerable people daily.
Two weeks later, the Biennale organisers announced all ties with Transfield would be cut. The Biennale's chairman Luca Belgiorno-Nettis, who also happened to be the chairman of Transfield Holdings, resigned. I'm thinking of you, Lord John Browne.
9. Vikings invade the British Museum and bury BP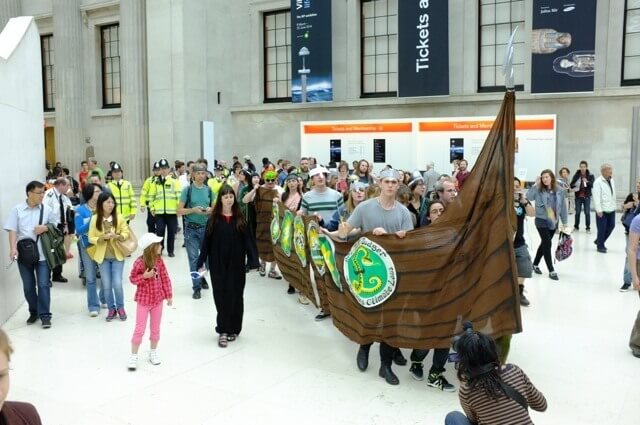 Hundreds of people invaded the British Museum to stage a Viking "flash-horde", complete with a 15-metre longship. The performance was organised by theatrical protest group BP Or Not BP? in protest at BP's sponsorship of the Museum's popular Vikings exhibition.
10. Dancers protest at Royal Opera House big screens
The Royal Opera House completes the four big BP-sponsored institutions who will be reconsidering their contracts with BP in the next two years. As we wrap up this year's review with a video from BP Out Of Opera, have a dance around your living room or office, and then don't forget to sign and share the petition calling on the four institutions to drop BP.