Last week I joined Science Unstained for a trip to the Science Museum. Science Unstained worries about the corporate sponsorship of science communication – everything from BAE's sponsorship of the unfortunately titled Big Bang Fair – an event for young scientists and engineers – to Atos designed degree courses. When they've had enough of worrying Science Unstained take action to expose how companies' use sponsorship to gain a social licence to operate – just like they use arts sponsorship for the same purpose.
Shell has a long history of inappropriate museum sponsorship deals – remember the Shell Wildlife Photographer of the Year Exhibition? All those Shell branded photos of birds dripping in oil and polar bears sat on melting ice floats. It eventually proved too much for someone and that deal was ended. Now Shell sponsor exhibitions at the Science Museum and if those exhibitions have the words 'climate change' in the title so much the better. At the moment Shell is one of principle sponsors of Atmosphere, an exhibition exploring climate science.
In addition Shell also sponsor events like last Wednesday's Fracking Quiz which took place at the Science Museum's Dana Centre as part of their Climate Changing Programme. After the controversy at this year's Meltdown festival we hoped that Shell would realise associating their name with fracking was a seriously bad idea, but it seems they're yet to get the message.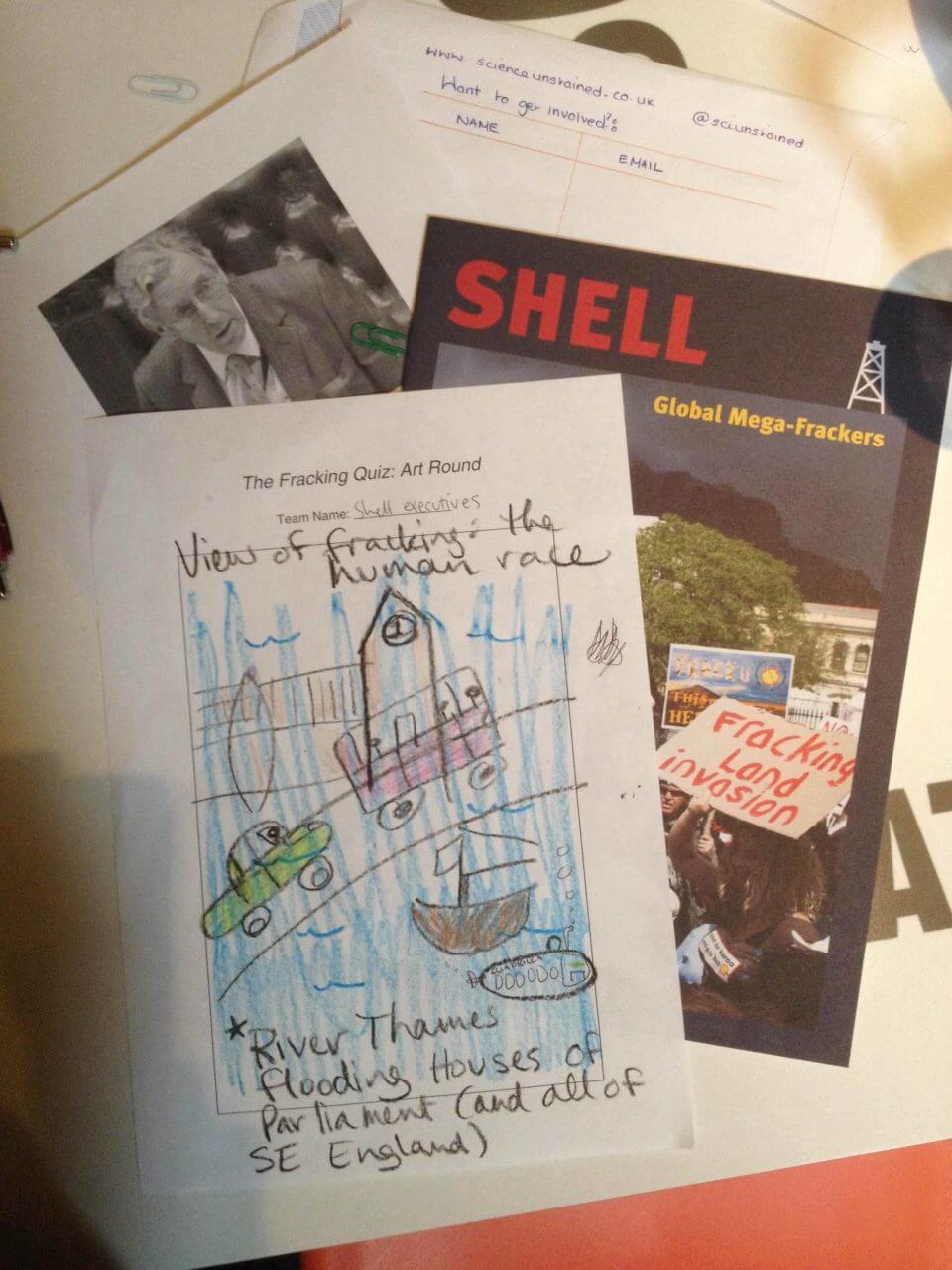 Back in June we released our report Shell Global Mega-Frackers to coincide with Yoko Ono's curation of the Southbank's Meltdown festival. Ono has been an outspoken critic of fracking, so we drew attention to how Shell, as a key sponsor of the Southbank centre, have fracked, or plan to frack in every continent of on the globe. Their operations already extend to Canada, the USA, Argentine, Algeria, Tunisia, Egypt, The Ukraine, Russia, South Africa, China and Australia. During the Meltdown festival participating artists, like the Guerilla Girls, spoke out about the attempts of oil companies to launder themselves through art sponsorship.
Shells' enthusiasm for fracking has been somewhat tempered of late. CEO Peter Voser, who is due to step down in three months, admitted recently that Shell's huge investment in Shale Gas is the biggest regret of his time at the company. Such a statement leaves serious questions about the future of fracking if it is proving unprofitable for even the largest corporations. Voser's words also demonstrate how vital subsidies, like the tax breaks offered by Osborne, are for the frackng industry .
The Fracking Quiz began, unsurprisingly, with a shout out to Shell as sponsors and then launched into a series questions to test the audience's knowledge of fracking. We formed Team 'Frack You, I won't do what you tell me' and quickly began trying to remember key fracking facts. While some of the 'experts' views on fracking were hotly contested by the audience for the most part it was light-hearted and fairly informative event. Science Unstained handed out their bonus picture round – including mug shots of Caudrilla Chairman and former BP boss John Browne and the man who alienated the desolate North-West and North-East Lord Howell .
Participant's were also given a letter from 'Shell's Greenwash Department' informing them that:
As the world's most carbon intensive oil company, emitting 84 million tonnes of carbon in 2011, which is more than the emissions of 176 countries, Shell were honoured to sponsor the Science Museum's exhibitions on climate change and events.
By the end of the night it was a dead heat between 'Frack you, I won't do what you tell me' and 'No fracking clue'. 'No Fracking Clue' eventually proved victorious as their picture of the devastating impacts of fracking beat our best artistic efforts.
The whole evening had been pretty enjoyable, but then our friend, activist AkoBari Celestine, from the Niger Delta tweeted this at us:
A massive oil spill has just been reported in Kira/Bunu Tai from an oil facility operated by sHELL, urgent response needed! @PlatformLondon

— Celestine AkpoBari (@GreatOgoni) October 9, 2013
The terrible news that the Ogoni people had suffered yet another spill on their beautiful land, was a sharp reminder of exactly why Shell need sponsorship deals with publicly respected institutions like the Science Museum and the Southbank Centre. Such associations buy Shell cheap respectability and distracts from the terrible impacts of their operations.
According to a UN report Shell already owe the people of Ogoniland $1bn to just begin the clean up, which is estimated to take at least 30 years. That UN report came out over two years ago yet there has been no action or money since. Shell is often applauded for putting money into UK cultural institutions, yet at the same time the company is avoiding paying the massive amount of money it owes the people of Ogoniland. As long as the Ogoni people are waiting for justice we'll challenge Shell whenever they try to plaster yellow and red on our art galleries, theatres or museums.