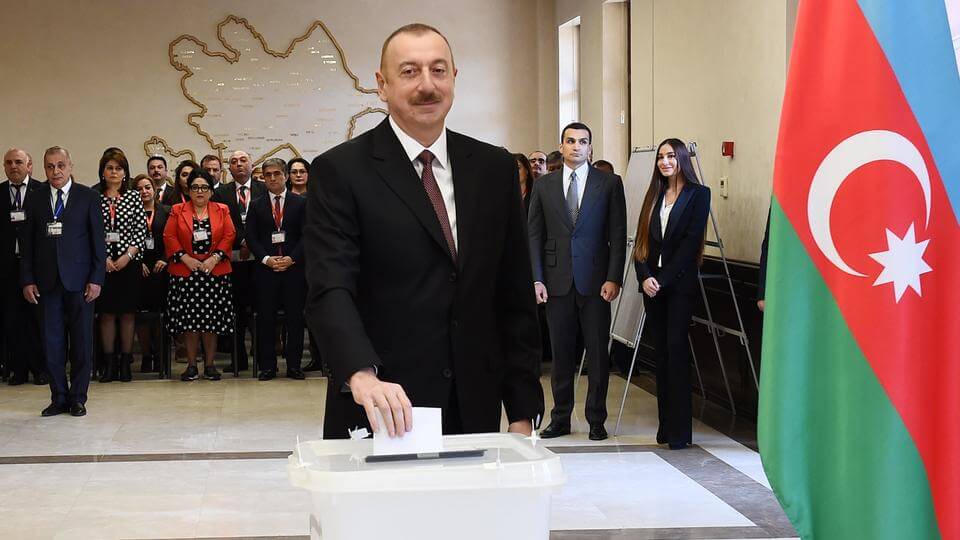 On 18th April Ilham Aliyev will be inaugurated for the fourth time as President of Azerbaijan. His re-election comes as no surprise. It is so predictable that it barely counted as 'news' and consequently got next to no coverage in the international media.
Originally the election was scheduled for 17th October, but at nine weeks notice Aliyev announced that it would be brought forward by six months without clear justification. In a similar manipulation of the constitution Aliyev used a plebiscite in September 2016 to lengthen the presidential term from five years to seven years. Earlier limitations on the number of terms in office had already been removed in 2009. Aliyev's New Azerbaijan Party (set up by his father Heydar Aliyev) has won all parliamentary elections since 2000.
Without fail the Central Election Committee officially confirmed Ilham Aliyev won 86.02% of the vote on a 74.3 turnout, and rubber stamped by the Constitutional Court on 17 April. Yet, despite Aliyev's impregnable position, there was still evidence of ballot stuffing and double voting. As with previous elections opposition parties boycotted the election to protest the restrictive legislative and political environment. Azerbaijan's most prominent opposition politician, Ilgar Mammadov, has been in jail since 2013, alongside over 140 other political prisoners
The first link in the chain that binds Azerbaijan is the Aliyev autocracy; Ilham Aliyev's complete control of the machinery of government and the constitution, as well as a marginalised political opposition.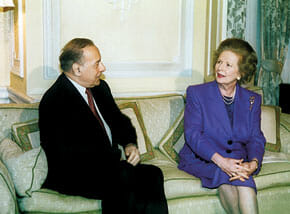 This April's election confirms Aliyev's hold on power until 2025. By then he will have been the country's autocrat for twenty years. He inherited the presidency from his father, Heydar, in 2003. When Ilham completes his new term, the Aliyevs, father and son, will have been in control of Azerbaijan almost continuously for 54 years. A year ago Ilham appointed his wife as Vice President, so the dynasty is set to continue.
Heydar Aliyev had been the communist leader of Azerbaijan when it was a state within the Soviet Union, but he lost his position when charged with corruption by President Gorbachev in 1987. By the end of 1993 Heydar Aliyev had returned to power and, partly through negotiating the ceasefire in the war with Armenia, he oversaw a period of stabilisation. This stability came at a cost: political pluralism. This trend continued under his son's regime, and has only been meekly contested at international level as Azerbaijan's oil and gas assets have been of greater interest to consuming nations. (We detail this in our book 'The Oil Road – Journeys from the Caspian Sea to The City of London'.)
Last week, one of the first international figures to congratulate Ilham Aliyev on his election victory was President Putin. Aliyev is an important ally to Russia as well as Turkey; for Azerbaijan is variously seen as a bulwark against Iran, to the south; a secure airborne supply route to US troops in Afghanistan; and an economic bridgehead for the EU into Central Asia.
The second link in the chain that binds Azerbaijan is the support given to the Aliyev clan by foreign powers.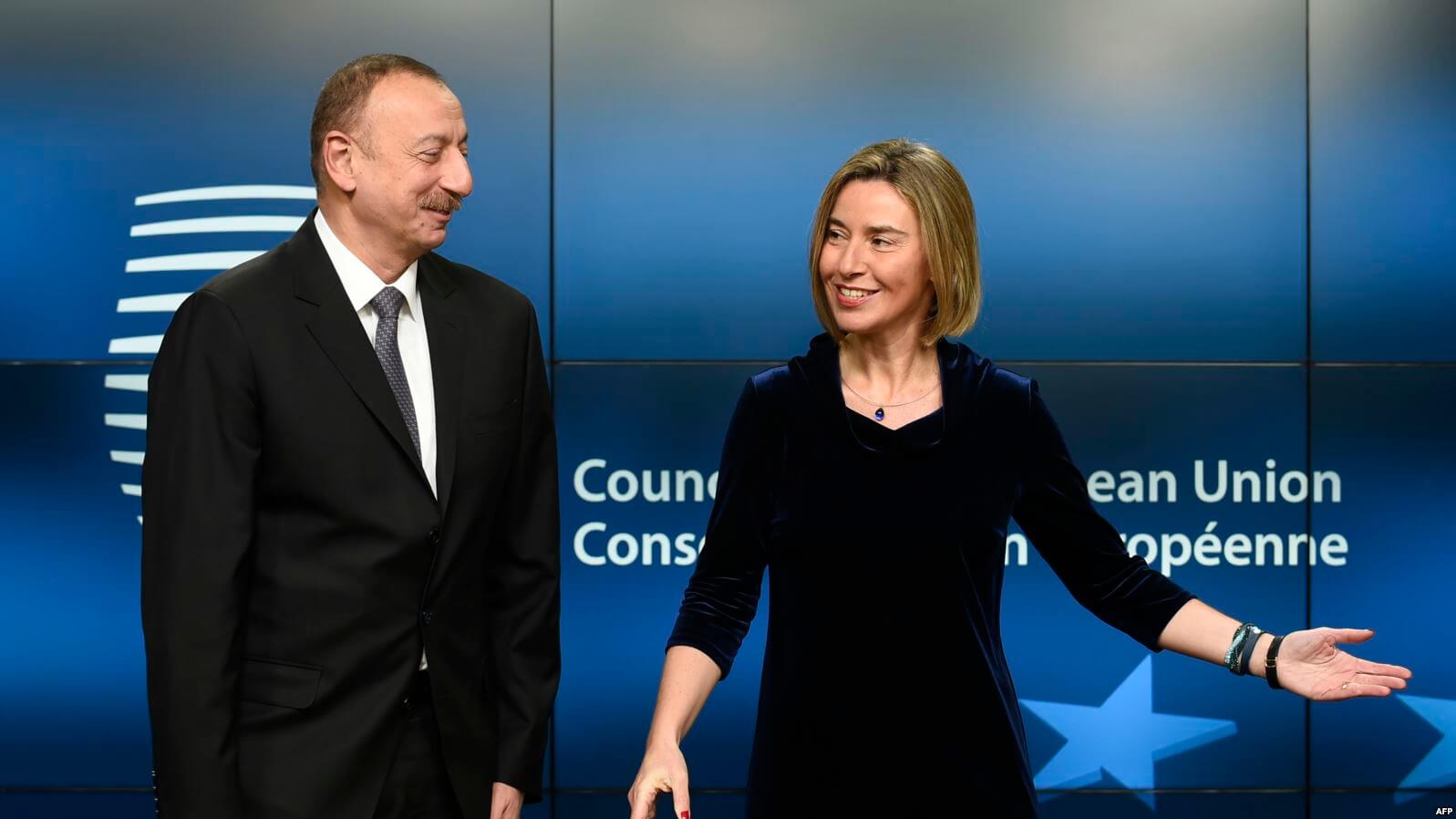 Whilst in jail, the opposition politician Illgar Mamadov managed to have a statement published on Open Democracy in January 2017 entitled 'A letter from an inmate of the Southern Gas Corridor'. In the piece he explained the 'flawed international attitudes that help keep democrats locked in the prisons of the "clever autocrats" who are, in turn, courted by retrograde forces within today's democracies'. He wrote:
'I will tell the story of how plans for a giant pipeline that would suck gas from Azerbaijan to Italy, the Southern Gas Corridor (SGC), impacts on Azerbaijan's political prisoners.'
The Southern Gas Corridor is the string of pipelines, SCPX, TANAP and TAP – better known as the Euro-Caspian Mega Pipeline – that is currently being constructed across Azerbaijan, Georgia, Turkey, Greece, Albania and Italy. The plan is that it will carry gas from the Azeri fields offshore in the Caspian Sea to the consumers of Western Europe. The European Commission has decreed that it is vital to the EU's future energy security and especially as a means of reducing member states' dependence on gas imports from Russia. (In Azerbaijan, ECMP's social, economic and environmental impacts are, unsurprisingly, not debated publicly, nor are they even part of any participatory decision-making process).
As has been continuously highlighted by an international campaign involving Re: Common, 350.Org, Bankwatch, Counter Balance, Platform and many others, this 3,500 long pipeline will drive climate change by locking the EU into gas consumption until at least 2050. Furthermore, at a time when gas consumption in Europe is falling, this massive construction has been deemed a Project of Common Interest by the EU and recently given loans amounting to €3.1 bn by the European Bank of Reconstruction and Development (EBRD) and the European Investment Bank (EIB).
So determined were EU Vice President Maros Sefcovic and Climate & Energy Commissioner Miguel Arias Canete that in July last year they wrote to Dr Werner Hoyer Director of the EIB, lobbying the supposedly independent bank to give a loan to the pipeline. Their letter declared that the project was "vital and irreplaceable" to diversify gas imports away from Russia, that the pipeline would build a "constructive alliance" with Azerbaijan, Georgia and Turkey, and that "Europe's commitment must not wane." (This attitude within the EU towards Alivey would explain why its response to the clear fraudulence of last weeks' election was so weak).
Equally striking is the apparent belief of the EIB in Azerbaijan's commitment to transparency and access to information. The bank accepted wholesale a confirmation given to the European External Action Service stating that despite its withdrawal  from the Extractive Industries Transparency Initiative (EITI) (in the face of likely expulsion), Azerbaijan "will continue to work in line with EITI principles of revenue transparency and disclose all information related to revenues received from the extractive industries to the full extent". It is clear that assessments by the lenders to the pipeline are knowingly opaque and breach  their own zero-tolerance policy against fraud and corruption.
The third link in chain that binds Azerbaijan is the ECMP gas pipeline and the European Commission's insistence on gas as being vital to the EU's future security.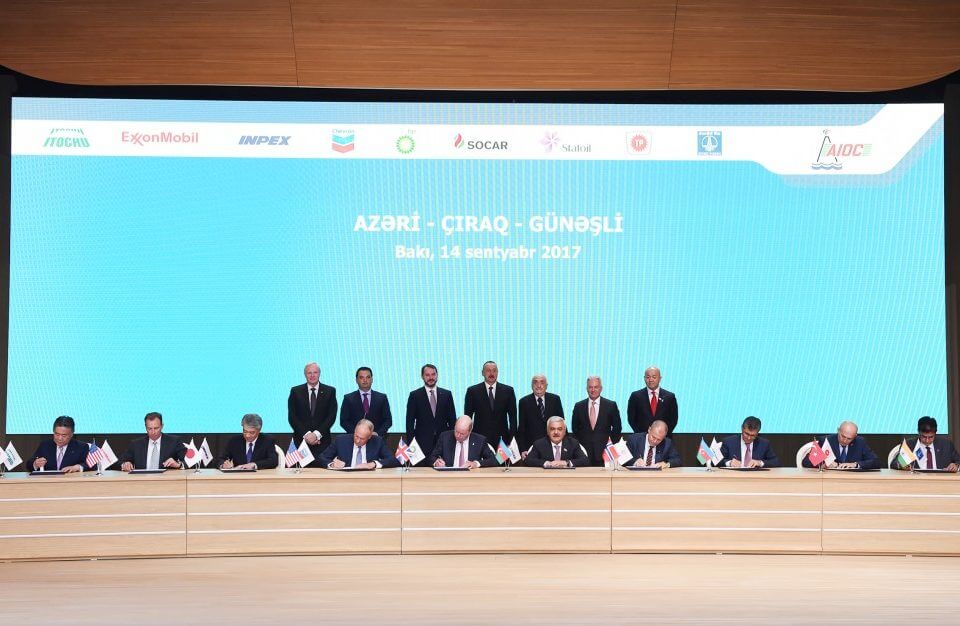 But the corporations that are building ECMP, and own either the pipeline or the gas which it will suck out of Azerbaijan, are not doing so to assist EU security, they are doing so to generate return on capital. These are private profit making companies, 'responsible to their shareholders', not to EU ministers. This is the case for BP who is the lead player in ECMP. For BP the pipeline is about securing its position in Azerbaijan over the long term. Whether or not it believes that ECMP, by itself, is profitable, it knows that it is the price to pay for its continuing access to Azeri resources. And Azerbaijan is one of BP's most important 'profit centres'.
On 14th September last year a BP led consortium and Ilham Aliyev signed a new production sharing agreement for the offshore ACG oil field. It was 23 years to the month that BP had signed the original agreement, the so-called 'Contract of the Century', in 1994 – the deal that cemented Ilham's father's grip on power. This new agreement extends to 2050. By that year Ilham will be 88. His father lived to 80, so perhaps he will still be in power? Or perhaps will have passed away and his wife will rule? There are, after all, only three more presidential elections – in 2032, 2039 and 2046 – to go through.
The fourth link in chain that binds Azerbaijan is BP's support for the Aliyev dynasty. Accepting his election victory Ilham Aliyev said "People voted for stability, security, and development." These are exactly the reasons why BP assisted Aliyev's father in coming to power. What the company needs is these three things to ensure a profitable return on its massive investments in Azerbaijan, and that is why they support 'their autocrat'.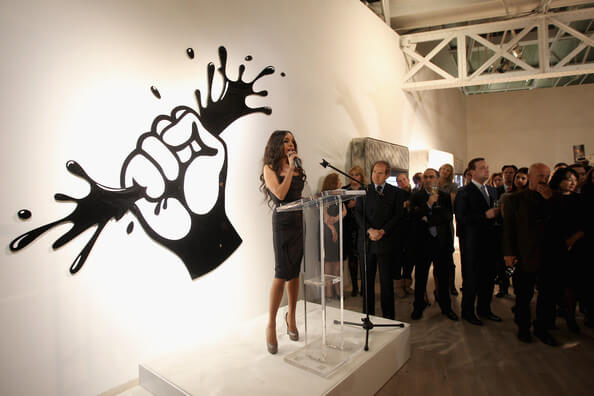 BP is a lynch pin of the Aliyev regime for it is Azerbaijan's largest foreign investor and fundamental to the production and export of oil and gas which entirely dominates the economy. The company is perfectly placed to perform the function that Aliyev requires of it, to provide revenues for the state but also to cement international alliances. Despite its name BP is (in terms of shareholders and executives) arguably a US corporation, but it is also inextricably interwoven with Russia, and arguably the Putin regime. And because of being a British institution for a century, it has had seemingly unshakeable support from Westminster, Whitehall and the British Establishment.
This interlinking of a capital concern with Aliyev's key foreign allies mirrors the behaviour of the Azeri elite. For the Aliyev clan does not stand alone, its grip on power depends upon the support of an array of other Azeri families and individuals who have amassed vast fortunes over the past two decades whilst much of the country, especially beyond Baku, has languished in poverty. Azerbaijani society has evolved along lines similar to that of Russia, becoming what many refer to as an autocratic kleptocracy.
The recent 'Azerbaijani Laundromat' investigation by The Guardian showed the extent to which fraud and corruption has propped up the current Azerbaijani regime. This £2.2bn scheme, centred in the UK and used to pay lobbyists, apologists and European politicians as well as to launder cash, ran between 2012 and 2014. On average $3m was channelled out of Azerbaijan every day.
In the past months, following the nerve agent attack in Salisbury, there has been much coverage of the presence of Russian kleptocratic money being harboured and spent in London. The same story can be told of the wealth acquired by the Azeri elite which is spent on art and property in London.
A perfect example of this connection between the UK and the Azeri ruling class is seen in Leyla Aliyeva, the President's daughter. Educated at Queen's College for Girls, Harley Street, she now owns a penthouse over looking Hyde Park and is the official editor of 'Baku' magazine, covering international art and fashion, and run out of Conde Nast near Oxford Circus in London. And to highlight the importance of culture as a means of garnering international support, her mother, the Vice President Merihban Aliyeva, is a UNESCO Goodwill Ambassador. (We detail these connections in our book 'All That Glitters – Sport, BP and Repression in Azerbaijan'.)
The fifth link in chain that binds Azerbaijan comes from the embedding of the Azeri elite into the world of British finance, property and art.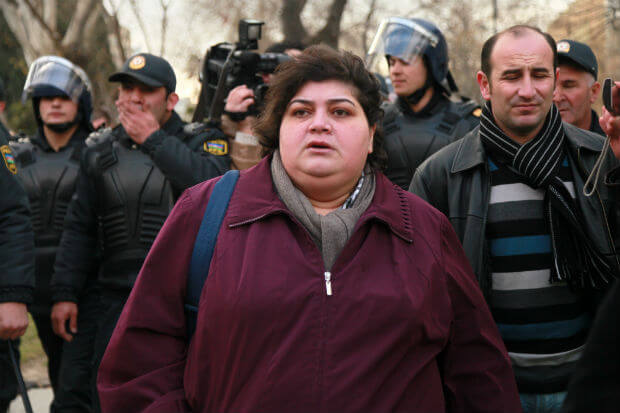 Azeri freedom, the possibility for its citizens to choose the political structures they desire rather than living in an autocracy bolstered by foreign states, is dependent on breaking these five links in the chain. This reality is well known to those who have sought to speak out against the Aliyev regime. Despite on going threats, civil society activists continue their work – they include allies and friends of ours  Rasul Jafarov, Intigam Aliyev, Emin Huseynov, Khadija Ismayilova, Leyla Yunus and Arif Yunus.
The Aliyev regime is dependent upon the sale of oil and gas. Consequently the Azeri government will do all it can to ensure that it is extracting and exporting hydrocarbons for as long as possible. Legally the ACG oil field and the ECMP gas pipeline are set to remain in place until 2050. But the Earth's climate cannot sustain carbon emissions at its current level until that date. Something must give, and the closing down of fields such as ACG is essential if we are to slow or halt climate change. These oil & gas fields and the oil & gas pipelines must be forced by civil society to become stranded assets long before they see out their projected legal lifespans. This will not happen while the Aliyev regime remains in power. Curtailing climate change and curtailing the Aliyev regime go hand in hand.
We stand by our allies & friends in the Azerbaijani democracy movement, We stand by our determined opposition to the private corporations who drive the destruction of the climate in their blind pursuit of return on capital.
Together we will break the chain!
By Nathalie Losekoot and James Marriott. With thanks to Emma Hughes