Landing at Heydar Aliyev Airport in Baku I thought I knew what to expect. This was my second trip to Azerbaijan's capital city, and I still had vivid memories of my first, the year before. Back then, I arrived at night and Baku seemed like one of the most opulent places on earth. The drive from the airport whizzed past in a blur of lights and colour. Daylight, however, revealed a different side to the city. The opulence was still evident in pristine shopping streets, filled with bright plazas and designer shops – most of which were empty. But walking down a side street was like stepping backstage on a film set. Dirt and debris were everywhere; whole buildings torn apart, spewing their dusty interiors onto the street.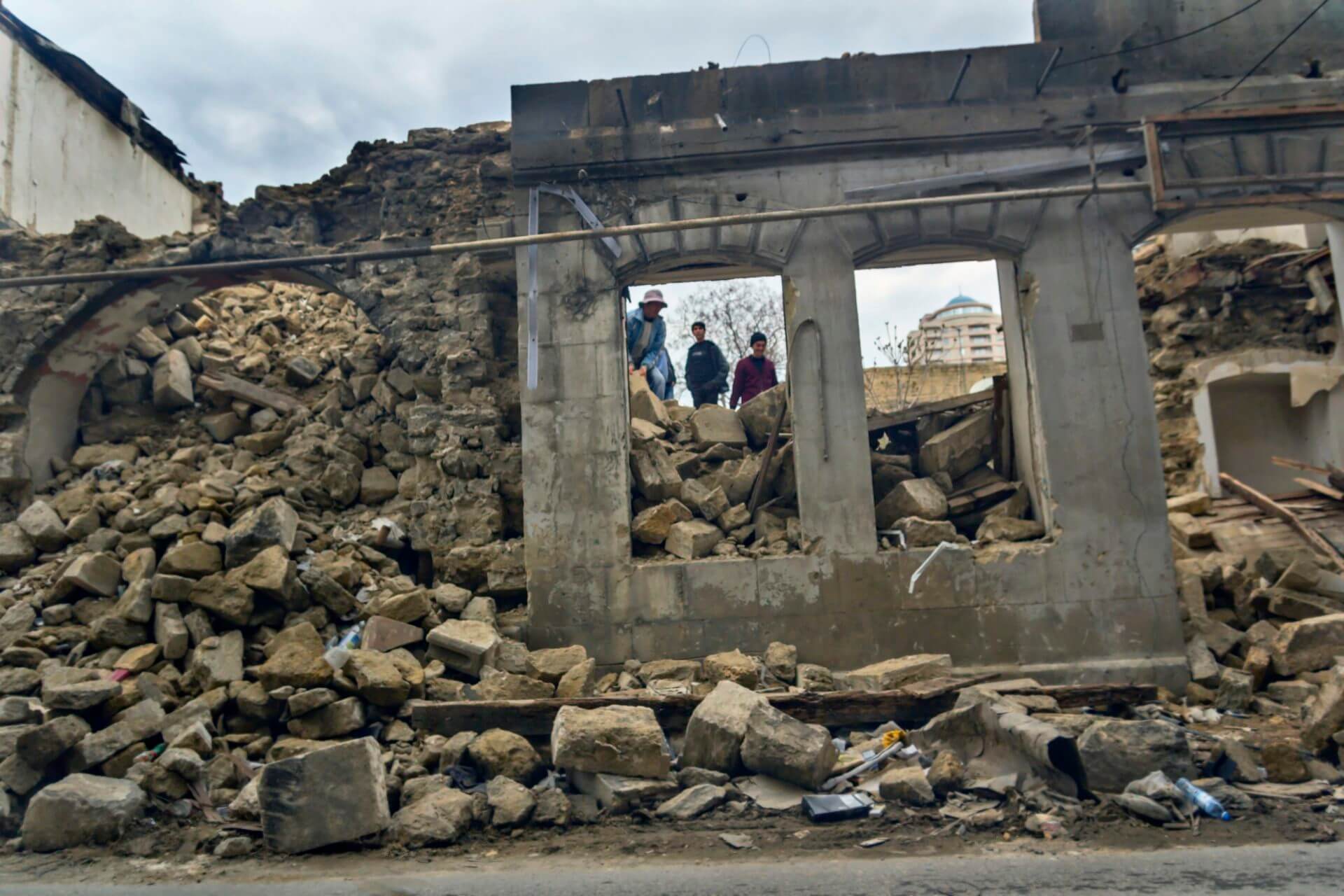 Despite my clear memories, Baku still managed to surprise me from the moment I stepped off the plane. Almost 24 hours without sleep and I was disorientated – were there two airports in Baku? Was this Heydar Aliyev Airport? A fellow passenger explained. "It's all new, they opened a new terminal a month ago. The old airport's gone". I should have guessed – Baku is a city permanently under construction, buildings don't remain. In April 2013 I'd arrived to Soviet era décor, orange and brown booths with out much decoration. The airport was frenetic – rammed with taxi drivers trying to persuade new arrivals that 50 Manat was the going rate for a ride.
The new terminal is a shock of glass and gold. Screens flash images of Baku's night time brilliance. A gold plated staircase leads down to the lobby, a serene space – a baggage belt moves round in the corner, a few people stand around with signs – the rest is empty. Outside the taxi drivers move impatiently – trying to negotiate this new arrangement and calculate the best spot to bag a fare.
On the drive from the airport I spot more construction: an Olympic stadium on one side and an Olympic gymnasium on the other. Baku is preparing to host the first ever European Olympic games. During my time in the city I saw Olympic Committee delegations walking through the old town sporting shirts emblazoned with Baku 2015 1st European Games. The European Olympic games are a significant PR coup for Ilham Aliyev's repressive regime, they had already made two unsuccessful bids for the 2016 and 2002 Summer Olympics. Aliyev has claimed that these smaller games provide proof that Azerbaijan is politically stable, economically successful and infrastructure ready; a country which is capable of hosting the Summer games. In actuality this was the Olympic games no one wanted – Azerbaijan was the only bidder. For most countries this first ever (perhaps only) European Olympics was too much of a financial risk in austerity Europe. But for an autocrat desperate to prove himself on the international stage, with fossil fuel income to squander, this was the perfect opportunity. In Autumn 2015 Formula 1 will also come to Baku. Another chance for the Aliyev's to rub shoulders with the rich and famous.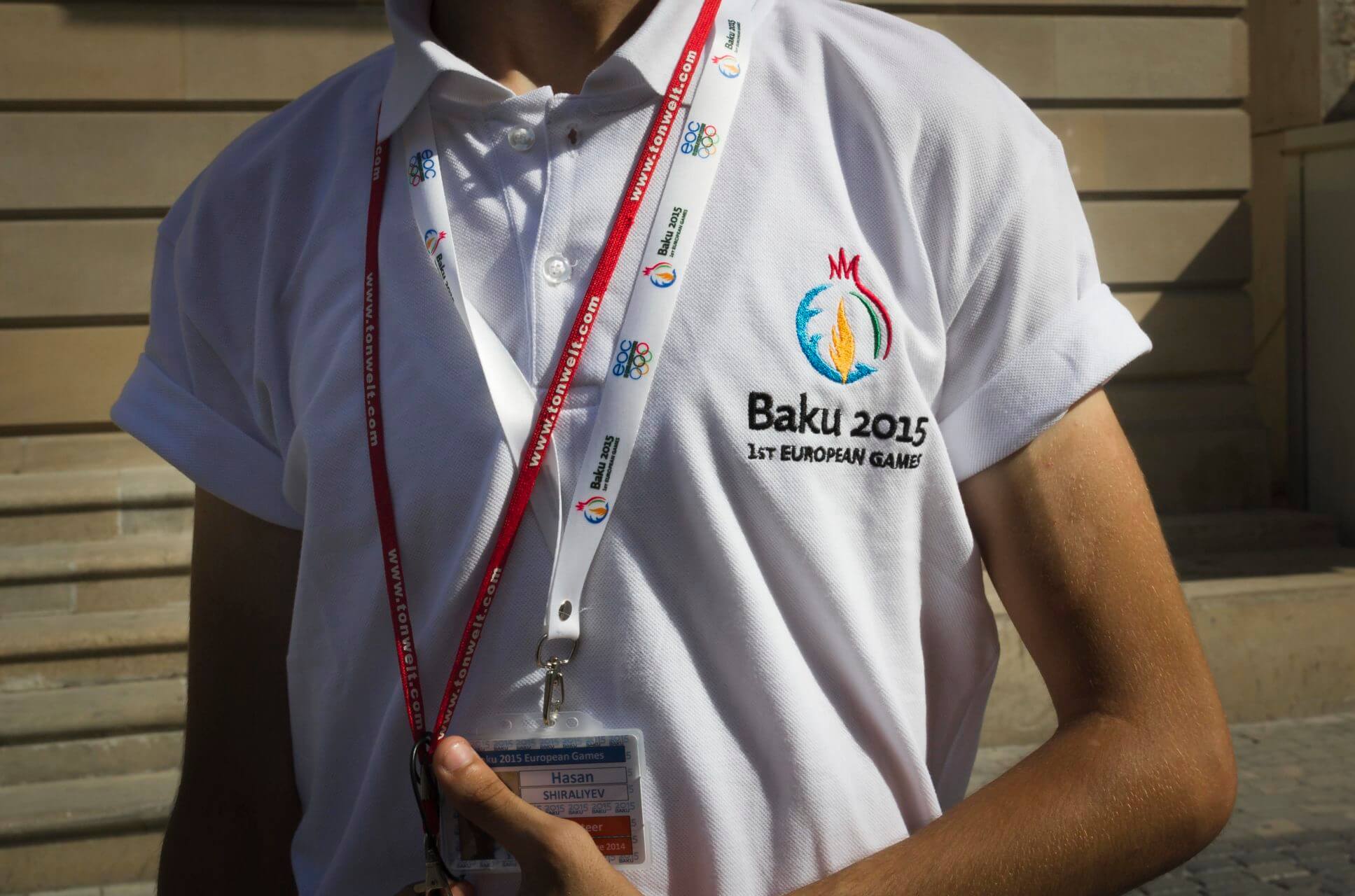 Aliyev is no doubt hoping all the glitz and glamour will distract from the violent reality of life in Baku. There are currently 99 political prisoners in jail and people are regularly beaten or threatened for criticising the regime. Aliyev's appropriation of cultural events and institutions is an old tactic – just like oil companies sponsoring cultural institutions he uses these associations to grant him a social license. It's for this reason that Leyla Aliyev (the president's daughter) edits Conte Naste's Baku magazine, the reason that Azerbaijan now sponsors the Spanish football team Atletico Madrid – whose shirts read 'Azerbaijan, Land of Fire' and the reason that Azerbaijan gave money to the Louvre. This, in a country where healthcare is unaffordable and many people in rural ares don't have access to piped gas or running water.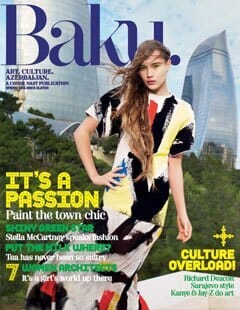 But the regime aren't the only ones preparing for the Baku games – Azerbaijani democracy activists are too. During my time in Baku I had the chance to meet up with Rasul Jafarov, the force behind the Eurovision song contest campaign 'Sing for Democracy' (now Art for Democracy). They are already planning a Sports for Rights campaign during the European Olympics. Rasul explains why
We want to use this event to bring the human rights situation to the attention of the international, particularly the European, community. 15,000 athletes will come from 49 member states – there will be journalists, fans, official delegations, that's a lot of international attention
In advance of the games Aliyev is already increasing the pressure on activists in the country. Rasul describes the situation
In February 2014 they amended the law and indirectly prohibited the activities of non-registered NGOs – there are now very high fines for NGOs even if they make a small technical mistake. This is very dangerous especially for small NGOS because it means even if they are just fined once they must end their activities
In addition the regime are finding innumerable technical reasons to refuse to register NGO grants. During the trip I heard many times from Azeri allies who are now unable to register grants – including Rasul's organisation.
But Aliyev isn't only concerned about the games; 2015 is an important year for Azerbaijan because of the Parliamentary elections – this is the first time that many younger activists interested in politics will be able to stand in an election. Since 2012 the democracy movement in Azerbaijan has been injected with an urgency as younger people have found new ways to organise. The regime are nervous of these new activists, and are already increasing repression in advance of the elections.
For some the price of organising is high. Leyla Yunis, a well known human rights activist involved in peace-building between Azerbaijan and Armenia was detained at the airport in April with her husband Arif Yunus. They were held for 6 hours at the airport and then taken to their home where 40 officers were waiting for them. Arif Yunus collapsed and eventually – and only  because the journalists present demanded it – taken to hospital where he was put in an intensive care unit. Leyla was detained for 26 hours during which time she wasn't allowed to use the loo or sleep. When journalists questioned her treatment, Chief of Yasamal District Police Department of Baku city, Colonel Ismail Asadov said: 'She is not Azeri! She is Armenian! And she deserves to be treated exactly like that – to be beaten and raped".
A week after Leyla's detention, her colleague, Matanat Azizova from the Women's Crisis Centre, was called to the prosecutors' office to give evidence against Leyla for acting as an Armenian spy. Rather than being forced to give false evidence (it is not unknown for 'witnesses' to be force fed drugs so they will simply repeat back what they are told) Matanat fled the country. However, when her son and husband tried to join her they were stopped and are now being kept in the country in an attempt to get Matanat to return. She fears for their safety.
Last time I was in Baku I met Matanat. She explained the crucial work she does with women who are attempting to fight back against perpetrators of domestic violence – often their husbands – in a court system which doesn't recognise domestic violence. Azerbaijani's have long faced jail and violence in their fight for democracy, Rasul is clear that oil and gas revenues are a cause of the repression.
Before the oil and gas incomes came to Azerbaijan we had more democracy and freedom. The main income from oil came in 2005 when the Baku-Tibilsi-Ceyhan pipeline started to operate. And from that time the situation started to deteriorate. We have problems with journalists being arrested, political prisoners, religious believers -if you criticise the government you can be easily interrogated and prosecuted under fabricated charges
Now European decision makers are putting political energy and public money into the Euro-Caspian Mega Pipeline – a huge gas pipeline that will run from Azerbaijan to Northern Italy. Just as the money from the Baku-Tbilisi-Ceyhan pipeline was spent on jailing, threatening and silencing democracy activists so will the revenues from the Euro-Caspian Mega Pipeline – with plenty left over for Olympic Stadiums.