Last week Shake! shook it all up at the Stephen Lawrence Centre in Deptford – 25 young people tackling Arts, Media, Race and Power. Kevin and I were lucky enough to be invited to present to this inspiring and hyper-creative group of people on art interventions and oil sponsorship of the arts. We hope to steal some of their brilliant ideas one day, ideally with some of them as part of the Shake! Continuity Programme – but more on that later. As a round-up to the presentation I wanted to pull together the links we shared to tell the story of performance interventions in oil sponsorship, its history, tactics and impacts, for your and their easy inspiration.
1. Unsanctioned performances to end oil sponsorship of the arts Several groups have made performances in the form of their chosen target to intervene artistically in oils sponsorship of the arts over the past three years. Check out these videos from each of these groups to see how they've done it:
BP White Swan Ballet
2. Precedents and challenges museums more generally
What has come to be seen as an unintentional tradition of 'institutional critique' has been established by commissioned artists and more outsider artists alike – however differing their impact and recognition may be. In 1969 the The Guerrilla Art Action Group (GAAG) burst bags of blood hidden beneath their clothing at the New York Museum of Modern Art. In a performance interestingly similar to Liberate Tate's Licence to Spill performance in the video above, the artists distributed copies of their 'A Call for the Immediate Resignation of all the Rockefellers From the Board of Trustees of the Museum of Modern Art', citing the Rockefellers company's association with oil as one reason for this. A year later in 1970 Hans Haacke in a commission at Moma again raised the issue of Rockefeller sponsorship in his artwork Moma Poll. More recently the numerous interventions of the artist group the Guerrilla Girls has resoundingly questioned the curating of women artists.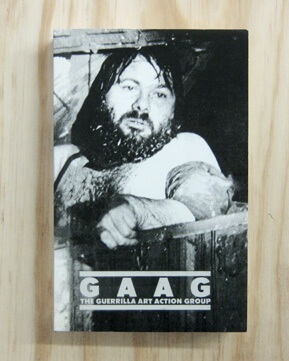 3. Other campaigns to end arms or oil sponsorship
In late 2012 the Campaign Against the Arms Trade had a successful campaign to end the National Gallery's sponsorship deal with Italian arms manufacturer Finmeccanica. Greenpeace staged an impressive banner drop at the National Protrait Gallery, next door to the NG, which also takes money from BP.
What was the Shell Wildlife Photography Exhibition of the Year changed after interventions by London Rising Tide armed with black paint. Veoilia, the company that took over sponsorship then itself met with protests about its involvement in Israeli apartheid by the London Boycott Divestment campaign, and the deal was ended.
4. Art and Activism: a potted history
It's important to note that the work of groups like Liberate Tate and the Reclaim Shakespeare Company fits within a lineage of art activism. Using art to challenge power, or finding creative ways to alter spaces and places, has a venerable tradition within the broader contexts of creative resistance or culture jamming. I can't get near to a full account here, but here's a few nods to use as a starting point on artists and artworks that have intervened somewhere and somehow…
Artists and interventions:
Abbie Hoffman and 'Levitate the Pentagon' (1967),
Greenham Women's Peace Camp and 'Embrace the Base' (1982),
Reverend Billy (who appears above in collaboration with Liberate Tate) and the Church of Stop Shopping (1999-present),
the Zapatistas and the Zapatista Air Force (2000),
Yomango and in particular the Yomango Tango (2002),
Collectivo Etcetera and the Errorist International Movement (2005),
the Clandestine Insurgent Rebel Clown Army (2005-6),
The Muffia (2008-present),
The Haircut Before the Party (2010-present)…
5. Still want more? Beginnings of a reading list:
If I were to say check out five books for a really diverse set of stimuli, thinking and practices on art and intervention, this is what I'd go for:
Black Panther: The Revolutionary Art of Emory Douglas,
The Power of Feminist Art,
Dream: Re-imagining Progressive Politics in an Age of Fantasy by Stephen Duncombe,
Beautiful Trouble: Toolkit for Revolution,
This is Not Art: Activism and other Non-Art by Alana Jelinek (forthcoming)
AND if you want to read more on oil sponsorship of the arts, then check out Platform, Liberate Tate and Art Not Oil's publication Not If But When: Culture Beyond Oil:

and also have a leaf through the Live Art Development Agency and Platform's Study Guide, 'Take the money and run? Some positions on ethics, business sponsorship and making art' for many more book recommendations on the topic.