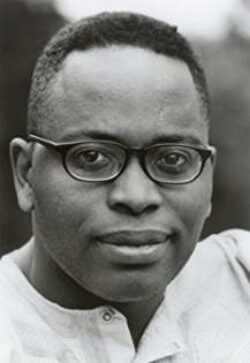 Yesterday at All Saints Church in Fulham, London, we attended a celebration of the life of journalist, government special advisor, and digital tech innovator Ken Saro-Wiwa jr. His life was suddenly cut short at the age of 47. We are sorrowed by this profound loss to the Saro-Wiwa family, and of a talented man invested in the future of Nigeria.
Platform worked closely with Ken jr in the years 2004 – 2007, around the 10th anniversary of the outrageous executions of his father the Nigerian writer and campaigner Ken Saro-Wiwa, and eight other Ogoni men. *
Last night many tributes were paid to Ken jr by friends and colleagues, testaments to his skills as a journalist and writer, his love of data and technology especially in what it could do for Nigeria, his navigations of working within Nigerian government to affect change, his genial nature, his eloquence, his love-affair with sport, his utter devotion to his two sons and family, his grappling with being the son of a world-famous activist and writer.
Ken's sisters demonstrated the strength of the Saro-Wiwas: writer Noo gave a powerful eulogy; cultural activist and curator Zina movingly read an extract from Ken jr's award-winning memoir 'In the Shadow of a Saint –  A Son's Journey to Understand His Father's Legacy', where a young Ken jr vividly describes encounters with his busy, elusive father, and then his aged beloved grandfather in the Saro-Wiwa home town of Bori.
Here I would like to share another aspect of Ken jr from Platform's own experience: his engagement with  art. A dozen years ago we started working with Ken on ideas for a Living Memorial to his father and the Ogoni 8, to be cited initially in London, part-headquarters of Shell. This was to be timed with the 10th anniversary and our plan was to make a huge media splash through an international art commission. The Living Memorial needed to summon up both reflection and action. It needed to awaken memory and commemorate the murders. It needed to call people to fight on for justice. It needed to be able to move, emotionally and physically. It needed to challenge power – both Shell and the Nigerian government – and do it provocatively. In essence it needed to animate his father's own clarion call for art:
It's not an ego trip, it's serious, it's politics, it's economics, it's everything. And art in that instance becomes so meaningful both to the artist and to the consumers of that art.

(1994) **
Ken sat on the Judging Panel that was to pick from the final five proposals. On the panel were internationally acclaimed artists, campaigners, and curators including Alfredo Jaar, Yinka Shonibare, Anita Roddick, David A Bailey and Gus Casely-Hayford. One of the finalists was a proposal by artist Siraj Izhar to create digital light-sculptures suspended high over the streets of the financial district of London. These large spheres would use light configurations to relay environmental pollution data directly from the skies, soils, and waters of Ogoniland.
Another finalist proposal that gripped the panel was from London-based Nigerian-born sculptor Sokari Douglas Camp who envisaged a life-sized mobile steel Nigerian bus. The Battle Bus would be incised with the devastating accusation directed at Shell by Saro-Wiwa, the accusation which ultimately led to his death: "I accuse the oil companies of practicing genocide against the Ogoni people". The Bus could tour and be a venue for events as well as a magnet in its own right.

Discussion ranged far, wide and deep on the different merits of these two dynamic projects, but Ken's response was the clinching argument. He said that his own heart lay with the possibilities for democracy of digital democracy, especially in countries like Nigeria, and he was fascinated by the potential in Siraj's proposal. But he also said that his father, who wrote his poetry, prose and TV series in both 'standard' English and pigeon, would choose a piece that spoke to people in Nigeria directly, and which would be the most surprising in London's, or in England's streets. He said that his father would choose the Bus. If we could have raised the resources, we would have realised both projects, reflecting Ken's views and the discussions of the Judging Panel.
In a film interview accompanying the Living Memorial, given before the final choice of the Bus was made, Ken jr put it like this:
To me there are different kinds of art. You say art symbolises and mediates, and to a certain extent, yes, it mediates. But in other parts of the world art doesn't mediate. Art is direct, it challenges the authorities, the power structure. It doesn't seek to have any nuance. It just says what it is. It says "This is what it is, this is how it is." And people rally round the directness of it because it speaks to power. So I think coming from my part of the world nuance is a very dangerous thing, because it inserts doubt into the project. Art can mediate, but, you know, look at the world we live in now. If you look at what's happening in America especially, there's a backlash against nuance. They couch it in terms of the believers and the unbelievers. It's us versus them. We are right. God is on our side. And so, you know, in a strange way, the power structure insists on a directness of message and so when art tries to combat that in the North, this attempt to "mediate" or be "nuanced" – well, you begin to wonder if it is effective enough. Really the only way you can meet it is to challenge it head on.…

What you have now in the North now is what we've had in Africa. A system which openly exploits and cheats people, their environment and their rights, and so artists response to that can't be, or don't want to be nuanced. They have to meet it head on and that's what my father did. And I think increasingly people around the world are going to have to – artists are going to have to – ask themselves the same questions: can we be nuanced in the face of this power structure? ….

(2005) ***
In a video, artist Sokari Douglas Camp calls her Bus, 'a very loud statement' and that it simply cannot be ignored.  Ogoni campaigner Celestine AkpoBari talks about the power of the Bus and its deep meaning for Ogoni people. Ken jr's description of how art needs to 'tackle issues head on' totally suffuses this work of art and here's even more proof: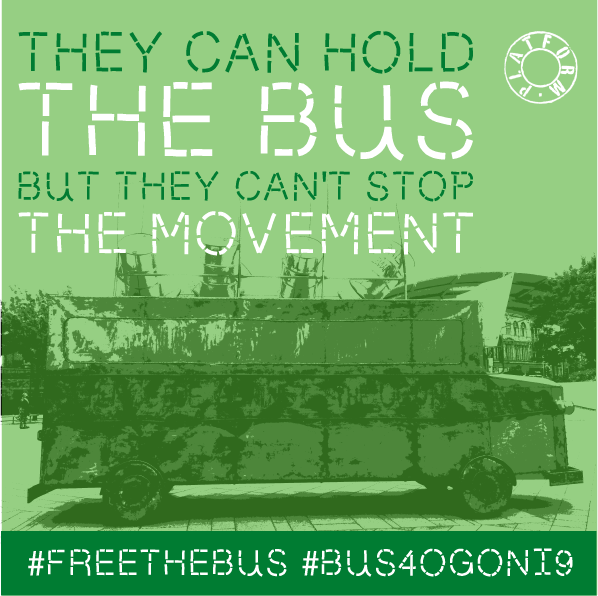 After 10 years of touring Britain, at this very moment the Bus is in its 14th month in captivity, seized in Lagos in September 2015 by Nigerian Customs, during its journey to become the permanent memorial to Ken Saro-Wiwa and the Ogoni 8 in Bori, Niger Delta. Despite international outcry and vociferous activism and lobbying within Nigeria, the Bus remains seized. Ken jr's father's powerful words and deeds cost him his life. His accusation in the form of the Bus still cannot be released, they cannot be acknowledged and must be silenced. This is not the future-looking Nigeria that both Saro-Wiwa father and son worked so hard to invoke.
Ken jr's 2005 interview ends with:
How are we going to begin to answer the questions that Ken Saro-Wiwa's life and death poses for all of us?
This is a call to all of us, a call to enquiry and action that is a lasting tribute to a young man who carried a heavy load of history, and found his way with creativity and fortitude.
Ken, the work lives on.
Support the Ken Saro-Wiwa Foundation, set up by Ken jr and the family to promote the future of the Niger Delta that Ken Saro-Wiwa, Ogoni people and activists have demanded.
* The executions were carried out in 1995 at the orders of the then Nigerian military government, who with the complicity of Shell, wished to take any measures to silence the international outcry that Ken and other activists were successfully whipping up over oil company Shell's destruction of their once fertile environment in the Niger Delta.
** From TV documentary 'The Hanged Man – Nigeria's Shame', Bandung, 1994
*** Ken jr interviewed in our film 'Refining Memory' by Andrew Conio and Judy Price, 2005.