The Oil Show art exhibition at the Hartware MedienKunstVerein in Dortmund, Germany, is a group show about oil and its deeply rooted influence in economy and society.
This major exhibition, on til 18th March 2012, states
"We have reached Peak Oil – the maximum capacity of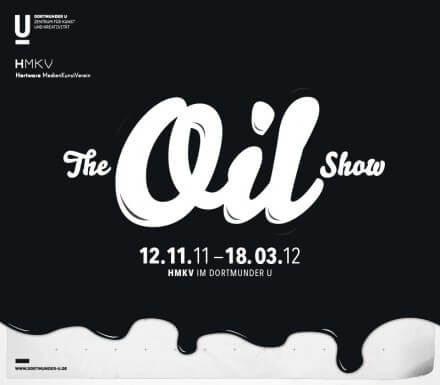 global crude oil extraction and production. After Peak Oil, the total global oil production cannot be increased. In the future, demand will always exceed supply. The global struggle for resources will intensify. Despite this our dependency on oil is growing further. We cannot, or do not seem to want to do without oil. We are seriously dependent. The works in the exhibition deal with our dependency on oil and the economic, political, and social entanglements and consequences of this growing dependency." 
We invited former Platform 'Research Associate' Malte Beisenherz for his review. 
He writes:
Everything stuck in oil
In the past few years there have been many exhibitions about art and ecology in Europe and North America.  In Germany alone, in 2011, there were three heavy-weight projects about how art addressed questions of sustainability and the search for solutions to the problems of the carbon age. Two of these were ÜberlebensKunst (Survival Art, Berlin) and Expeditionen in Ästhetik und Nachhaltigkeit (Expeditions in Aesthetics and Sustainability, also Berlin). Hartware Medienkunstverein's The Oil Show which opened in Dortmund in December 2011, situates oil in a wide panorama, investigating artists' responses to the contemporary global context of dependence on oil on socio-economic life.   The Oil Show is different to the other 2011 German exhibitions on the subject of sustainability: in Dortmund they do not offer solutions to oil dependence. Their premise is that nobody is outside of the oil-system and that this must be the starting point.
To reveal the contemporary situation and our dependence on oil, the selected works use methods of documentary, montage, data visualisation, and storytelling. The video work All that is solid melts into air by Mark Boulos contrasts in a two-screen installation the life and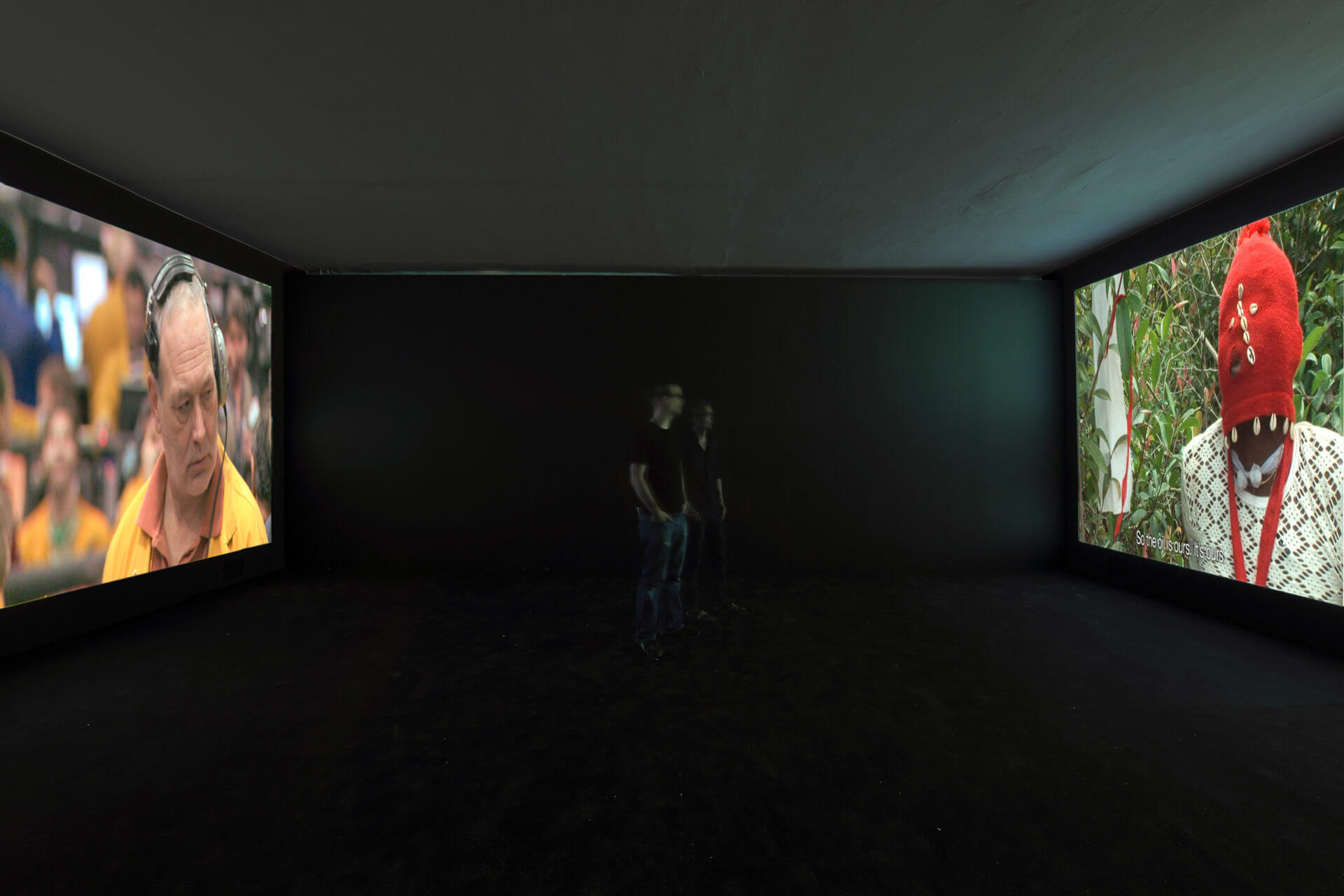 characters from the Nigerian independent group Movement for the Emancipation of the Niger Delta (MEND) with visuals from the Chicago Stock Exchange, the world's biggest trade market for derivatives. It makes visible the distance between the abstract perception of financial trade, with its seemingly hysterical codes and hand-signs, and confronts this with the realism of the pollution caused by the oil production which destroys the livelihoods of the local people in the Niger Delta.
One goal of the exhibition is, in the words of our charming tour guide, to show the visitors that each of us takes part in The Oil Show, whether we like it or not, just by being daily consumers.  Since the First World War the total dependence of Western industrial nations on oil is made clear.
Swiss Artist Ursula Biemann's video piece Black Sea Files documents contemporary developments around the Baku-Tblisi-Ceyhan pipeline, connecting Azerbaijan's oil fields to the coastal oil terminal in Ceyhan in Turkey. Her short movie extracts – part of the longer version – show interviews and field research which make visible the influence of the project on the countries and their inhabitants. Farmers speak who sold their land for too-low prices; a prostitute who follows the pipeline-workers talks about her public-hidden work.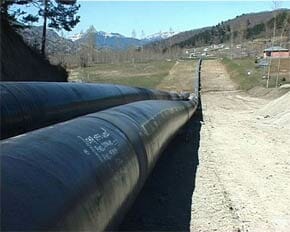 Documentary artworks like this evolve the question of what roles an artist can take especially in contrast to an anthropologist or geographer. It seems art can be most free in its choice of methods. Art can create a variety of results and impacts. Art can offer a textured experience of knowledge, like a second voice beneath information and science. If literature can also be a history of behaviour, as Balzac said, The Oil Show gives example of contemporary behaviour of hysterical politics and the blindness about dependence which is the living lie of the present. It describes the condition of oil dependent economies today, and the urgency of the change needed.
The incredible diagrams of US artist Mark Lombardi show how much information available in public sources about oil and politics can be found. His research into US foreign policy was produced only by pursuing information freely available from the mass media which he then connects together.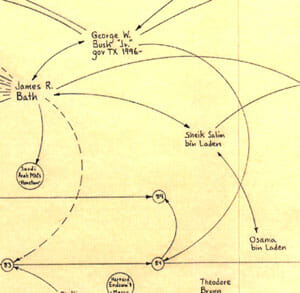 These connections make visible US foreign policy's primary goal:  securing the energy needs of the USA.  Lombardi's work of visualizing open secrets of how power operates has been said by some to be related to his tragic early death in 2000, only weeks after a very successful show. It was officially deemed suicide, but some feel this has left many unanswered questions.
George Osodi's photographs show the living conditions of the people in the areas of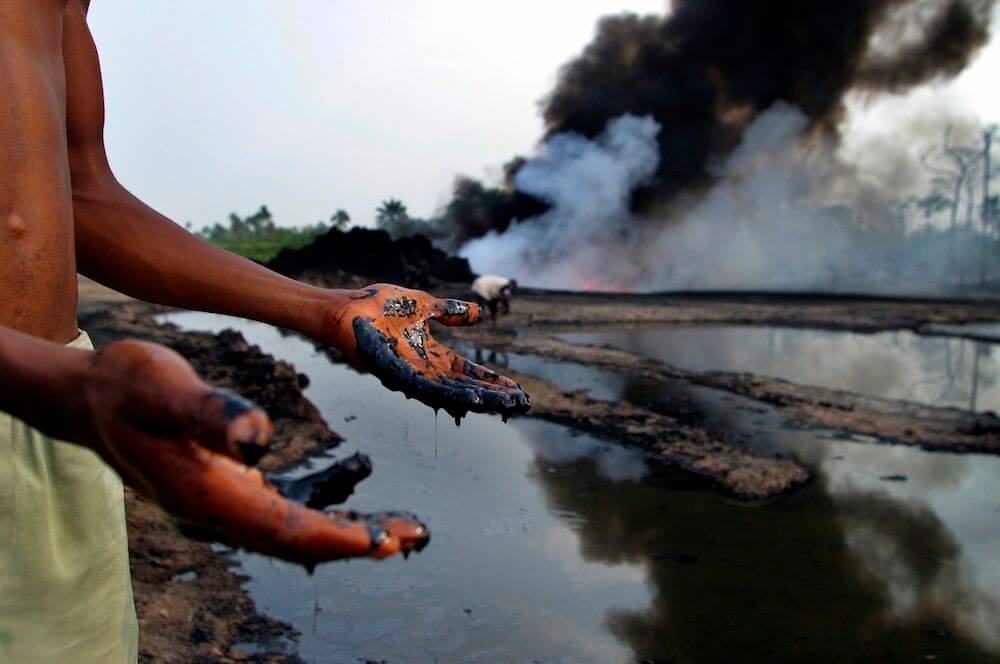 Nigeria that are affected by the exploitation of the oil resources by companies like Shell, Chevron or Total. The work Oil Rich Niger Delta highlights the actions of these companies which are accused of exploiting without taking responsibility, operating according to their own terms and conditions.
To make relations between the oil price and  living costs in western society visible, Michael Mandiberg chooses a simple method which is to create a plug-in called Oil Standard. It converts all prices from e-commerce sites in US dollars into their equivalent in barrels of oil. His website offers another plug-in which inserts emissions data into travel related e-commerce websites. Whether by pictures or plug-ins, these examples show relations and consequences in daily life actions.
Alongside a lot of implicitly critical documentary work and visualised information it would have been useful to encounter some more constructive input, for example, as in the exhibitions ÜberlebensKunst (Survival Art) and Expeditionen in Ästhetik und Nachhaltigkeit (Expeditions in Aesthetics and Sustainability) mentioned earlier. Both of these focused on practical change and ecological solutions, but conversely, did not ask questions about the origin of this destruction and the causes of climate change.
ÜberlebensKunst (Survival Art) was a whole cultural programme, including a festival, workshops, discussions and collaborations with schools. It was mainly funded by the The German Federal Cultural Foundation where decisions about funding are made by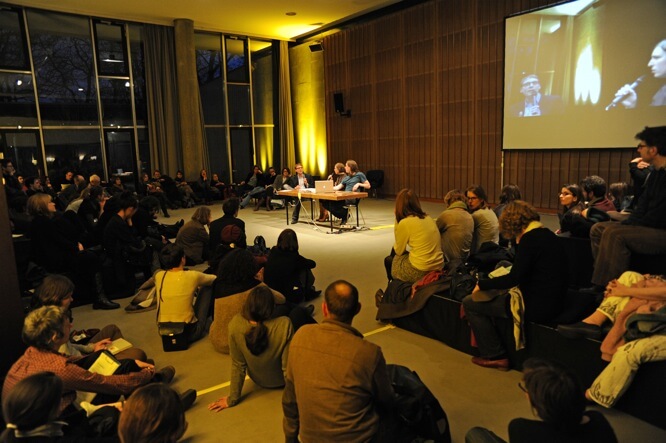 representatives from mainly politics, economy and cultural institutions. This might be one reason why the project was addressing solutions on a subjective level of citizen, and ignoring the cross-social economic reasons for oil dependency. The focus of the programme and exhibition was participation and engagement: the audience was asked to reflect and input into finding solutions. This was very strong. One concrete opportunity to shape an event was to work together to decide how to produce the food and the energy for the associated festival in summer 2011in a low-carbon sustainable way.  However, my view was that the programme didn't raise the level of questioning to include the policies and international impacts of the Federal Republic of Germany, or to think beyond Germany to the global. Instead of political thinking, the programme was investigating self-dependence and used arguments and analysis more from psychology than politics. For me, it would have been more useful to support empowerment by having greater analysis, coupled with showing a greater number of positive examples.
On the other hand, in Expeditionen in Ästhetik und Nachhaltigkeit (Expeditions in Aesthetics and Sustainability), we were told hopeful stories of changing realities. But they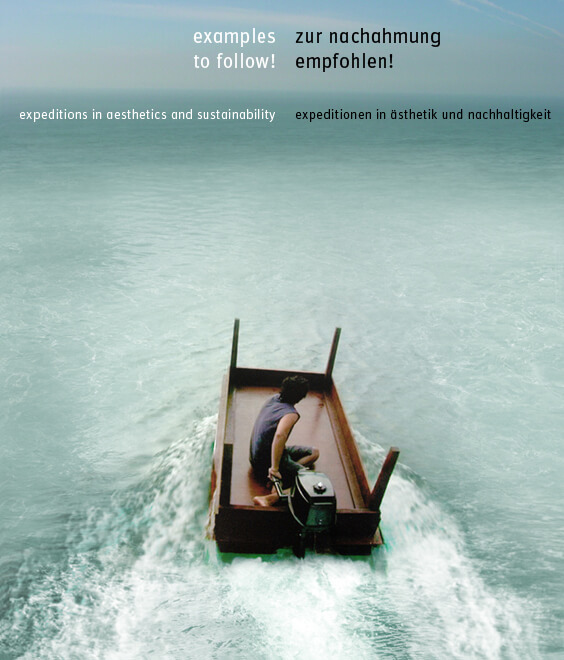 show local, micro-solutions instead of systemic solutions on a larger global scale. While Dortmund attempts to analyse the problems without suggesting solutions, the two Berlin shows concentrate on solutions, but at a scale which leaves the seriously big questions unanswered.
After an aesthetic experience of knowledge, the next step should be action. And there are many examples of artistic practices which use the possibility of art for analysis, action and reaction, crossing the borders of representation into real change. The urgency for this is hardly expressed in The Oil Show, which shows us very well how the situation has come about, and presents bold critical analyses of abuses of power, but resists sharing with us the visionary risks of suggesting what to do about it.  And having experienced these three exhibitions in Germany, I would say there is still a massive gap in creative spaces where we encounter a combination of both the critique and large-scale solutions.  It's not enough to create awareness about pollution of a river and to build filter systems, without questioning the global cause of the problem. And vice versa.
Malte Beisenherz, February 2012. The views expressed here are his and not necessarily those of Platform as we haven't seen the shows in question). Malte is based in Berlin and undertaking PhD research into art, ecology and progressive pedagogies. He worked with us and Live Art Development Agency on an EU Leonardo Programme residency in Autumn 2010.
A note from Platform In 2009 we were invited by major UK gallery Arnolfini, (Bristol) to create an exhibition and 50-day season of events about Climate Justice, in the run-up to COP 15, the UN Conference of the Parties on Climate Change held in Copenhagen. This was C Words: Carbon, Climate, Capital, Culture. Our approach was to firstly to invite 7 artist-activist groups to respond to the issue, some making new work for the gallery, and others creating live pieces, day-schools, workshops, and skill-shares. The groups were African Writers Abroad, Ackroyd & Harvey, Hollington & Kyprianou with Spinwatch, Institute for the Art & Practice of Dissent at Home, Laboratory of Insurrectionary Imagination, Virtual Migrants and the Bristol-based Trapese Collective.
Then we decided create a social forum in the galleries by programming over 90 events from film-screenings to talks, discussions, poetry evenings, local campaign teach-ins, courses and regular "Critical Tea Parties". NGOs, projects and groupings such as new economics foundation, Bristol Radical Walks, Carbon Trade Watch, Camp for Climate Action, The Corner House, Corporate Watch, Feral Trade, Sustrans, Royate Hill Community Orchard came together with artists, activists and public, in the setting of the commissioned work. The project caused some negative reactions within Arnolfini and wider critical circles, but had a bumper audience in Arnolfini's terms of over 31,000. The events alone were attended by over 2000 people, many of whom were from Britsol and had never stepped into publicly-funded Arnolfini before.
C Words raised many questions for engaging the art world in these issues:  what is the borderline between art and propaganda, and who decides it? isn't all art propaganda, especially when it claims not to be? what is the role of art in raising issues? what is a gallery for – meditation, reflection, provocation, action? whose gallery is it? which audience is important to listen to? where is the integrity of the work? what tangible change can result and ho do you measure it?
Read more here. See the full programme here.