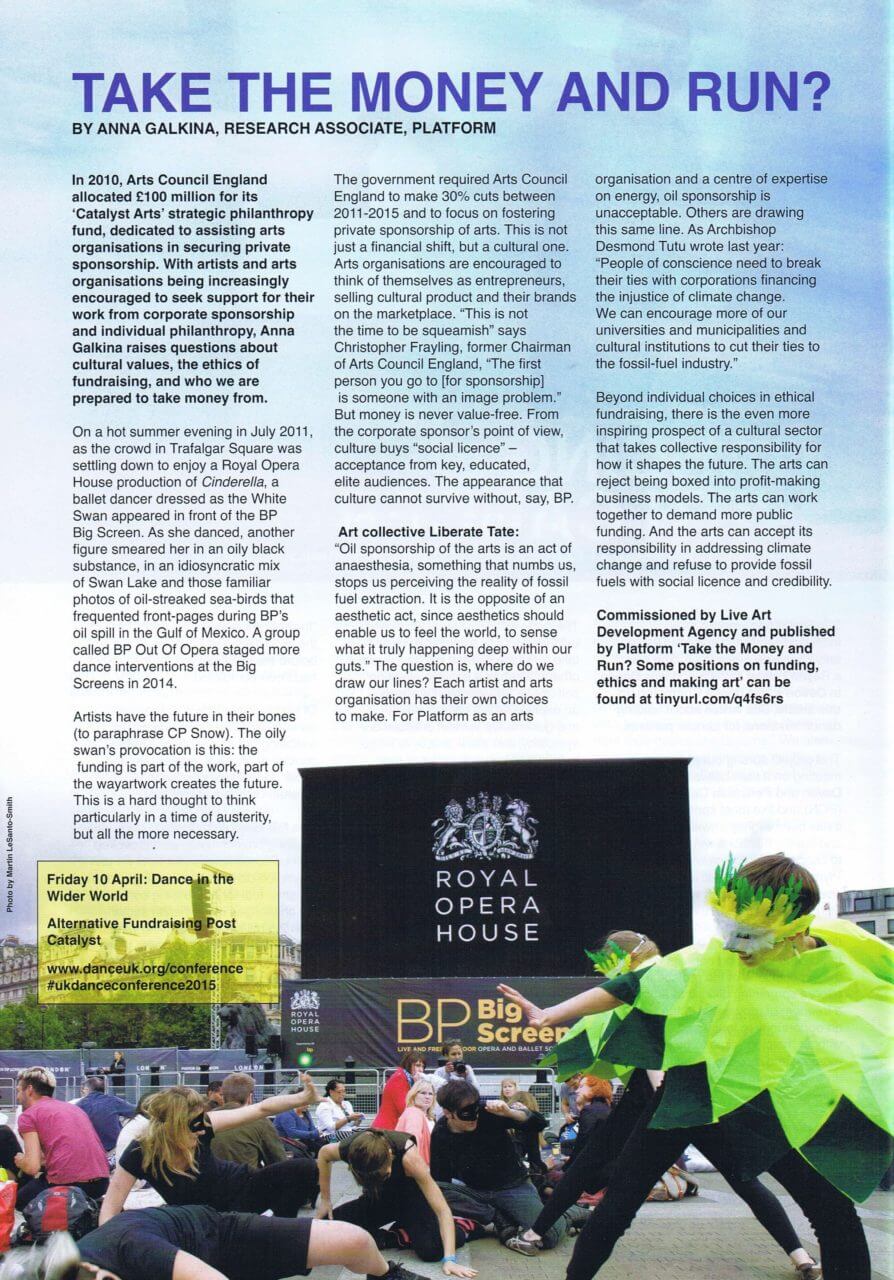 Article by Anna Galkina published in Dance UK magazine, March 2015.
On a hot summer evening in July 2011, as the crowd in Trafalgar Square was settling down to enjoy a Royal Opera House production of Cinderella, a ballet dancer dressed as the White Swan appeared in front of the BP Big Screen. As she danced, another figure smeared her in an oily black substance, in an idiosyncratic mix of Swan Lake and those familiar photos of oil-streaked sea-birds that frequented front-pages during BP's oil spill in the Gulf of Mexico. A group called BP Out Of Opera staged more dance interventions at the Big Screens in 2014.
Artists have the future in their bones (to paraphrase CP Snow). The oily swan's provocation is this: the funding is part of the work, part of the way artwork creates the future. This is a hard thought to think particularly in a time of austerity, but all the more necessary.
The government required Arts Council England to make 30% cuts between 2011-2015 and to focus on fostering private sponsorship of arts. This is not just a financial shift, but a cultural one. Arts organizations are encouraged to think of themselves as entrepreneurs, selling cultural product and their brands on the marketplace.
This is not the time to be squeamish", says Christopher Frayling, former Chairman of Arts Council England, – "The first person you go to [for sponsorship] is someone with an image problem.
But money is never value-free. From the corporate sponsor's point of view, culture buys "social licence" – acceptance from key, educated, elite audiences. The appearance that culture cannot survive without, say, BP. Art collective Liberate Tate:
Oil sponsorship of the arts is an act of anaesthesia, something that numbs us, stops us perceiving the reality of fossil fuel extraction. It is the opposite of an aesthetic act, since aesthetics should enable us to feel the world, to sense what it truly happening deep within our guts.
The question is, where do we draw our lines? Each artist and arts organization has their own choices to make. For Platform as an arts organization and a centre of expertise on energy, oil sponsorship is unacceptable. Others are drawing this same line. As Archbishop Desmond Tutu wrote last year,
People of conscience need to break their ties with corporations financing the injustice of climate change. … We can encourage more of our universities and municipalities and cultural institutions to cut their ties to the fossil-fuel industry.
Beyond individual choices in ethical fundraising, there is the even more inspiring prospect of a cultural sector that takes collective responsibility for how it shapes the future. The arts can reject being boxed into profit-making business models. The arts can work together to demand more public funding. And the arts can accept its responsibility in addressing climate change and refuse to provide fossil fuel s with social licence and credibility.
Platform's study room guide, Take The Money and Run? Some positions on funding, ethics, and making art can be found online at https://tinyurl.com/q4fs6rs