Today, BP's Baku mega-oil project – one of its largest in the world – comes of age, 18 years since the Contract of the Century was signed in September 1994. To mark the anniversary, Verso Books and Platform are releasing a new book detailing its hidden story of geo-political manipulation, imprisonment of critics and environmental destruction.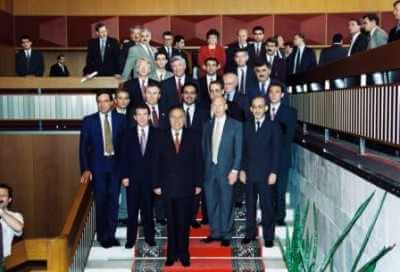 BP's oil extraction in Azerbaijan is in fact reaching maturity, beginning to peak as predicted in The Oil Road – Journeys from the Caspian Sea to the City of London. A travelogue that tracks the underground movement of crude across the Caucasus, Mediterranean and Alps through the Baku-Tbilisi-Ceyhan and other pipelines, the book is based on over 10 years of research by oil watchdog Platform.
18 years ago, BP led a group of international oil companies to the Gulustan Palace in Baku to sign the contract that would change the face of Azerbaijan. Caspian crude once again was pumped westwards to European markets, the city on the Caspian is now adorned with skyscrapers and Azerbaijan spends more on the military than its enemy and next door neighbour Armenia's total budget. These changes have underwritten a stability at a deeper level: the 18 years of growing up have seen little change in Azerbaijan's body politic. Poverty is prevalent, opposition is suppressed and President Ilham Aliyev rules the country with an iron fist, as his father did before him.
Author of The Oil Road, James Marriott of Platform, said, "As BP's Caspian contract comes of age, we see its real impacts: repression, climate destruction and torture – in order to maintain Azerbaijan as a resource colony. Instead, The Oil Road demands a new path, a social vision grounded in justice not exploitation."
Ground-breaking in its approach to travel-writing, The Oil Road has also gained support as literature, receiving five stars in a Time Out review that chose it as 'book of the week' and powerful endorsements by Ahdal Soueif, Robert Macfarlane, Suzi Gablik and Neal Ascherson.