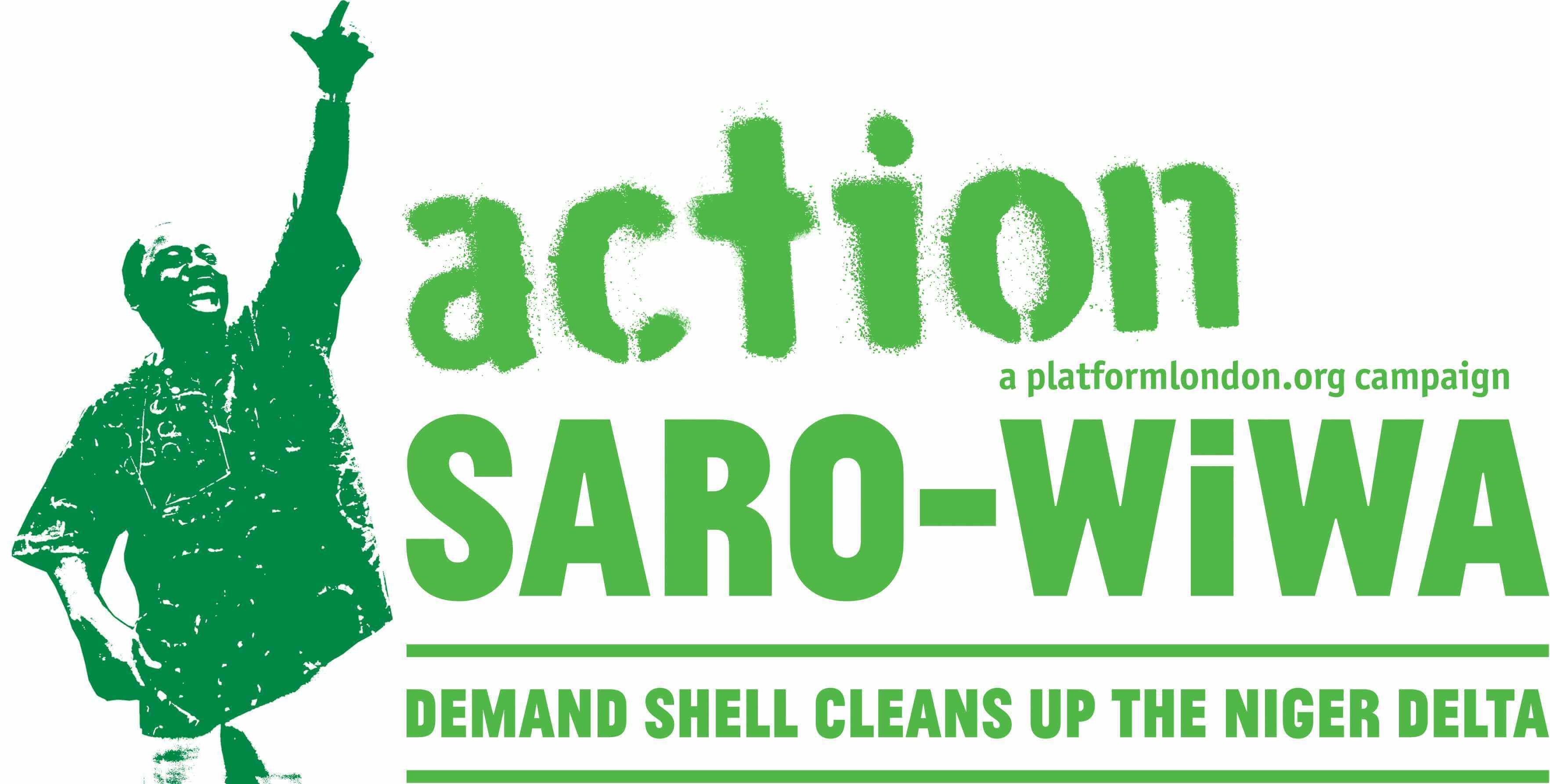 In 2015, it was 20 years since the Nigerian writer and activist Ken Saro-Wiwa and 8 Ogoni colleagues were hanged by the military government for campaigning against Shell
In 2018 it will be 60 years since Shell started drilling in the Niger Delta, the breadbasket of Africa, to get at its oil resources. That's 60 years of activity that nakedly exploit the population's human rights, enabling the company to leave miles of pipelines unburied through villages, to permit the frequent oil spills and blowouts to drench and scorch the earth, destroying crops and livelihoods and to poison the water, The health impacts and the economic devastation have been overwhelming.
In 2015, we sent the Battle Bus – the Living Memorial to Ken Saro-Wiwa and the Ogoni 8 – back home to Ogoniland as an act of solidarity, and a powerful, loud message to Shell – clean it up.
Back in 1993, non-violent protest in one part of the oil-exploited Delta – Ogoniland, Rivers State – astonished the world by succeeding in kicking out Shell from drilling for oil there. Despite immediate Nigerian military reprisals and the massacre of hundreds of innocent Ogoni, Shell has not been back, But they have continued their work elsewhere just as negligently and they have they done remediation to deal with the oil pollution that continues to occur through oil pipelines crossing Ogoniland.
Action Saro-Wiwa used 2015, the 20th anniversary since Ken and his colleagues' murder, to force Shell to act on the clean-up and get environmental justice for the Ogoni. The UN Environment Programme's 2011 report "Environmental Assessment of Ogoniland" tells Shell what it must do for the soil, the water, the air. Following Ken, we go further: Shell's actions in Nigeria must be held to account as part of a pattern, a history of exploitation that has its roots in colonialism.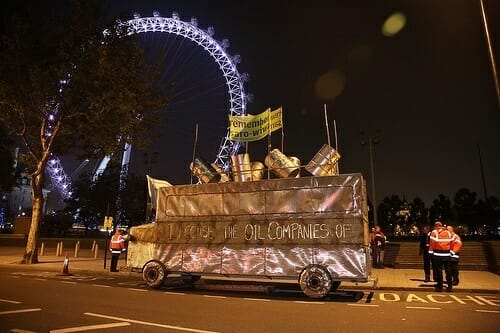 In 2005, Remember Saro-Wiwa reawoke the world to the story that Shell and the Nigerian government would rather forget. We commissioned the astonishing 'Battle Bus', by artist Sokari Douglas Camp CBE, the Living Memorial to Ken Saro-Wiwa.
"My Bus will become a signature tune direct from Rivers State using Ken's words 'I accuse the oil companies of practising genocide against the Ogoni people'" 

Sokari Douglas Camp, CBE
In travelling around England, the Bus was a tinderbox to public outrage and a sustained call to put Shell in the spotlight and keep them there until change takes place. And that's what we've done, through ground-breaking research, devastating analysis of Wikileaks and media exclusives.
As the Ogoni Bill of Rights, written by Ken, has inspired thousands of communities to assert their demands for environmental justice, so Action Saro-Wiwa responds to another of Ken's calls: for those whose countries have profited from Nigerian oil to get up and act.
What happened in 2015
Ken was an artist and a campaigner. The two together were his most powerful weapon
The most important thing for me is that I've used my talents as a writer to enable the Ogoni people to confront their tormentors. I was not able to do it as a politician or a businessman. My writing did it. And it makes me feel good. Ken Saro-Wiwa, last letter to William Boyd while under arrest, 1995
In 2015 we came together in Ken's name to create art and activism that will unroll a year of visionary and effective interventions. Together we helped sustain the movement, a catalyst for change.
In 2015, Action Saro-Wiwa produced groundbreaking new work: art commissions, young people's creativity and problem-solving, and this strategically interwove with press exclusives, research, and imaginative activism to build pressure on Shell, both here and in coordination with our allies elsewhere in the world including the Niger Delta.
The centrepiece of this was the call, from our colleagues in Ogoniland, for the Battle Bus to go home.
"Nothing would have gladdened Ken Saro-Wiwa's heart more than this show of solidarity with the suffering peoples of the Niger Delta." Nnimmo Bassey Health of Mother Earth Foundation, Niger Delta

"Bringing back the Bus will re-awaken the people and increase the sympathy people have for our struggle." Celestine AkpoBari Social Action, Niger Delta
This act – the symbolic return of Ken's accusation 20 years after his murder – generated the impetus for an international pressure on Shell on an unprecedented scale. Partly this was because the Nigerian Customs seized the Bus, and despite direct instruction from the Nigerian National Assembly and despite national and international outcry, the Bus has remained seized.
Our campaign, along with the efforts of international and Nigerian partners, led to Shell pledging to fund the clean up and the Nigerian Government officially starting the process in Ogoniland. However, despite these promises not much has changed for communities suffering from oil pollution. The struggle continues!
Read the latest about the Bus and justice in the Niger Delta on our blog.
What you can do
Contact us if you would like to donate to our Nigerian partner organisations working for justice in the Niger Delta.