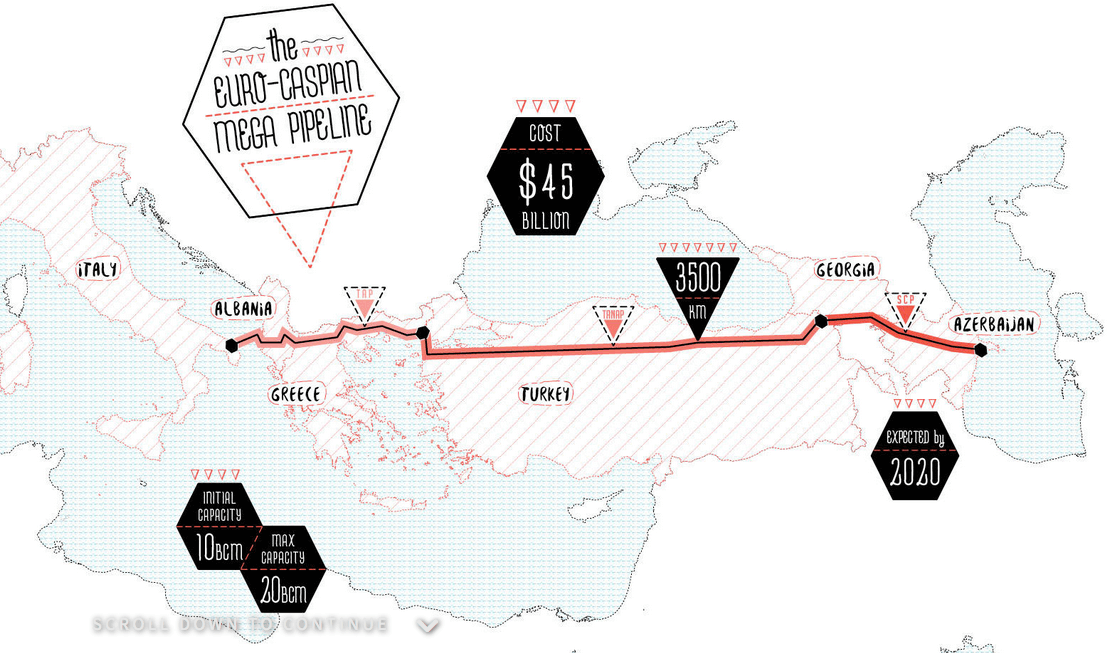 On 9 March 2017, the Extractive Industries Transparency Initiative (EITI), an initiative set up to promote transparency and good governance in oil, gas and mining industries, suspended Azerbaijan for failing to lift restrictions on civil society freedoms and address human rights concerns.
The European Investment Bank (EIB) and The European Bank for Reconstruction and Development are currently considering loans totally in value of €4.5 billion to different sections of BP – led Euro Caspian Mega Pipeline (ECMP), Europe's largest gas pipeline under construction which begins in Azerbaijan and will carry Azeri mined gas across 7 countries to Europe. Both banks say that they support transparency and good governance and are official stakeholder partners of the EITI. However, so far they have refused to rule out the loans. Wouldn't it be hypocritical if these banks went ahead with these loans, effectively ignoring the EITI's decision?
For those who follow affairs in Azerbaijan, the suspension will come as no surprise. Freedom of speech and basic civil rights have been a concern in Azerbaijan for several years. Ilham Aliyev's corrupt and repressive regime has ruled the oil and gas rich Azerbaijan for 23 years and in that time the regime has siphoned $48 billion of $135 billion in state revenues from fossil fuel extraction to offshore tax havens, fueled ethnic cleansing in Nagorno Karabakh, a disputed independent territory within Azerbaijan home to 150,000 Armenian people, cracked down heavily on civil society activities, may have bribed European state officials to look the other way, prevented foreign campaigners from entering the country to monitor human rights concerns, and jailed dissenters – journalists, writers, lawyers, and activists – who dared to question Aliyev's authority. There are currently about 100 prisoners of conscience, including Bayram Mammadov and Qiyas Ibrahimov, N!DA youth movement activists, and journalists Ikram Rahimov and Afgan Sadigov.
The suspension tells us that the situation is not improving. Just days before EITI's decision, Mehman Huseynov, a prominent blogger and chairperson of the Institute for Reporters' Freedom and Safety, was sentenced for two years in jail on defamation charges. Civil society spokespeople, however, believe this sentencing is linked, among others, to the organisation's activist work regarding the EITI.
Oil and gas, two key extractive industries the EITI monitors, is a very big deal in Azerbaijan. Aliyev's regime would not exist without fossil fuels revenues and especially would not exist without BP's support. Aliyev and BP have been bound together since 1994, when they signed the "Contract of the Century" to extract oil from the Caspian Sea.
The BP-led Euro Caspian Mega Pipeline is hugely controversial. Europe's own Keystone XL risks locking Europe into 40 years of fossil fuel use, trashing climate change targets. The ECMP traverses 7 countries and is opposed nearly everywhere. In Turkey, it crosses Kurdish regions that are currently affected by an escalation of violence following the breakdown of peace talks in July 2015 and in Italy there is a fierce local opposition as the pipeline will rip up productive farmlands and destroy 1000 year old trees that generations have depended upon. In 2016 we walked the pipeline and spoke to communities in Azerbaijan and along the pipeline route. You can watch our web documentary here.
For the construction to proceed, the pipeline needs an injection of substantial public funds. The question now is will governments and banks around the world take seriously EITI board's decision to suspend Azerbaijan? After all, these same banks are "partners" of the EITI. Taking the decision seriously would, mean cancelling all previous loans to pipeline, such as the World Bank's recent  $400 million loan granted in December 2016 and suspending all current loan considerations such as EIB and EBRD's loans. Any revenues from the pipeline will only serve to further entrench Aliyev's repressive regime.
Save
Save
Save
Save
Save
Save
Save