Guest blog from Index on Censorship
Index on Censorship gave a special award at our 15th Freedom of Expression Awards – to a group of people in Azerbaijan not able to join us to collect it.
Over the past eight months, Azerbaijani authorities, under the leadership of President Ilham Aliyev, have been engaged in relentless persecution of their most prominent and vocal critics. It started with the arrests this summer of human rights activists Leyla and Arif Yunus, quickly followed by that of their colleague Rasul Jafarov. Then came the detention of lawyer Intigam Aliyev and journalist Seymur Hezi. In December, investigative reporter Khadija Ismayilova was also imprisoned. Press freedom advocate Emin Huseynov has been hiding in the Swiss embassy in Baku, fearing the same could happen to him.
These are people who have dedicated their time and energy to serve on the frontline of the fight for human rights. Leyla Yunus helps those who have been forcibly evicted from their home and works with activists in the South Caucasus region, including Armenia, the country with which Azerbaijan is locked in a frozen conflict. Rasul Jafarov was behind Sing For Democracy, a campaign to highlight rights abuses as Baku hosted the Eurovision Song Contest in 2012. Intigam Aliyev has represented victims before the European Court of Human Rights. Seymur Hezi provided critical coverage both as a reporter for Index award winning newspaper Azadliq, and in the online show Azerbaijan Hour. Khadija Ismayilova has on multiple occasions uncovered corruption connected to the ruling Aliyev clan.
Today, they are all languishing behind bars, on trumped up charges ranging from treason to tax evasion. The whole sorry affair is perhaps most aptly summed up by the dark irony of Leyla Yunus and Jafarov being in the process of compiling a list of political prisoners, when they themselves were added to it.
It is estimated that some 100 people are currently jailed in Azerbaijan over their political beliefs. Because it is worth remembering that while the past months' crackdown has seemed especially ruthless, comprehensive and unapologetic in its bid to silence critical voices, these tactics are not new. For years, those daring to speak out against the ruling elite have been threatened, harassed, arrested and even killed.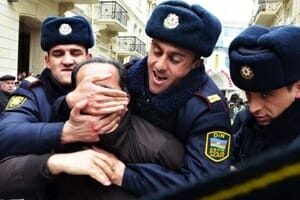 Journalist and activist Idrak Abbasov was brutally beaten by security forces and police in a 2012 attack. He accepted the special award from Oslo, where he now lives in exile, on behalf of his compatriots. Abbasov said in a pre-recorded speech
In Azerbaijan, not a single television or radio channel is free. In effect, all media are under government control with the exception of a few newspapers and the Internet. There is no freedom of expression or association. There are no free elections. The country is ruled by a terrible regime. Freedom of speech has been completely stifled. Our colleagues have been murdered. Elmar Huseynov was killed in 2005. Novruzali Mamedov was murdered in prison in 2009. Rafiq Tagi was killed in 2014. No one has been called to account. Many journalists have been brutally and repeatedly beaten, and no one has been punished. This is Azerbaijan. This is the horrific way the country is being ruled.
The eyes of the world will soon again be fixed on Azerbaijan. The inaugural European Games – organised by Europe's Olympic Committees – are coming to Baku this summer, not long after the capital last hosted an international mega-event, the 2012 Eurovision final. The line pushed by the regime, and parroted by their supporters at home and abroad, is that this is young and developing democracy on the right path. But three years on, the situation has not improved; on the contrary. This award is for Azerbaijanis continuing their struggle for freedom, rights and dignity – in the hopes that it will soon be won.
Idrak Abbasov summarised his hopes for the future in his closing remarks:
I call upon the world community to help Azerbaijan and freedom of speech in Azerbaijan. So that our colleagues might be released. So that our country might become a normal country in which we and others might live freely.