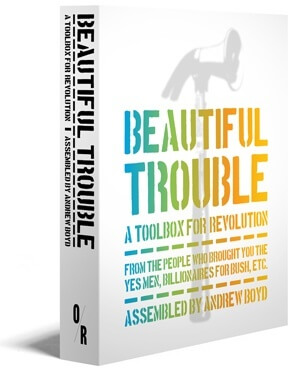 A guest blog post by Mara Ranville.
"Beautiful Trouble: A Toolbox for Revolution" (OR Books 2012) is a book and web toolbox that puts the accumulated wisdom of decades of creative protest into the hands of the next generation of change-makers. Part manifesto, part reference guide, Beautiful Trouble is the anti-textbook—not another how-to manual, but a how-to-think manual.
A presentation of the book and its key ideas will take place this Friday, September 7, at 7pm at Toynbee Studios (28 Commercial Street).  You can RSVP here. Co-editor and contributor Andrew Boyd, the guy behind the infamous "Billionaires for Bush" pranktivism campaign and one of the organizers of last year's "US Uncut", will be on hand, along with two local contributors, performance artist Rajni Shah and Reclaim the Streets co-founder and ex-Platformer John Jordan.
The project consists of short, interrelated modules—creative tactics, action principles, case studies, theoretical frameworks, and practitioner profiles—that together comprise an accessible matrix of best practices and ideas in creative campaigning. The site is collaborative and expandable and will evolve alongside the social movements it serves.
For example, case study Public Option Annie shows how a clever, talented, and sneaky band of singers inserted their message about US health care reform into a high-profile meeting of insurance company executives. Videographers accompanied the singers, and 2 hours after being escorted out by security had edited and shopped to the media footage of the stunt.
In another beautiful example of the power of the human voice, community activists stop a courtroom auction of foreclosed properties in Brooklyn through the use of tactic "creative disruption".
Principle "everyone has balls/ovaries of steel" is exemplified by the work of the Yes Men and any of their unbelievably gutsy public performances, including this one where the BBC gave an interview to a "Dow spokesperson" who declared their intent to cover all costs of the Bhopal disaster.
Friday's presentation will be followed by an open discussion of the state and future of creative activism. Everyone is invited to stay afterward for more libations and creative scheming with your fellow beautiful troublemakers.
Copies of the book will be available for purchase at the event.
RSVP: https://beautifultrouble.org/launchUK
"Beautiful Trouble is a crash course in the emerging field of carnivalesque realpolitik, both elegant and incendiary" —Naomi Klein