'Without roses it cannot be done'.
Joseph Beuys' statement asserts the vital role of beauty in activism. Embodying that vision is the banner that was unveiled in front of the Shell Shareholder Presentation at the Methodist Central Hall, Westminster London on Thursday 21st May. Made by Suzanne Dhaliwal and Amanda Cid of UK Tar Sands Network, and held up by Mae Hank and Faith Gimmell, REDOIL* director and community member in Alaska, it stretched 15 foot long and 4 foot high in the boldest black and white: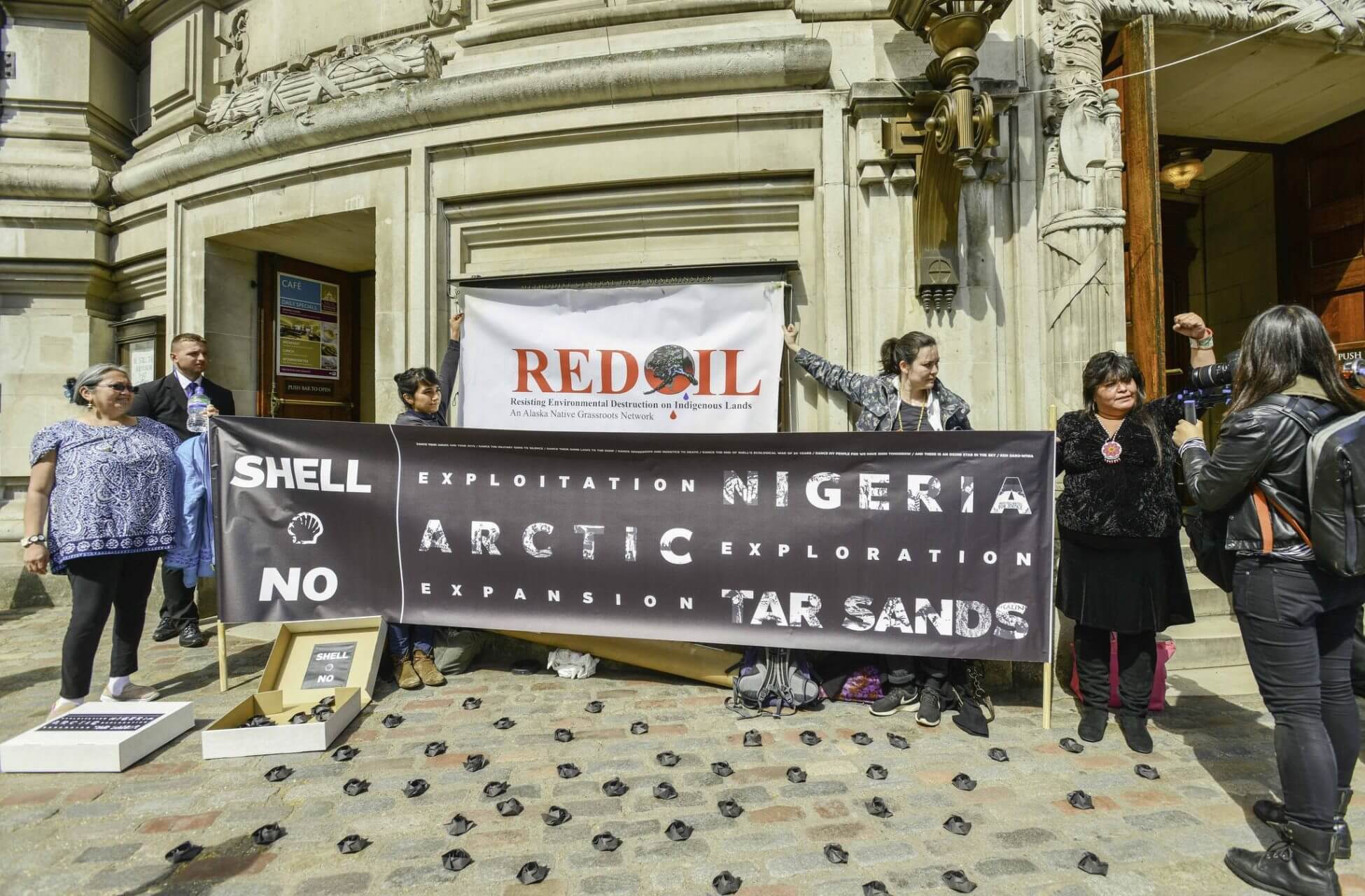 True to Beuys' dictum, the ground before the banner was strewn with black origami roses. Flowers of mourning and resistance were lifted from beautifully designed boxes and laid at the door of the Central Hall, laid at the feet of the Shell shareholders as they passed into the building.
Mae and Faith travelled from Alaska, via the Shell No kayaktavist protests in Seattle, to the Shell AGM in Den Haag and then to this Shell meeting in London. They are central to the community mobilisation and Native American resitance to Shell's plans to drill in the Chukchi Sea north of Alaska, which threatens the ecosystems of the Arctic ocean and the livelihoods of their communities. In collaboration with other First Nations and environmental groups they succesfully held up Shell's Arctic plans for two years through legal action. But the company juggernaut rolls forward, and they made the journey to these semi-public events to register their opposition and to stand in solidarity with communities battlling against Shell – from Alberta, Canada to the Niger Delta.
Nineteen years ago, in this same cobbled area off Parliament Square, there were crowds and placards, shouts and drums outside the Shell AGM 1996. It was a short five months since Ken Saro-Wiwa and his eight Ogoni fellow activists had been hung for protesting against Shell. The mood was one of desperation and fury. Last Thursday's demonstation was one of quiet dignity, of a determination that Shell will be continually held to account, with patient rage.
The contrast between this work of beauty on the outside of the Shareholder event and the banality of the meeting within could not have been starker. One hundred and fifty or so pensioners, many of whom must be former Shell employees, sit in rows of chairs laid out in a large room somewhere within the cavernous interior of the Edwardian hall. It was a half-hearted affair. On the podium were the Chairman, Chad Holliday; the CEO, Ben van Beurden; the Chief Financial Officer, Simon Henry and the Company Secretary, Michiel Brandjes. All four of these men had been through a gruelling four hours of questioning at the AGM in Den Haag two days before. They were in London only to do their duty and respect the fact that Shell is nominally a British as well as Dutch company. But their hearts were not in it. Simon Henry looked fantastically bored and wore an expression of disdain. He sat quiet through the short hour and a half before the assembly was drawn to a close and each shareholder wandered out into the foyer to pick up a tawdry paper bag containing crisps, water and a tired sandwich. (If they could but have seen the the great feast of broodjes and cakes that had been laid out in front of the Dutch shareholders in Shell two days before!)
We raised a question in the meeting, addressed to Van Beurden: "You said on Tuesday, in relation to the situation in Groningen, that you understood the deep anxiety that arises in communities when "they don't know what is coming next". In Ogoniland that is exactly the situation – they don't know what is coming next. They need more reassurance from you that Shell will not sell its oil fields to another company, or that if it does, Shell will commit to implementing the UNEP Plan even if it no longer owns the block."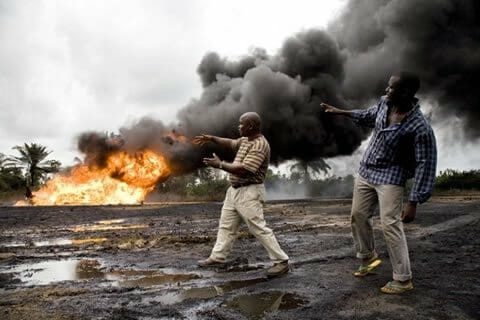 "The people of Ogoni need reassurance, and if you are unwilling to give that, you have to accept that you are forcing people to continue to live in anxiety.
"Why is it that Shell treats people differently in Groningen and Ogoniland? Why do you treat the people of Ogoni as of less value that those of Holland? And are you prepared to accept that this is the implication and consequence of any refusal to give reassurance?"

Ogoniland
Van Beurden's response was evasive, as he used the customary cloak of 'commercial confidentiality' to say that he was unable to give any more clarity and thus reassurance. So again, after the so many decades, Shell chooses to place its own financial desires in front of the needs of the communities of Ogoni.
But the flame of justice burns ever brighter, the fire of determination spreads – from the Niger Delta, to Alberta, to Alaska. As each year passes, the company is evermore hemmed in and faced with a furious beauty.
'With roses it will be done'.
*Resisting Environmental Destruction on Indigenous Lands ( REDOIL ) An Alaska Native Grassroots Network.