350.org's Bill McKibben just gave a keynote address at Chatham House's annual conference on climate change. Bill didn't know it when he agreed to talk at the conference, but its headline sponsor is Shell. Here is what Bill said to a room full of "senior officials from businesses, government, NGO's and academic institutions":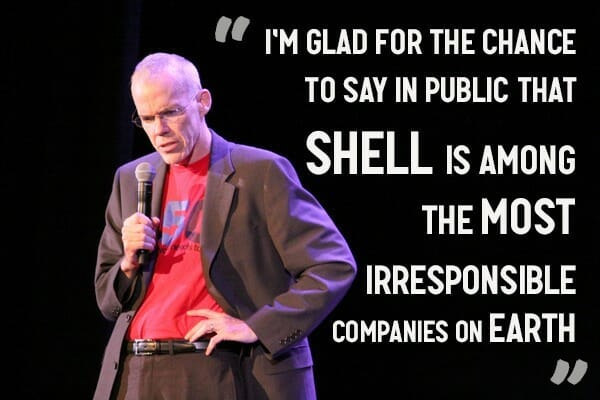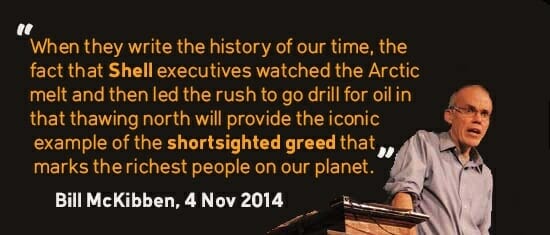 Shell is sponsoring this Chatham House conference – as well as an upcoming one on Middle East and North Africa Energy – and plastering London in ads praising its climate commitments. At the same time, Shell continues its clumsy (to put it politely) attempts to drill for oil and gas in new frontiers like the US Arctic, fails to clean up decades' worth of pollution in the Niger Delta, and apparently to fund climate denier groups who appose carbon regulation in the US.
Shell's sponsorship of elite events, arts institutions, and universities, alongside its ad campaigns aims to create "social licence to operate" – the consent and support of people with power. This is why there's a growing movement of people opposing oil company sponsorship. Last night, attendees at the Shell-sponsored Grierson Trust British Documentary Film Awards wore stickers that said "Let's Take Shell Out of the Picture". Protest performers joined the launch of Shell-sponsored Rembrandt exhibition at the National Gallery last month. We were outside the Chatham House conference this morning. Many of the delegates I spoke to were shocked to find out Shell was the sponsor! Unsurprisingly, following Bill's remarks the conference's Twitter feed exploded:
.@billmckibben: Shell is demonstrating the unique irresponsibility of the fossil fuel industry by drilling in the Arctic. #CHclimate

— Chatham House Events (@CH_Events) November 4, 2014
Bill McKibben: Fossil fuel companies are "rogue companies…If they follow their business plans, the planet tanks." #CHClimate

— Sophie Yeo (@rtcc_sophie) November 4, 2014
Fossil fuel company reps in the room offered chance to respond to @billmckibben but none put up their hand #CHClimate

— Leo Hickman (@LeoHickman) November 4, 2014
What does it mean that a corporation who profits from wreaking climate havoc gets top line speaking spot and a logo on the event – and meanwhile, the people who daily struggle against the impacts of oil extraction and a changing climate are not even invited?