Today I attended BP's annual shareholder meeting alongside Fernando Cabrera from OPSur (Argentina).
Fernando came to challenge BP's board on the dangers from their fracking operations. BP's Argentinian arm Pan American Energy is using fracking frighteningly close to Patagonia's freshwater supplies and fruit orchards (see our report "BP's Fracking Secrets" for more on this). Here's BP's response…
BP Chairman: fracking is a great opportunity but don't ask us about the risks
.@BP_plc Chairman Carl Eric Svanberg: #fracking is an "economic opportunity" for Argentina and that concerns over development should be directed to BP's Argentinian arm PAE. #OOTT https://t.co/sk7OdeA72J

— Platform (@PlatformLondon) May 21, 2018
According to BP's chairman Carl Eric Svanberg, fracking "is a great opportunity for Argentina", as well as being a safe, "accepted technology".
But Svanberg tried to absolve BP's board of any responsibility, saying that if we had any concerns about the company's plans, we should address them to the management of Pan American or the Argentinian government.
Just a few years ago BP CEO Bob Dudley conceded that the company wouldn't frack in the UK because this would bring them "the wrong kind of attention". This attention is needed now more than ever, with BP attempting to break open one of the world's biggest shale gas reserves.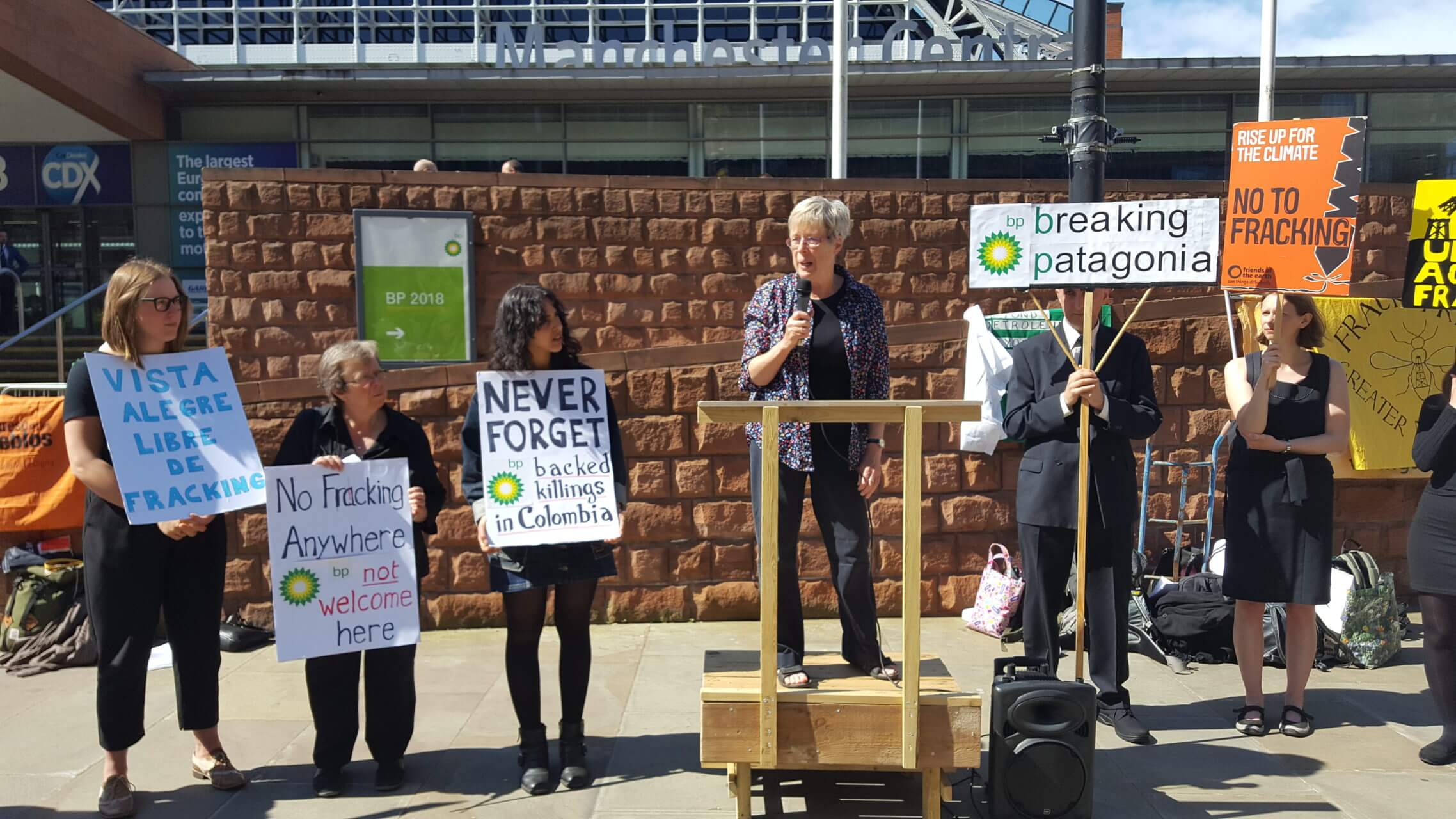 Legacy of violence in Colombia
BP's board was also asked if it would disclose documents from the time it allegedly funded Colombia's military and paramilitary group violence against trade unionists and community activists, and how it would repair the legacy of violence and poverty.
BP's board confirmed that they would answer questions from the truth and reconciliation commission in Colombia. But on the second point…
#BP response: If we didn't have access to energy over the last 300/400 years, we would not have developed. Energy means developing countries are able to do so, which is why we're committed to providing that energy, in order to lift millions out of poverty… #BPAGM https://t.co/77NnqeBhry

— War on Want (@WarOnWant) May 21, 2018
One look at BP's executive remuneration policy and you wonder how they can make this 'our purpose is to lift millions out of poverty' claim with a straight face #BPAGM https://t.co/K2lrlHCyCZ

— Louise Rouse (@rouselouise) May 21, 2018
Hear more from Fernando Cabrera and Fabian Laverde in this video by BP Or Not BP:
NEW FILM! Ahead of today's #BPAGM in Manchester, we joined Fernando from @op_sur and Fabian from @cospacc on an unsanctioned visit to the BP-sponsored @britishmuseum, to highlight BP's destructive impacts in Argentina and Colombia… #Fracking #HumanRights #ClimateChange pic.twitter.com/5cUHSY80uo

— BP or not BP? (@drop_BP) May 21, 2018
BP can't get away with its ridiculous pretense of planning for a low carbon future – while continuing to devastate communities and pushing to burn one of the world's biggest reserves of carbon.
Maggie from @FossilFreeGM says it best:
'People in Manchester don't want #BP here. We don't want #fracking in our part of the world, and we're in solidarity with people around the world who don't want fracking either.'#BPAGM

Watch the full video: https://t.co/VZusKlSmbY pic.twitter.com/ZYLpptjFG7

— Fossil Free UK (@FossilFree_UK) May 21, 2018