Contact: [email protected] / 07942044472 / @PlatformLondon
Full report for download: https://platformlondon.org/app/uploads/2017/12/bps-fracking-secrets-ENG-2017-12-06-1.pdf
Research by Platform with Observatorio Petrolero Sur to be released Thursday reveals BP plans to have fracked 37 wells in Patagonia in 2017.
Observatorio Petrolero Sur offices in Argentina ransacked 3 days ahead of report release, with campaigners denouncing "escalating repression" in Argentina.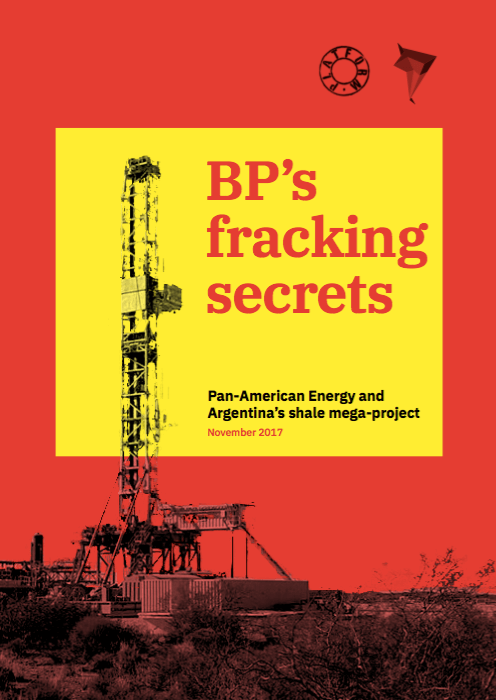 New research by Platform with OPSur,[1] published today, reveals that BP's Argentinian arm PAE plans to have fracked 37 new wells by the end of 2017 on its Patagonian concessions. Most of the wells require 60-80 stage fracking, and some up to 100 stages, meaning a much more complex operation than the standard 16-40 fracs in US shale wells.
BP does not carry out fracking in the UK because the practice would "attract the wrong kind of attention", according to CEO Bob Dudley. [2]
Report author Anna Markova said,
"BP's rolling out a major, dangerous fracking operation in a new frontier, while pretending in the UK that fracking isn't part of its business. These new reserves have to be kept in the ground if we are to stay within a 2-degree global warming scenario. And the right to free, prior, informed consent has to be guaranteed for Indigenous Mapuche communities living in Patagonia."
OPSur co-founder Hernán Scandizzo said,
"Pan-American Energy presents itself as an Argentinian company, controlled by the Bulgheroni family. This is a piece of fiction behind which stand the real shareholders: BP and CNOOC, controlling the company through a maze of offshore firms. The report looks beyond this game of smoke and mirrors."
The offices of OPSur in Buenos Aires were robbed by persons unknown on Sunday,[3] with computers and cash stolen, three days before the release date of a report on BP's plans for fracking in the country, and in the run-up to World Trade Organisation meetings in Buenos Aires. Evidence points to the robbery at OPSur's offices having been a targeted attack. The organisation's offices share an entrance with another outfit (CEPPAS), whose rooms were not affected by the robbery.
BP's flagship concession Lindero Atravesado, where 23 wells are supposed to have been fracked in 2017, overlaps with a town (Vista Alegre) that has passed a resolution to ban fracking, as well as a lake that provides drinking water to the provincial capital Neuquén.
PAE's track record, reviewed by the report, includes an alleged $300 million bribe in 2007 and a series of refusals to admit to and clean up groundwater contamination.
Despite the fact that BP owns 60% of PAE, there is no page about Argentinian operations on BP's website, and Argentinian press normally covers PAE as if it were owned by its Argentinian minority shareholders.
PAE is due to be merged in early 2018 with the downstream company Axion Energy, bringing BP's shareholding down to 50%, and turning the company into the largest integrated oil company in Argentina.
NOTES
[1]
Platform is a London-based organisation that conducts research, education, and campaigns towards a just future beyond fossil fuels.
Based in Buenos Aires and Neuquén, Observatorio Petrolero Sur conducts research, communications, and intervenes in public policy for a just transition towards a sustainable society and energy system.
[2] BP CEO Bob Dudley commented in 2016 that BP carries out no fracking operations in the UK because it would "attract the wrong kind of attention".
[3] https://www.opsur.org.ar/blog/2017/12/05/theft-at-observatorio-petrolero-sur-headquarters/