BP is sponsoring a business lobby organisation that enthusiastically welcomed election promises to crack down on dissent in Egypt with executions and brutal force, aiming to crush the revolution after the imminent Presidential elections
AmCham – the American Chamber of Commerce in Egypt – hosted Mubarak-era Prime Minister and current Presidential candidate Ahmed Shafiq for a lunch on 14 May. Shafiq is publicly known as the previous regime's candidate, having recently announced that he was "chummy" with the military junta currently running Egypt.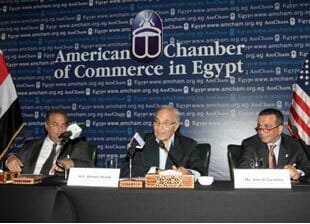 During his presentation to the multinational executives, Shafiq said that if elected, he would "restore order" in one month by resorting to executions and force – an announcement welcomed with cheers and applause from the audience. When asked whether he would name Mubarak's head of intelligence Omar Suleiman – widely feared for his brutal and repressive measures – as his Vice-President, Shafiq responded that "if it was possible for the experience of Omar Suleiman to be pushed in any place, why not use it? Why let it go to waste?" Again, AmCham's assembled members responded with enthusiastic clapping.
And in an echo of Suleiman's claim – back when he was Mubarak's Vice-President – that Egypt "is not ready for democracy", Shafiq argued that "the Egyptian people are obedient."
BP is one of AmCham's primary sponsors, and currently one of its top "Corporate Partners", alongside Exxon, Credit Agricole and Vodafone. Its logo is emblazoned on AmCham's homepage – just below the image of Shafiq. AmCham has a long history of siding with the powerful in Egypt. Only months before the Egyptian revolution began, AmCham lobbied successfully against international criticism of repression in Egypt.
AmCham also hosted several of the other main Presidential candidates or their representatives. According to the New York Times, Khairat el-Shater, the Brotherhood's dominant strategist and a business tycoon, "gave a speech so committed to promoting free markets, foreign investment and other business interests that some in the Chamber said it was as if he was reading their own talking points." This included endorsement of strong economic ties to the West and a promise to give the private sector a big role in infrastucture, including water and electricity. Yet despite the Brotherhood's commitment to neoliberal economics and privatisation, the business executives didn't give him the enthusiastic welcome Shafiq received.
BP has not distanced itself from AmCham since the broad welcome given to Shafiq's promises to crack down on dissent. Will the company be cheering if Shafiq wins the second round of elections on June 16th/17th?