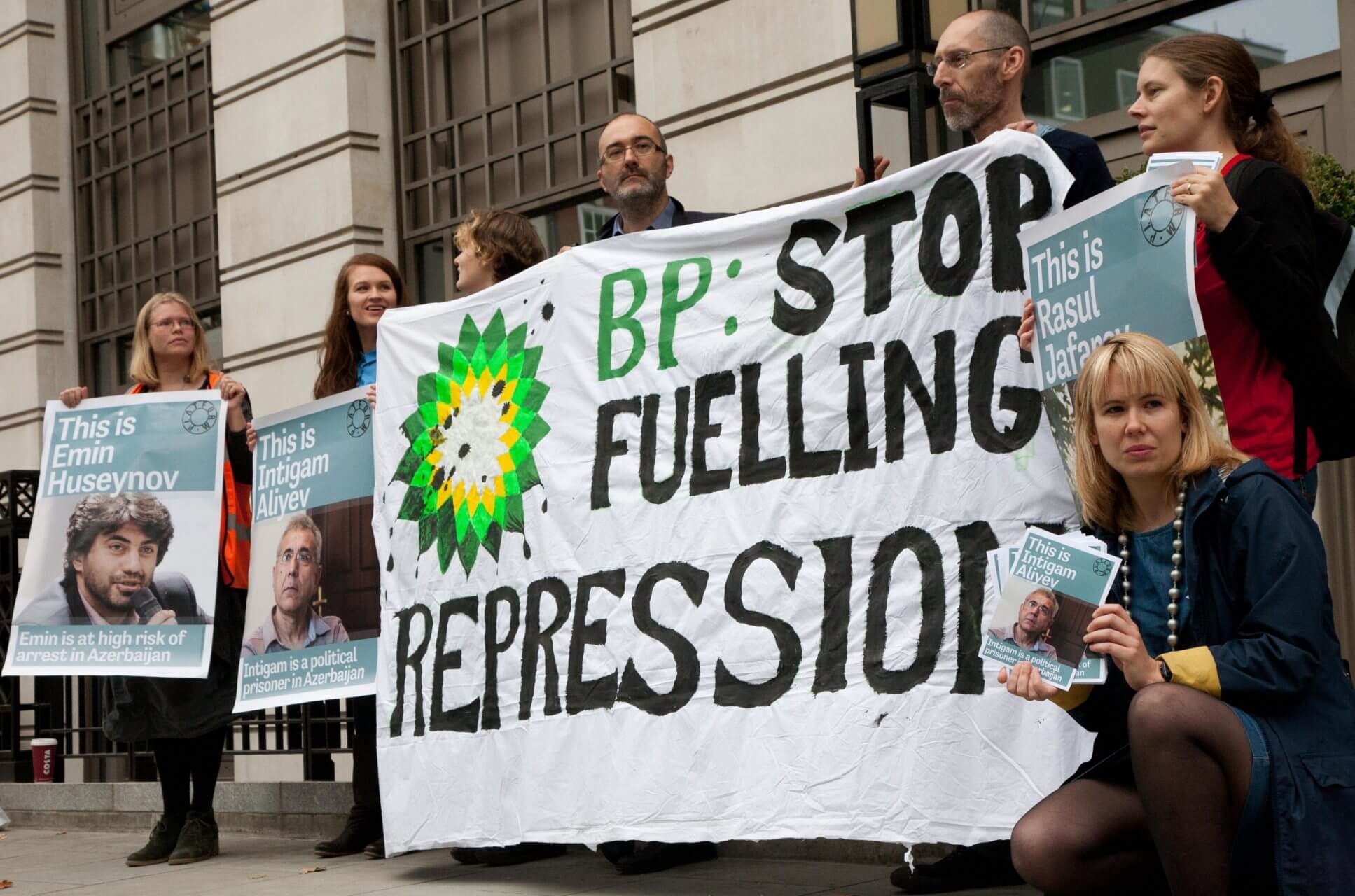 This morning I stood outside BP's International HQ in St James's Square, London. I was attending a solidarity action for a missing protest. We should have been supporting a similar demo in Azerbaijan's capital but there were no banners outside BP's offices in Baku this morning. A woman in the distinctive blue tabard of Baku's street cleaners might have been sweeping the streets outside the office front, people would have been walking along the pristine pavement, coming in and out of the building but no one will be talking critically about BP's pivotal role in funding and supporting the Aliyev regime.
In Azerbaijan protesters pay a heavy price for their activities; demonstrating outside BP would almost certainly mean time in a prison cell or hospital bed. Yet even if civil society aren't physically outside BP's offices they are talking about the oil company's detrimental role in the country. This weekend marks the 20th anniversary of the so called "Contract of the Century". This was a pivotal contract that granted BP and 11 other international oil companies the right to extract Azeri oil. The signing of this contract marked the start of a two decade relationship between BP and the repressive Aliyev regime, a relationship which has been entrenched through many more oil, gas and pipeline contracts. Now BP are working with the Aliyev government to build the Euro-Caspian Mega Pipeline. A huge network of gas pipelines that is planned to run from the Caspian Sea to Northern Italy.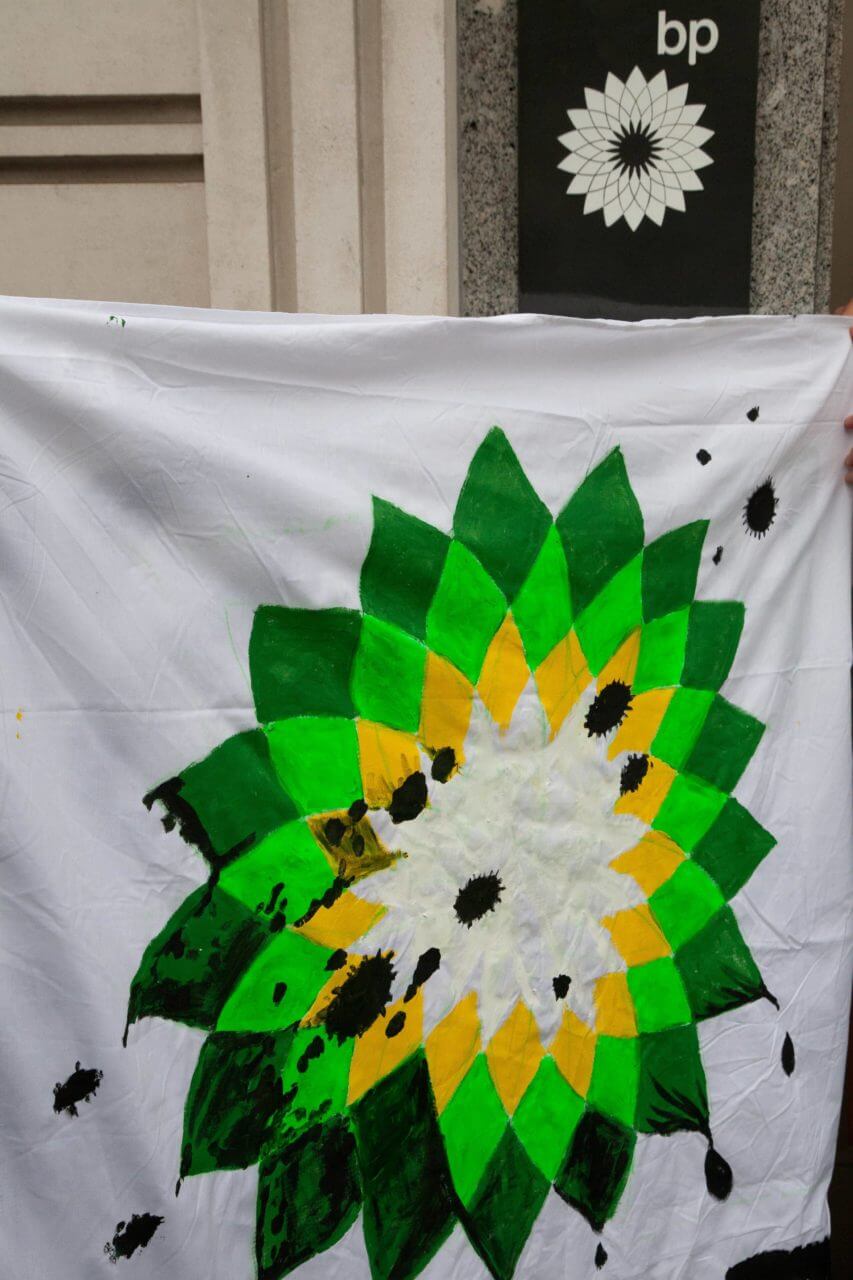 BP's role in Azerbaijan has been pivotal. By providing Aliyev with power and money the oil company's activities have hindered the development of democracy in the country. Azerbaijanis are using the anniversary to demand that BP stop supporting repression. 28 human rights and democracy activists in Azerbaijan and Europe wrote a letter addressed to BP CEO Bob Dudley. This morning we gave it in on their behalf, it asks BP to do two things:
1. Call on the Aliyev regime to release all 98 political prisoners and in particular raise the cases of Leyla and Arif Yunus, Rasul Jafarov and Intigam Aliyev. In addition ask for assurances that other human rights defenders, such as Emin Huseynov, won't be arrested.
2. End their sponsorship of the 2015 European Olympic games in Baku. This event is being used to legitimise Aliyev's violent regime among the international community. Azeri civil society are therefore calling on sponsors to withdraw their support
In addition the letter stated that BP should use the 20th anniversary of the Contract of the Century to reconsider their relationship with the Aliyev regime. Stating that:
As long as BP is working hand in hand with this repressive regime to extract our country's hydrocarbons you are enabling repression and the corrupt use of our resources. Until a democratic and accountable government is in power we call on you to cease your activities in our country, in recognition of the detrimental impact they have had.
The first signature on the letter comes from Rasul Jafrarov, a human rights defender and Platform ally who is currently being held in an Azerbaijani jail. Rasul was arrested on the second of August and charged with tax evasion and illegal entrepreneurship. The charges are false. His real crime was compiling a list of Azeri political prisoners by the time the list was printed Rasul was number 97.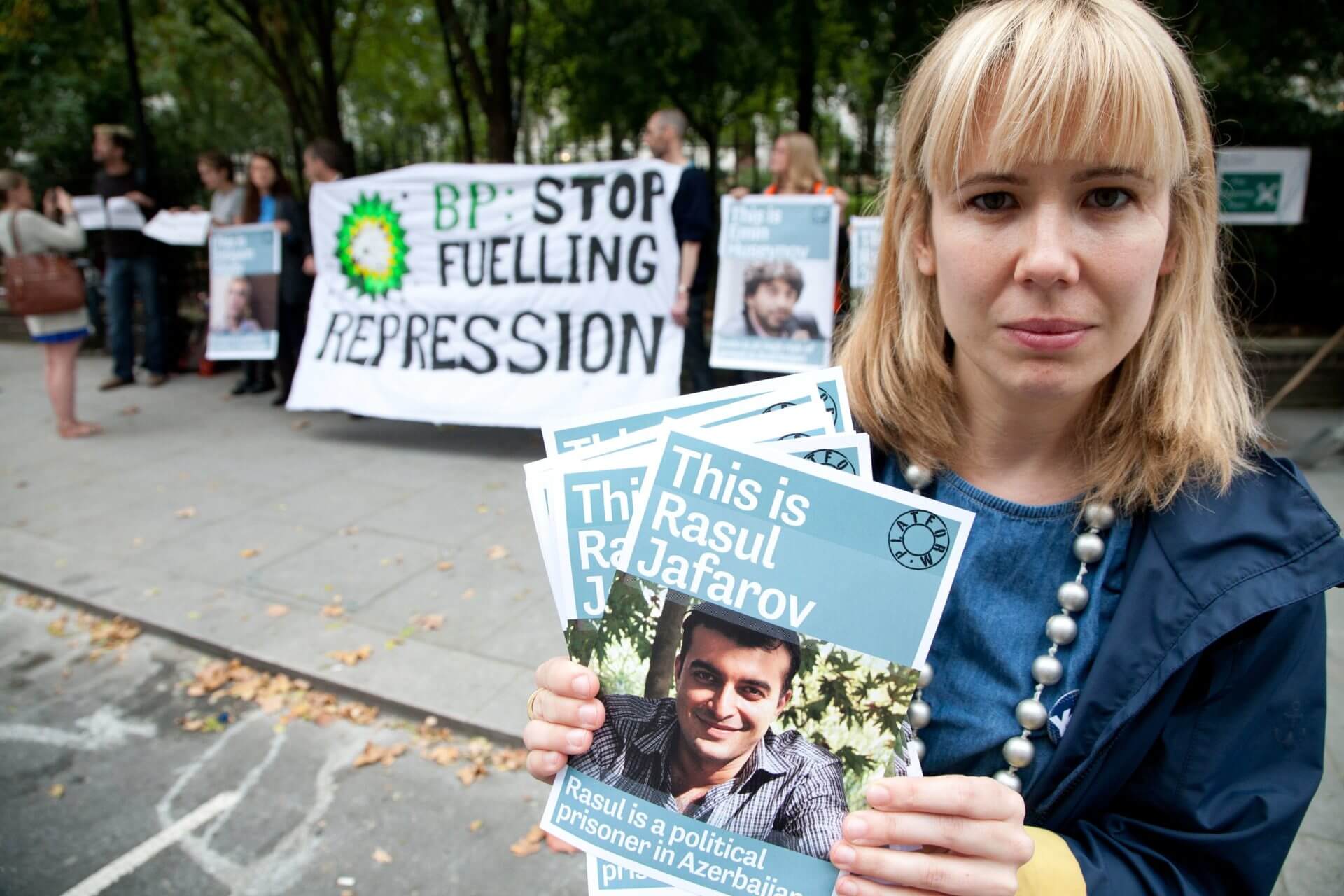 Number 98 was Intigam Aliyev a remarkable human rights lawyer who has been challenging the Azerbaijani government at the European Court of Human Rights for many years. He has been charged with the same offense as Rasul. Anar Mammadli, an independent election monitor, was falsely charged with this crime last December. He is now serving a five and a half year sentence – Rasul and Intigam are likely to face the same.
When I met with Rasul and intigam in Baku last June they were keen to impress on me just how bad things had got since my trip there the previous year. Civil society is being shut down by the Azerbaijani government – they can't register grants, bank accounts are being frozen, people are not being allowed to leave the county, offices are searched and finally people are arrested. It's a familiar pattern. Emin Huseynov, from the Institute for Reporter's Freedom and Safety, had watched such series of events unfold many times before as friends and colleagues ended up in jail.
A few weeks ago Emin attempted to travel to Turkey for urgent medical treatment he was not allowed to leave the country. The Prosecutor's Office searched his office and finally his mother's house was raided. The pattern was too familiar, Emin was forced into hiding – knowing that if he did not go he would be joining his friends in jail.
At today's action outside BP we held giant pictures of Rasul, Intigam and Emin. It was hard to see their faces there. This time a year ago I was with all three of them in Strasbourg, we held a political prisoner rally with giant pictures of three political prisoners. Friends of Rasul, Emin and Intigam. The more I meet and speak to Azeri civil society the greater my admiration grows. Those who do speak out persist in speaking out again and again, in louder and more determined tones. The reward for their tenacity is a prison cell and a life put on hold. Perhaps BP CEO Bob Dudley wasn't anywhere near St James's Square this morning, he might have been in Baku looking at the woman in the Blue tabard sweeping the already clean streets. But if he was in London I hope he looked out of the window and saw Rasul's, Emin's and Intgam's faces looking back. I then hope he thought about BP's role in depriving these three incredible people of their freedom and what he can do to to get them released.