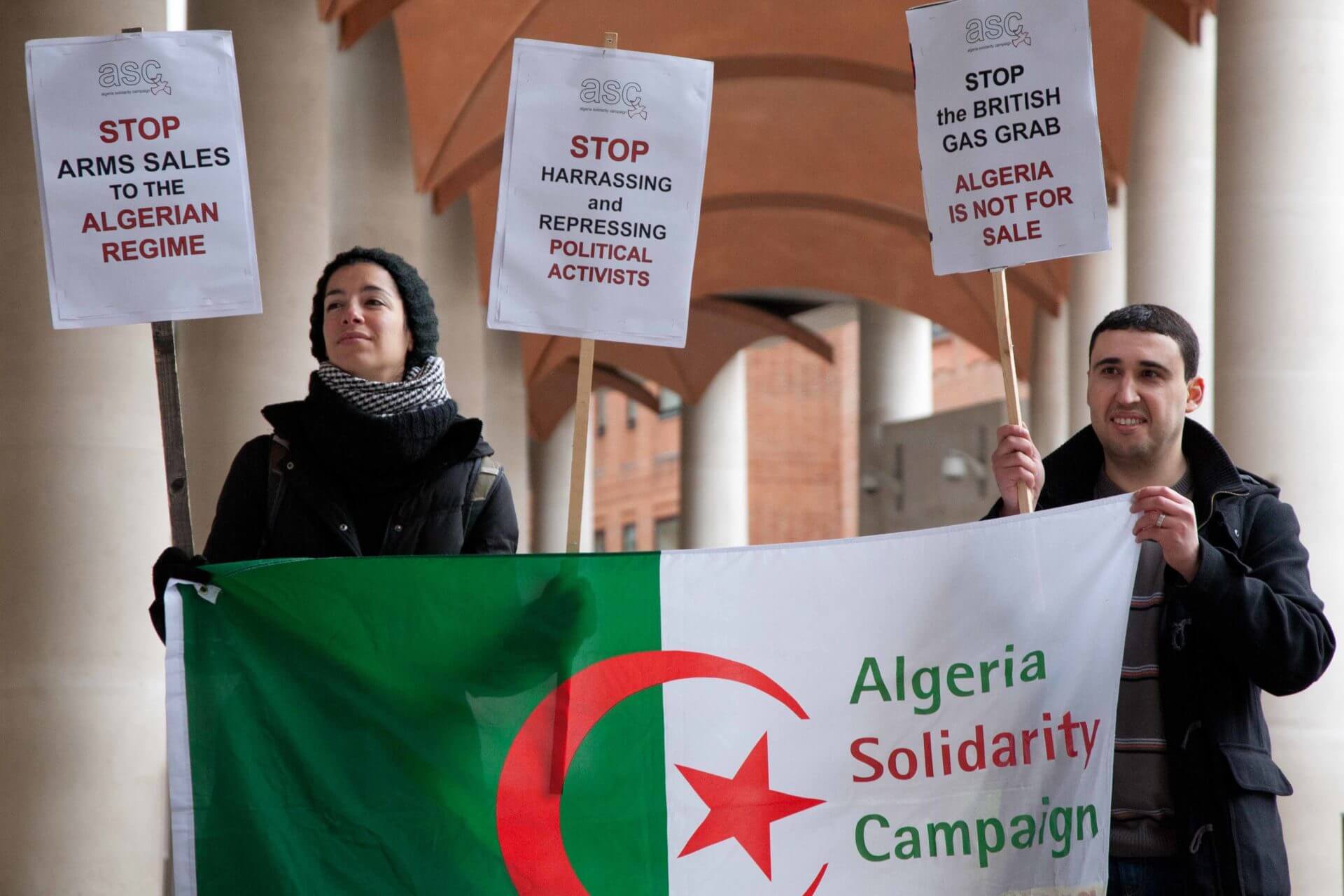 BP & UK challenged over gas and arms deals with the Algerian regime
Demonstrators at business conference call for "Algerian human rights, not Britain' gas grabs"
Monday 10/02/2014
A protest took place this morning over Britain's "gas grabs" and its complicity in human rights abuses in Algeria at an an investor conference in London attended by high-level government & business executives from the UK and Algeria. Twenty protesters with banners reading "BP and the UK: Bankrolling crackdowns on democracy in Algeria" and "Don't sacrifice human rights for Britain's gas grabs" gave leaflets to the attendees of the conference as they entered the London Stock Exchange.
Arranged by UK Trade & Investment (UKTI) together with the Algerian Embassy in the UK and the British Embassy in Algeria, the "Algeria Investor Window" provided a space for government-business deals away from the public eye. The event publicity materials explicitly promoted investment into the highly controversial Trans-Saharan pipelines, that would exacerbate conflict in a fragile region and cause untold environmental damage.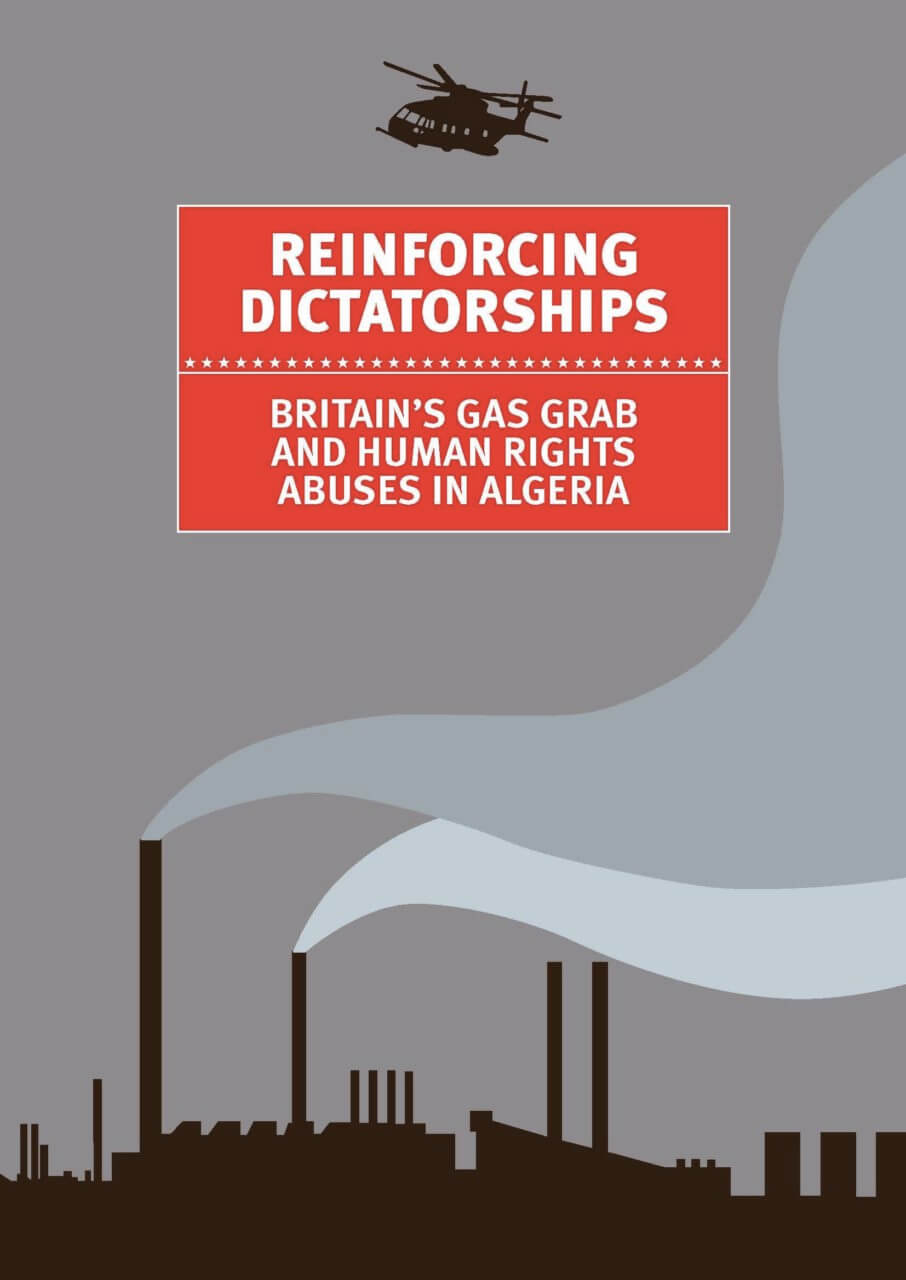 The Algeria Solidarity Campaign (ASC) and oil and gas industry watchdog Platform have also released a new report accusing BP and the UK of a "gas grab" and collusion with a repressive regime in Algeria that has been subject to international criticism for human rights abuses and stifling movements for democracy over the course of many decades.
The report Reinforcing Dictatorships – Britain's Gas Grab and Human Rights in Algeria released today shows how:
* British foreign policy towards Algeria has been shaped by fossil fuel and arms interests
* Britain is pursuing a "gas grab", in which gas supplies are locked into the British grid, regardless of consequences for Algerians
* Britain has been expanding its arms sales to Algeria, despite intense human rights abuses and fraudulent elections
* BP is intensifying its close relationship with the Algerian regime
* Amidst major corruption scandals, Britain has lobbied for better deals for British companies
Hamza Hamouchene, report author and chair of Algeria Solidarity Campaign, said:
The Algerian regime, lacking in popular legitimacy, is seeking to deepen its relations with Western capitals such as London. Deals being made at this investor conference in London directly contribute to the longevity of an authoritarian and repressive regime at the expense of the human rights of the Algerian people. The British establishment is prioritising its fossil fuel interests and arms industry at the expense of pro-democracy movements in Algeria. The British government should have learnt its lesson from the events of the Arab uprisings.
Kevin Smith from Platform added:
Britain's "dash for gas" is not only a disaster for the climate, it's also actively supporting repressive dictatorships like that in Algeria. UK Foreign Policy seems to be almost entirely driven by the agenda of securing access to dirty fossil fuels abroad while turning a blind eye to human rights abuses of the regimes they're willing to do business with.
For Immediate Release
Print Quality Photos and Interviews available on request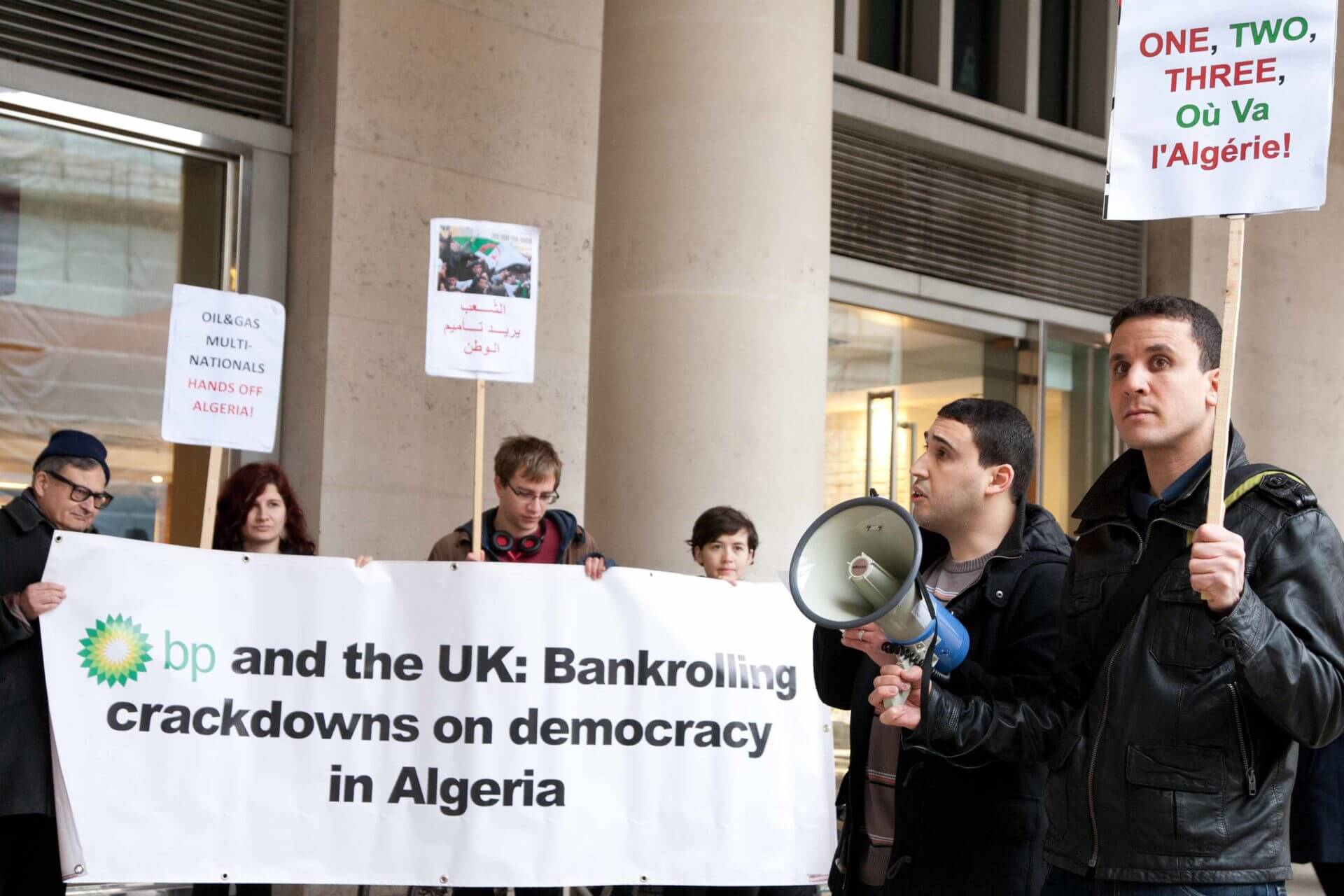 Contact [email protected]
*** ENDS ***
Notes
More information on the Algeria Investor Window
Algeria and Human Rights
In a 2013 report, Amnesty International said that the Algerian authorities continued to restrict freedoms of expression, association and assembly, dispersing demonstrations and harassing human rights defenders. Human Rights Watch have reported on how the authorities relied on repressive laws and regulations to stifle dissent and human rights activities by increasingly clamping down on efforts to form independent unions and to organize and participate in peaceful protests and worker strikes. Authorities have blocked demonstrations, arbitrarily arrested and prosecuted trade unionists for the peaceful exercise of their union activities.
Algeria and Gas Exports
Gas currently forms an integral part of the UK's energy generation mix, generating 40% of electricity in 2011.5 As domestic extraction diminishes, the government is expecting that imports will account for a higher proportion of the gas supply.
Algeria has the largest proven natural gas reserves in Africa and has been identified as a priority market in the Department of Energy and Climate Change's Energy Security Policy.
The European Union considers Algeria as a strategic partner because of its oil and gas resources. 38% of Algerian oil extraction is destined for the European market. But the major energy interdependence relates to gas. Algeria is the third-largest source of gas imports to the EU, accounting for 14% of gas imports and 10% of total consumption.
Role of British companies in the Algerian oil and gas sector
The primary UK oil & gas companies currently active in Algeria are
BP is one of the largest foreign investors in Algeria. With joint venture partners Statoil and Sonatrach, it has delivered two of the largest gas developments in the country: In Salah and In Amenas.
BG Group has been active in Algeria since 2006 and has a 65% interest in and is the operator of the Hassi Ba Hamou (HBH) permit in central Algeria. The Group also holds 49%, and is operator of another permit: Guern el Guessa (GEG).
BHP Billiton has a 45% interest in two developments: the ROD integrated oil fields in the Berkine region which are operated by a Sonatrach-ENI joint venture and the OHANET wet gas development, operated jointly with Sonatrach.
Shell began its operations in Algeria in 1928, providing fuel and lubricants to the automotive and aviation industry. Today Shell is mainly involved in onshore drilling and the sale of lubricants to the country's fast-growing retail and industrial markets. Shell Global Solutions is also active in Algeria. Algeria announced last year (2012) exploration agreements with Exxon and Shell regarding shale gas.
UK arms sales to Algeria
The UK has been keen to pursue arms sales to Algeria in recent years, and Algeria was listed as a 'priority market' by UK Trade and Investment's Defence and Security Organisation (UKTI DSO) in 2010/11.
Of the £303 million worth of UK export licences to Algeria approved between 2008 and June 2013, £290 million worth were classified as "military", according to research carried out by the Campaign Against Arms Trade (CAAT). Weapons approved for sale to the Algerians were under the categories Military Lists 4 and 10 (ML4 and ML10) that cover "small arms", "grenades", "bombs" and "missiles" – as well as "aircraft, helicopters and drones"