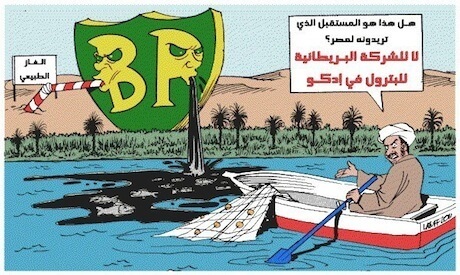 BP is back in Cairo. The multinational never quite left, but intense community opposition put its flagship North Alexandra project on hold during the last three years.
With former military leader Abdel Fattah El-Sisi firmly installed in the President's chair, now BP has seen an opportunity to restart drilling and construction.  CEO Bob Dudley was in Cairo last Tuesday, to meet with Egypt PM Ibrahim Mahlab, celebrating renewed co-operation.

Residents in Idku mobilised against BP's plan to build a mega-gas plant next to their homes, blocking roads, holding popular street assemblies and occupying the building site. After long delays, the local resistance forced BP to concede. The company instead relocated to Burg Mighazil, a village in the neighbouring governate, where BP made an alliance with the  Muslim Brotherhood – then running Egypt's government. But once again, popular opposition put BP on the back foot and stopped construction.
As part of the clampdown on public criticism under President Sisi, Egypt's strict anti-Protest Law threatens multi-year prison terms for street protests, with leftists, liberals and Islamists all receiving long jail sentences. With opposition silenced, BP's way has been cleared.
Interested only in the profit line, BP is happy to make a deal with a regime that has killed thousands and imprisoned over 40,000. Sisi, focused on entrenching the interests of elite classes and the military, is happy to sign away Egypt's natural resources. The deal isn't even new. In September 2012, Morsi met BP CEO Bob Dudley and announced the same project, then costing $11 billion. And the same deal was also announced under Mubarak back in July 2010, for $9 billion.
Sisi's energy policy seems remarkably similar to Mubarak's, including negotiating from a position of weakness and increasing dependence on multinationals. Both Morsi and Sisi accepted the same rip-off fiscal terms that Mubarak's team had negotiated, that give BP vastly more control and revenues than is standard on Egyptian gas projects.
The government is now hyping BP's commitment to invest $10 billion in Egypt's economy, but this ignores the fact that the oil & gas industry is incredibly capital-intensive; the billions will go to foreign oil service companies and imported equipment and technology. Few jobs will be created, and most will be temporary – the benefits for the Egyptian people are debateable.
You can read Mika Minio-Paluello's recently published analysis of climate justice in Egypt here.