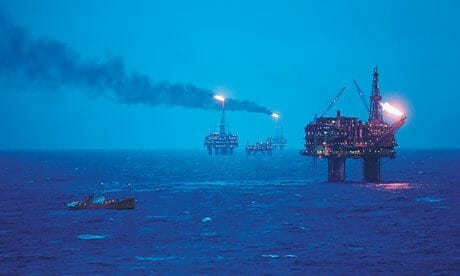 BP CEO Bob Dudley has once again stepped into the Scottish Independence Referendum debate, declaring via a special BP press release:
"As a major investor in Scotland – now and into the future – BP believes that the future prospects for the North Sea are best served by maintaining the existing capacity and integrity of the United Kingdom."
This follows his 'remarks' in February, seven months ago:
Bob Dudley said that "Great Britain is great and it ought to stay together" after being asked about the impact of Scottish separation on his company. He told the BBC there were "big uncertainties" surrounding a separate Scotland's currency and membership of the EU and "all businesses" are worried.
Back at the beginning of the 2014 BP was the first major corporation to break silence on the issue – and it was recognised that the company was speaking out  in part as a 'favour' to George Osborne who had just spoken strongly on the Referendum.
Why should Dudley now step in again so strongly in the last days of the campaign? Of course BP is concerned that the situation in the North Sea, which has long been heavily biased in favour of the corporations might be in for the first proper scrutiny since the early 1980's. Mika Minio explained yesterday in their Al Jazeera blog:
There needs to be a rapid shift from fossil fuels to renewables, to have a chance of surviving climate change. But North Sea crude that is extracted should at least be taxed sensibly. Britain missed out on a £74 billion windfall in oil revenues in just six years, from 2002 till 2008, compared to Norway's fiscal regime. An independent Scotland could choose not to concede to the corporate lobby, and replicate the Norwegian ownership and tax model.
But the level of BP's assets in the North Sea is often overestimated – as was revealed in a recent Guardian piece by Terry Macalister – which reads:
"BP was a champion of North Sea investment but it has gradually sold off many of its assets to foreign companies such as Apache and Talisman while putting its money into Russia with Rosneft. You should call it Russian Petroleum not British Petroleum."
And:
"BP's UK production has fallen from 330,000 barrels a day 10 years ago to just over 60,000 while its gas output has dwindled from 1.1 trillion cubic feet per day to 157m. In comparison BP now obtains from Russia nearly 840,000 barrels of oil a day and 800m cubic feet a day of gas."
What seems much more likely is that BP is once again returning a favour to the Conservatives.
On 7th September  in response to the US Court stating that BP had been 'grossly negligent' over the Deepwater Horizon disaster, the UK government declared:
 that the (US) courts' treatment of BP undermined confidence in fairly resolving disputes in the US and the "trust necessary for international commerce".
BP is, inevitably, looking after its interests on a global scale – playing off one region against the next, pulling in favours where it needs them and giving out favours in return. It's forever concerned about one thing, its own profits. Yet when a giant capital concern such as BP – among the top 5 largest companies in the UK – plays it's 'game of chess,' then it's foot can fall heavily on the places about which it makes political statement – in this case Scotland.