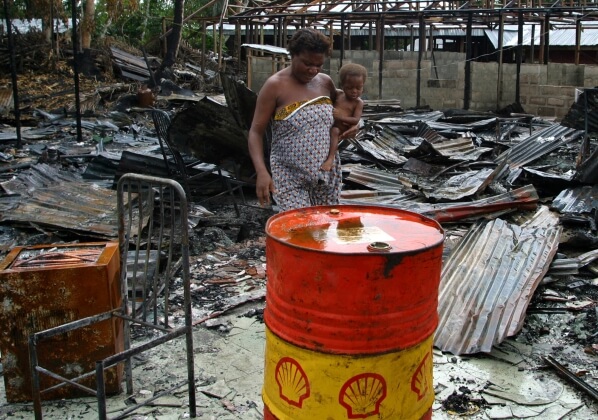 The House of Representatives, part of Nigeria's legislative body has ordered an official investigation into the allegations that Shell fuelled violence in the Niger Delta by paying armed militant gangs. As John Ameh reports from Punch, in Abuja:
The House of Representatives on Wednesday ordered an investigation into the allegation that Shell Petroleum Development Company funded some communal clashes in the Niger Delta, resulting in the loss of lives.
A House resolution in Abuja sent for the SPDC to appear before the Committee on Petroleum Resources (Upstream) to respond to the allegation.

A motion by a lawmaker from Rivers State, Mr. Andrew Uchendu, accused the company of "directly funding rival groups in their areas of operation," over the years.

Uchendu told the House that the SPDC had always denied complicity in the killings until a recent report by a non-governmental organisation indicted the Anglo-Dutch oil giant.
The allegations, contained in Platform's new report, Counting the Cost, have put Shell's human rights record in Nigeria under fresh scrutiny. Platform is calling on Shell to break its close ties with the Nigerian military, clean up decades of oil pollution, stop payments to armed groups and respect the human rights of local residents. The oil giant has been summoned by the investigation and will have to answer to the House of Assembly, where it could face a grilling over its conduct in the oil-rich Niger Delta.
The Committee on Petroleum Resources, headed by Mr. Muraina Ajibola was given two weeks to conduct the investigation and submit its report before the House.
Platform welcomes the prompt steps taken by the Nigerian House of Representatives to investigate this urgent issue. However, we urge the National Assembly and the Federal Government, and the home governments of the UK, Netherlands and US to properly hold Shell accountable for its abuses in the region. We remind the National Assembly of its duty to the people of Nigeria to act transparently and accountably in all its investigations. All too often, inquiries into human rights incidents have proved opaque, undemocratic or have never been made public, as in the inquiry into the military raid on Odioma community. The impunity long enjoyed by oil companies and the Nigerian government must be brought to an end before a stable peace can develop.