The news is just in: the Edinburgh International Festival is not renewing its BP sponsorship – as confirmed by the festival on Twitter.
Last year, Festival star Simon McBurney criticised the BP relationship, alongside Emma Thompson, Mark Rylance, and Caryl Churchill. Several theatres including London's Royal Court and Arcola have joined the Fossil Funds Free commitment, pledging to refuse all fossil fuel sponsorship. Like Jess Worth, who was part of organising protests against BP at last year's festival, says:
It's less than a month since Tate parted company with BP and the dominoes are clearly starting to fall. Big oil has been embedded in our museums and festivals for too long but now the shift to a fossil free culture is taking off. However, there is more to be done in Edinburgh. Now the Science Festival must clear out its fossil fuel funders and the Portrait Gallery should close its doors to BP.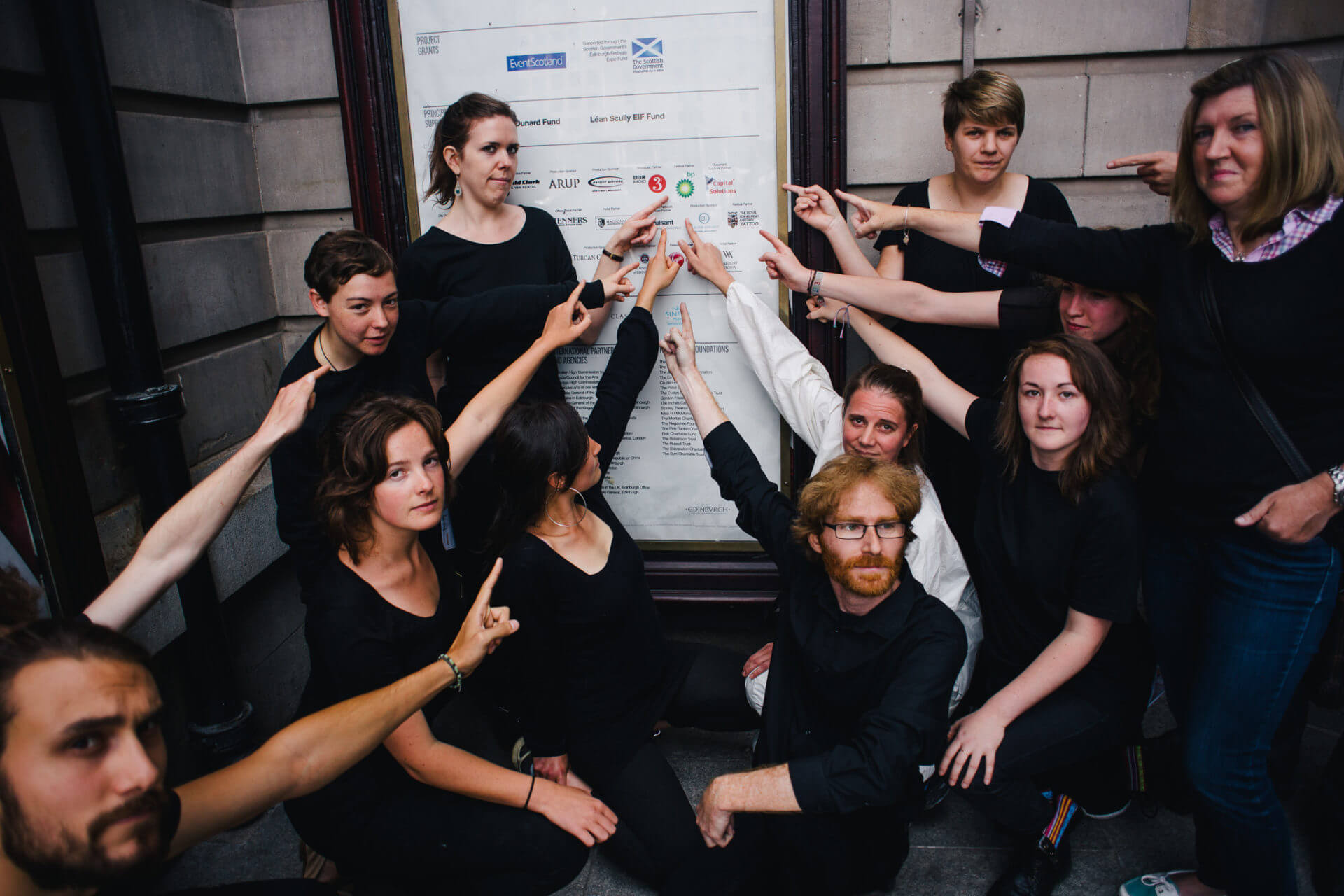 This same week, over 100 celebrities and public figures published an open letter that calls on the British Museum to drop BP. The news lands straight on the desk of new British Museum director, Hartwig Fischer. And he's got an opportunity  to drop BP – the deal is currently being renegotiated.
Well, I think we can safely say that it's the British Museum leadership who's really behind the curve. Tate and Edinburgh International Festival are already BP-free, and we've just found out that the British Museum's staff and visitors would like it to join them.
What do Londoners think?
The British Museum's annual budget is £120 million, of which £45 million comes from government Grant-In-Aid. BP pays £500,000 – less than half of a per cent – to place its logo on the Museum. The Museum's Board are thinking about signing a new 5-year contract with BP. What should the museum do?
We commissioned a survey by pollster company Morar Consulting to check what Londoners think. Here are the results: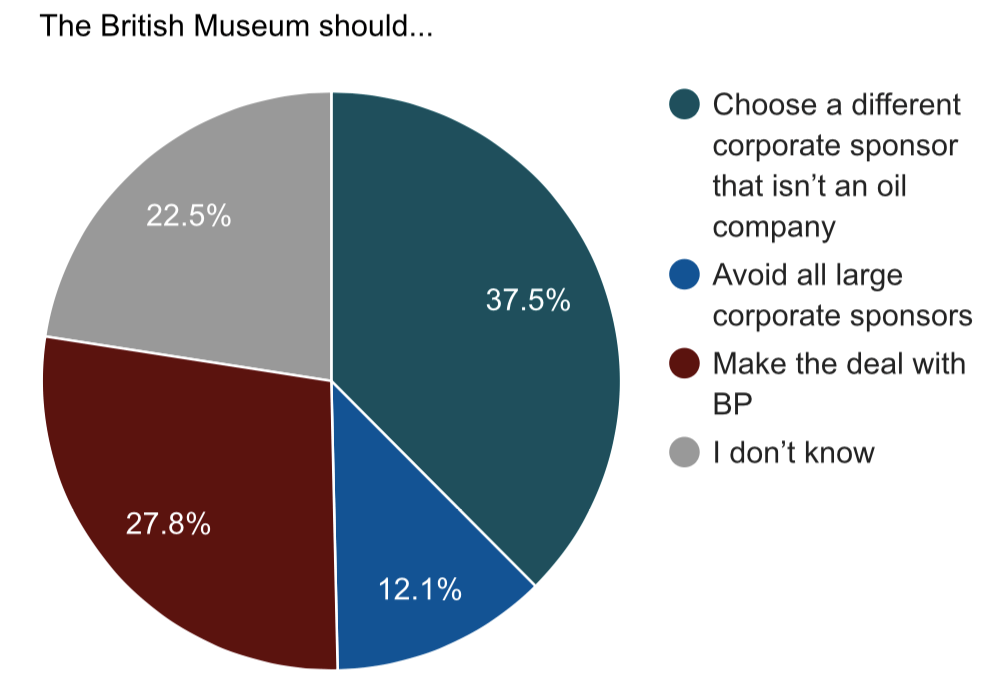 37.5% Londoners thought the museum should choose a different corporate sponsor that isn't an oil company.
12.9% thought it should avoid all large corporate sponsors.
27.8% said the museum should make another deal with BP, and
22.5% responded "I don't know".
In other words, about 1 in 2 Londoners (49.6%) think the British Museum should drop BP.
What do the staff think?
62% of British Museum staff think BP sponsorship is 'unethical', while 66% support the aims of the anti-BP interventions. This is according to a recent survey by the Public and Commercial Services union, which represents workers in major museums including the British Museum and Tate.
PCS Union Culture Sector president Clara Paillard told us,
PCS Culture Sector condemns the increased commercialisation and corporatisation of our public museums and galleries. Oil and arms sponsorships go hand-to-hand with privatisations, zero hours contracts and attacks on terms & conditions of museum workers. Looking at BP track record on human rights, we believe their sponsorship is a breach of the Museum Association Code of Ethics.
Money and public trust
Gulf Coast advocate Karen Savage explains,
For the British Museum to continue its relationship with BP would not only condone BP's destruction of the US Gulf Coast, but would condone BP's continued abuses of our great Earth and her people. The Museum must stand with the US Gulf Coast and the world and say no to BP sponsorship and no to fossil fuels.
We asked Londoners what they thought of the issue in principle: Should our publicly-funded museums like the British Museum or the Science Museum promote the branding of fossil fuel companies like BP?
32.1% answered Yes,
38.2% answered No, and
29.7% were unsure.
Here's the important thing to understand about corporate sponsorship of culture. It is a transfer of public trust (or what the extractive industry calls "social licence to operate") in exchange for a fee.
BP pays the museum something in the region of £500 thousand a year; in return the company gets to be associated with its prestige where it matters for them (among diplomats, cultural critics, journalists, VIP parties, NGOs). What our poll appears to show is that this exchange does not work favourably for the British Museum among its London public.
These are the facts, Mr Fischer. Now what will you do?
---
Watch last year's protests at Edinburgh International Festival
Readers, to call on British Museum director Hartwig Fischer to drop BP sponsorship, sign this petition.
If you make art or work in the cultural sector, you can also join the Fossil Funds Free commitment.