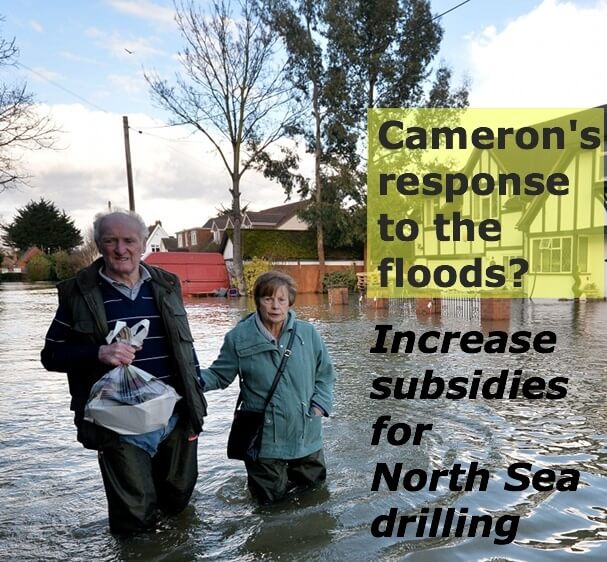 Monday 24th February, 2014
Responding to Cameron's announcement of pledges to maximise the North Sea Oil & Gas industry, Platform energy campaigner Kevin Smith said:
Despite the UK pledging to phase out fossil fuel subsidies in 2012 along with other G20 nations, Cameron is announcing a whole new package of political support to the North Sea oil and gas industry on top of last year's slew of excessive tax breaks.

This astounding degree of government subsidies for fossil fuel extraction is artificially propping up a dangerous and out-dated energy model when we urgently need to transition to a low carbon society. Britain's renewable energy resources are woefully under-developed compared to countries like Germany and Spain. Yet the government is offering scant support to clean energy while oil and gas walk away with tax breaks and political subsidies worth billions.

If Scotland were to secede from the UK, its long term interests would be far better met by a thriving renewables energy sector to see it sustainably and profitably into the future, rather than over-dependence on the last dregs of a dirty, dated fuel source.
For more information or comment, contact [email protected] /0207 403 3738
Notes
PM pledges action to maximise the North Sea oil and gas industry
Platform's submission to the Environmental Audit Committee on fossil fuel subsidies
Petition calling on Cameron to cut fossil fuel subsidies instead of foreign aid to fund the relief of flood victims