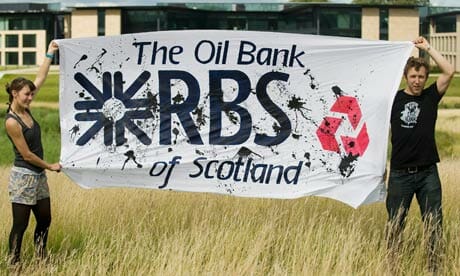 Pinch and a punch, first day of the Move Your Money month!
All over the country, people are cutting up their cash cards from the main big banks and shifting their cash to ethical banks, credit unions and building societies, as part of Move Your Money's sustained campaign to get people to stop providing banks with the means to screw the economy, communities and the climate. If it's something you've thought about doing before but never gotten round to it, MYM has a clearly laid out 'how to' guide that might provide you with that little extra impetus.
At Platform, for some years we've looked at how banking services play a central role in the exploration, production and transportation of fossil fuels, and how this contributes to the exacerbation of climate change. In 2006, our report The Oil and Gas Bank calculated that RBS' 'embedded' emissions were greater that the actual emissions of Scotland itself.
In 2000, RBS started positioning itself as 'the oil and gas bank', providing oil corporations with the cash to build and operate drilling rigs, pipelines and oil tankers. Working closely with everything from the world's biggest oil companies to start-up minnows, RBS structures the loan agreements and provides the credit facilities that make new oil and gas extraction possible. While the RBS head office lies just outside Edinburgh, the London-based Oil and Gas Team work out of 135 Bishopsgate, towering above Liverpool Street Station. It is from these offices that the team underwrites projects and operations from West Africa to the Amazon rainforest, from the North Sea to the Middle East.
The bank has also been associated with more controversial forms of oil production, notably tar sands extraction in Canada. The tar sands have been heavily criticised for their carbon intensity, as well their horrific impacts on vast tracts of boreal forests, water ways and the local indigenous communities that are increasingly unable to practice traditional fishing and hunting, and experiencing spikes in rare forms of cancer as a result of the industrial pollution.
We released a report Cashing in on Tar Sands that showed how in the three-year period from 2007-2009, RBS beat other UK banks in underwriting the largest amount of loans to companies operating in tar sands in Canada, to a total of more than US $7.5 billion. In 2009, RBS underwrote a £1 billion debt to ConocoPhillips, an oil company that aims to aims to expand production from its three tar sands projects eightfold by 2015.
Our reports have also looked at Barclays and HSBC's fossil fuel finance, so you should still be looking to move your money if you have your account with them, it's just that RBS has come out consistently 'the worst' in the periods of time we've examined.
So here's hoping that lots of people take the pledge throughout March – tell your friend's if you're going to do it, share some of MYM's excellent resources, get that glowy sense of self-righteousness in doing it, and see this as a complimentary part of pushing for bigger structural changes to our societies and economies rather than a substitute for them.
Click below to have a flick through Cashing in on Tar Sands – UK Banks, RBS and Canada's Blood Oil