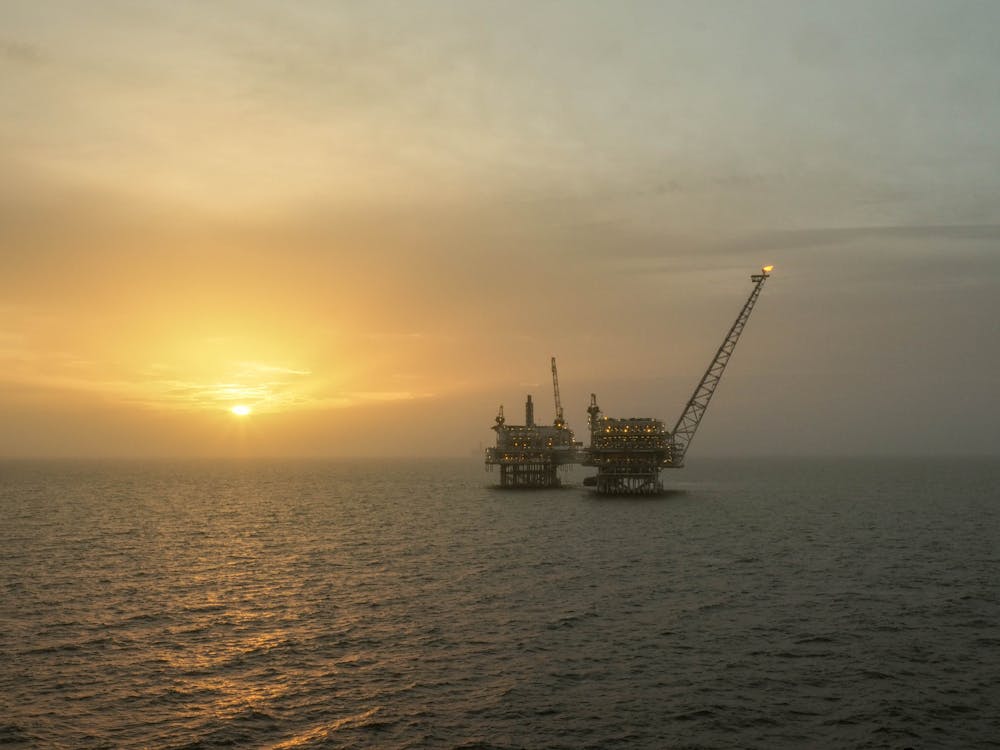 Last month I spoke on behalf of Platform at an online event on the theme of 'People Over Profit and Covid-19' organised by our collaborators Kate and Ryan at Friends of the Earth Scotland. It was a really engaging event with two other speakers followed by breakout groups and a wider discussion afterwards. I looked at the past and possible future of North Sea oil and crises. The other two contributions were on the history of economic shocks in Latin American and how care workers are dealing with the current crisis. It was great to take part in a discussion with this mix of perspectives. What follows is a summary of my contribution, how it links to the themes raised by the other two participants and the developments that have occurred in the four weeks since. 
Crises in Latin America 
The first speaker was Alberto Villareal, the Economic Justice and Resisting Neoliberalism Latin American Programme Coordinator with Friends of the Earth International calling from Montevideo. He discussed reconstruction capitalism or 'shock doctrine' responses that occur after economic crises. He outlined how under bilateral trade agreements, investor-state dispute settlements (ISDS) are often agreed which allows private foreign investors to sue the national government for impacting their perceived ability to make a profit.
When the Argentine economic crisis occurred in 2001, due to intense neoliberal policies in the decade before that privatised many public services, large multinational corporations seized on this opportunity and sued the government successfully for a total of $9.3bn in 'reparations' because the country was not run exactly as they would have wished. The largest of these was the Spanish oil corporation Repsol who were paid $5bn in government money.
Another shock that was discussed, although this time one directed at the predatory multinational corporations operating in Latin America, was the response that progressive governments in Argentina, Venezuela, Bolivia and Ecuador made to deal with the crises at the start of the last decade. These governments tried to redirect the economy to value people over profit and to take control of their natural resources and energy provision. But again, they faced numerous legal challenges that are legal under these trade agreements. The UK company National Grid also used the UK-Argentina bilateral trade deal to sue the government for mismanaging the economy in their response to the crisis. Over $17bn has been paid back by these four countries to transnational oil companies. Overall, $32bn has been paid via Latin American countries in these tribunals over the years. Just two-thirds of that amount would pay for the elimination of extreme poverty on the continent.
Under the current crisis following from the outbreak of Covid-19, governments in Latin America like others around the world have restricted non-essential services and travel, have introduced compulsory licensing of medicines and equipment, have nationalised infrastructure and hospitals, reduced foreign investment, restricted exports and implemented bailouts. These all seem like the only reasonable responses that a government could take in response to the Covid-19 outbreak but, again, due to the agreements of ISDS rules, all these measures are potential points of litigation. Alberto pointed out that the legal threats have already begun.
As for what can be done, Alberto stressed that all countries in the global south need to be able to immediately suspend these ISDS agreements. As well as this he said we must:
To build the capacity to fight for these demands of the government, in Uruguay at the national level trade unions, food and housing co-ops, SMEs and the unemployed have begun to form cross-sectional alliances. Alberto emphasised that while this work is vital, we need both international solidarity and solutions. For him, we cannot go back to business as normal and the talk of a 'Green Deal' for Europe will mean nothing if the response is not global and just. He reminded us that such a response is possible and that it has happened before. After the Second World War, when the Marshall Plan was developed with the correct scale and ambition, it was designed to aid devastated economies and not just to benefit the donor country. Whether such a response will come remains to be seen, and is up to us to fight for. But having the details of the story explained so clearly was very informative and empowering.
Crises in North Sea Oil 
What is also evident from Alberto's talk is that these companies are well prepared for these crises. In order for these laws to be written into trade deals that can take many years to be passed, it is clear that intense planning and lobbying must go into them.
This is exactly the same topic that I tried to stress during my talk where I focused on how the UK oil and gas industry deals with crises, what their lobbying looks like and what we should expect to see in the future. By briefly looking at crises from 1976, 2010, 2014, and the present, some themes begin to emerge.
As my colleague James has pointed out many times, the first thing is to say is that fossil fuel companies are used to crises. This is clear from a quick glance at a chart of the price of oil since the 1940s to the present, it goes up and down wildly. These corporations have the experience and the money to be prepared for crashes like the present. 
Furthermore, companies like Shell and Exxon Mobil have been planning for global warming for decades. Not only did they not tell the public they knew of this, they went on to fund climate change denial and lobby against even the most modest climate policies.
In their planning, these companies don't worry too much about how to get out of the immediate problem, say, a 50% price drop in the price of a barrel; instead they look at how to use that crisis to their own ends. They plan for what is going to happen in two, five or ten years' time and use crises like this to push governments to change the terms on which they are operating.
This has been evident since the development of the UK oil industry. In 1974 the British state owned 68% of BP. The Minister for Energy at the time was Tony Benn who planned to take BP into fuller nationalisation, and to use the profits in much the same way that the Norwegian Sovereign Wealth fund would go on to. Part of his strategy was to slow down the rapid pace of development of the oil fields.
Benn was also deeply committed to strengthening the role of trade unions in industry, and to expanding industrial democracy in all parts of the economy. Here was a relatively new sector, the offshore industry, that for a decade had followed American culture in which the companies resisted the unionisation of the workforce on the rigs and in the construction yards. Benn wanted this changed but BP were determined that it would not be.
In June 1976, Prime Minister Callaghan revealed that the Chancellor was in negotiations with the IMF for a national bailout. Under the conditions of the loan, as is so often the case, the IMF demanded changes to the way the UK economy worked. BP responded to this time of crisis in the national government and lobbied hard for six months to include selling off 17% back to BP, and they won. They seized on the opportunity to win what they had fought for two and a half years to achieve. Two years later, Thatcher came to power and immediately the new Tory Energy Minister, David Howell, and BP set to work on a further sale of BP shares, raising £290 million for the government and reducing the states' holding to 46% less than 6 months later. What initially seemed like a set-back for corporate greed in 1974 was transformed in less than five years to the effective removal of the government from any direct influence over BP.
The same trend was to continue for years to come as became evident again in 2010. Since the 1960s it has always been a question of who would pay for decommissioning the rigs when they were eventually shut down. The question of what would happen to the seabed was debated for nearly fifty years. Clearly the oil companies wanted to make the state pay. They had failed at this absurd proposal but after the 2008 global financial crisis, when oil prices had fallen drastically in 2010, and these companies claimed to be on the ropes, they took that opportunity to finally convince the then-Chancellor George Osborne that the state should pay for almost half of a bill estimated to reach £60bn in total. Again these massive oil companies used this crisis to get the government to sign legal guarantees to prevent any future elected government from even changing these rules. Already by 2019, the Treasury had committed £357m to covering one company's default.
Whereas the two examples show the ability of oil giants to plan for years, government responses tend to be only in the short-term. In 2014, OPEC, led by Saudi Arabia, started an overproduction war in order to kill off the burgeoning US shale oil industry- which it virtually did by driving oil prices down, at one point to $14 per barrel. It is estimated that there was a loss of 75,000 offshore and onshore support jobs as a result.
During this downturn in the oil and gas industry, the Scottish government took the decision to respond to this crisis by establishing the Transition Training Fund. This fund was set up to help maintain the highly skilled energy workforce in the North Sea region by offering grants to individuals to support their redeployment through retraining or further education but – crucially – only for such retraining and education in the oil industry. As of 2019, 68% of participants on this scheme kept their jobs or gained new ones in the sector. But the fund was wound up in 2018.
Nicola Sturgeon said in 2019;
"The North Sea will continue to produce oil for decades to come. It still contains up to 20 billion barrels of recoverable reserves. Our primary aim – and I want to underline and emphasise this – our primary aim is to maximise economic recovery of those reserves"
This clearly illustrates that the various UK governments' responses are more about the short-term, perceived economic benefit than the social and environmental realities that they continue to ignore. What we see here is a government that will respond to a crisis in the oil industry by paying to retrain workers for what they perceive to be a key sector, but would not commit in the same way to pay for training to transition these workers to the fossil free energy industry or indeed any other new career they wish to pursue. 
The Scottish government should be funding oil and gas workers to develop and apply the skills they already have to other key sectors and especially to those with employment shortages such as healthcare, construction or caring services. At the very least, they should be consulting oil, gas and supply chain workers about what they need and want from any energy transition. And if they don't, then we must, as campaigners push for a Just Transition. If we do not meaningfully consult workers as part of a just transition then we misdiagnose what jobs these workers want, what skills they need and arrogantly calculate that they will be willing to give up what are sometimes relatively secure jobs for worse conditions in other industries. At Platform we have started to do this. And after all, if we don't consult workers on what they want, how can any transition of their livelihoods ever be called 'Just'?
In terms of the present crisis in oil, which began before Covid-19 but has clearly intensified as a result: at the moment, it is estimated that, globally, more than 1 million workers who provide oilfield services will likely lose their jobs in 2020. The UK North Sea region in particular is not in an attractive position. Close to a quarter of fields are running at a loss, and cost per barrel is high. Many are reaching the end of life stage. If the industry goes into harvest mode a premature end is definitely a possibility. Already, as of mid-June, 4,500 jobs have been lost in the North Sea, with more expected to follow.
All non-essential work has been cancelled and companies have cut down to a skeleton crew. Not only does this mean thousands of layoffs, it also suggests dangerous health and safety standards. It has been reported that before these layoffs were announced an estimated 200 workers, often living in close quarters with one another, were sent home from work with suspected coronavirus symptoms.
The current crisis and economic catastrophe to come has already led to the oil industry obtaining support from the public purse. In the US, the industry was effectively bailed out in May. Last week, the Scottish Government unveiled a £62 million 'Energy Transition Fund' for the region. Although in name it promises, amongst other things, a 'Net Zero Solution Centre' and the 'Energy Transition Zone' we should remain cautious about believing that these will lead to anything close to the radical changes required. How these plans will actually be implemented remains unclear, and it is too soon to fully evaluate them.
However, we know that the oil and gas industry never lets a good crisis go to waste. Deirdre Michie, the chief executive of the industry lobby group Oil and Gas UK (OGUK), has emphatically welcomed the new Energy Transition Fund. She said it is 'good news for jobs, supply chain companies and energy communities', and that the 'significant funding recognises the essential role of Scotland's offshore oil and gas industry in realising a net zero Scotland by 2045'. It is hard not to think that if this fund was really about a meaningful transition away from fossil fuels at the speed required then OGUK would be more worried. It was only a few years ago, when there was a crisis in oil jobs, that the Scotish government was only willing to pay for retraining in the oil sector. It also seems unlikely that Sturgeon will have changed her ideas quoted above much since just last year. Globally, the oil industry's new and very public support for renewable energy over the last five years has never  matched their spending. Globally in 2019, 92% of oil and gas industry capital investments have been spent on fossil fuels, and just 0.8% on renewables and carbon capture and storage technologies.   
OGUK continually claim that they are essential in leading the way to a net-zero transition and will develop carbon capture technology, hydrogen and offshore wind better than anyone else. Bernard Looney, BP's new chief executive, has staked his tenure on a promise to set the company on a path to "net zero" emissions by 2050, with the full detailed plan on this to be unveiled in September. But we have to be suspicious of organisations like OGUK and BP positioning themselves as essential to a clean energy future. This is like tobacco companies saying they should take a lead on getting people to quit smoking. The IQOS brand of vapes, which stands for 'I Quit Ordinary Smoking', is a branch of the Philip Morris tobacco company. 
For months now OGUK have argued that without significant government support there will be 30,000 jobs lost permanently in the next year. Yet their industry in the UK has long benefited from government support via tax breaks and other means, and they are using this crisis to claim even greater need for support. Just to be clear, over the last few years companies like Shell and BP have received more money in government subsidies than we make from them in tax – on top of the environmental destruction, it is costing us money just to have them here. So when we speak of a 'bailout' it is important to be clear this has already been happening for years. 
And this crisis isn't just a momentary blip. Goldman Sachs have said that the oil market remains "massively oversupplied", which will continue to push prices down. The Financial Times has said that the lack of storage for oil won't improve based on current conditions. We can't just shut these pumps off, it is extremely expensive to do so and, because they are mature fields, if this were to happen they would probably never be turned on again.
But in terms of the future, the principal asset of that offshore industry – its workforce – could be easily redirected to a green economy understood in the broadest sense. Scotland was promised 130,000 low-carbon and renewable energy jobs by 2020, yet direct employment in 2018 was just over 23,000, down slightly from what it was in 2014. The Scottish government appeared eager to intervene in the recent past when jobs in the oil sector were directly at risk. It remains to be seen if they will act with the full commitment required to meet the long-term challenges that they have so far failed to address for years. 
Whether it's Nicola Sturgeon, Deirdre Michie or Bernard Looney, we don't need another set of meaningless platitudes about the essential role of oil multinationals in a net-zero transition. Instead, we need a government funded, worker-led transition to lead us out of the latest in the long line of North Sea oil crises.
Crises in Care 
Following my talk, Carmen Simon, care worker and a UNITE Edinburgh Not For Profit Branch rep, spoke about how workers in her profession are being directly impacted. She succinctly highlighted the link between the work she does and the topics dealt with by Alberto and myself. Workers from many sectors are under increasingly precarious conditions and the response must be to protect all. As Alberto said we must work both internationally and in a cross sectoral way.   
Carmen outlined how workers in the care industry are underpaid, undervalued and the conditions are getting worse. When she started her career in 2008 she was better paid than she is currently. This is because after the neoliberal policies of the Blair government, social care became separated from the provision of health and medical services. It was decided that social care should almost entirely be left to private companies and some charities. Neoliberalism is partly characterised by governments creating markets where they did not previously exist. Large multinational companies lobbied for these changes for years and when they got them passed they acted swiftly and drove down the quality of care. The creation of this market has led to a race to the bottom that leaves clients and workers the worst off.
This has been made extremely evident by the Covid-19 outbreak. The rate of death among care workers is twice that of health workers. Carmen stressed that for all the talk of mismanagement in care homes at the present, in-community care is still being ignored. Aside from the chronic lack of PPE, the government only published guidelines for care in the community workers on the 5th of May, and only did so in English.
Carmen, her colleagues and UNITE have been working together to resist these dangerous and exploitative practices and are in dire need of our support. Personally I think the environmental movement could nearly always do more to highlight the fact that care work is essential in the future we want. This is not only because it is relatively low-carbon work, but much more importantly, it is part of a properly functioning society that we should want to be members of.
Discussion 
After the three contributions we had a brief Q and A followed by smaller breakout sessions. It was really interesting to be taking part in a talk organised by Friends of the Earth Scotland and with most of the attendees very familiar with the situation in the North Sea we were able to discuss the nuances of the sector and problems in quite a lot of detail.
One theme that emerged from the discussions was how to be prepared for what is to come. As was mentioned a number of times, a lot of the corporate deals take place behind closed doors and the public don't find out about them until it's too late to mount an effective resistance. How we can be better prepared this time remains an open question. One positive that has perhaps evolved is the ease and accessibility of doing group webinar calls like this with over sixty participants sharing information and experience from different sectors and nations. 
Like everybody in every industry at the moment, we will need to adapt to these disconcerting new circumstances, but there may be some silver linings to be found together.
All the examples discussed by myself, Carmen and Alberto shared in common the idea that a crisis, or at least the constant threat of one, is a necessary condition of modern capitalism, from climate change to care homes. To resist this, we first need to reject the idea that capital and crisis hold a monopoly on our futures. From increased union activity to the government being forced to pay workers' wages, we have begun to see glimpses of an alternative. Lots of comparisons between the global financial crash of 2008 and the present are made. Although many of these are quite a stretch, there is now a much greater public awareness of alternatives to simply building society back to how it was with a few minor tweaks until the next crisis hits. The examples discussed above alone prove we cannot afford to make this mistake again. Instead we must raise our ambitions much higher and fight together so people always and meaningfully come first. 
Some links were made available by each speaker for further reading by each speaker and are available here:
Alberto Villareal, Economic Justice and Resisting Neoliberalism Latin American programme coordinator with Friends of the Earth International
 Ben Lennon, Divest/Invest Campaigner at Platform:
Carmen Simon, care worker and UNITE Edinburgh Not For Profit Branch:
I would like to kindly thank my colleagues Rob, James and Gaby for their guidance and support with this work.