Middle East Monitor reported that
The Egyptian Ambassador to Jordan, Khaled Tharwat, has denied media reports which claim that Egypt intends to reduce the amount of natural gas exported to Jordan prior to cutting off the supply completely by June. In a press statement published by official Jordanian media outlets, Ambassador Tharwat said, "There is no intention on our side to stop our natural gas exports to Jordan."

Jordan's King, Abdullah II, had earlier told a US journalist that the "harshest blow" to his country's economy would be "the discontinuation of the natural gas supply from Egypt". "At a time of rising petroleum prices, it could cost our government over $2 billion annually, adding to our deficit," he said.
In other words, Egypt will continue exporting subsidised gas to Jordan, while struggling with its own energy crisis and importing gas – almost certainly at higher prices – from elsewhere. Blackouts are already common in Egypt, with more expected during the peak summer season.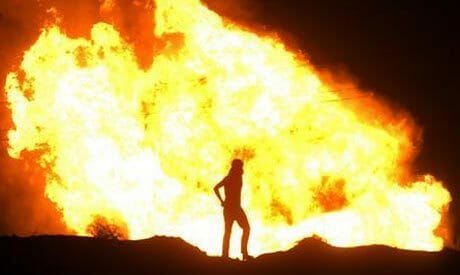 King Abdullah claims that if Egypt ends its supply, the Jordanian government will need to stump up $2 billion annually. Instead, Egypt is carrying this burden of importing more expensive fuel alternatives and gas from elsewhere, at higher prices.
Oil Minister Osama Kamel has said that Egypt will import up to 1 billion cubic feet (bcf) of liquefied natural gas per day by the second half of 2013 – four times the current daily exports to Jordan of 240 million bcf.
Bloomberg estimates that Egypt would spend $3.65 billion a year importing those 1 billion cubic feet. Most likely sources would be Qatar and Algeria, although Morsi also discussed importing gas from Russia with Vladimir Putin last week.
Just how ludicrous this situation is becomes clear when looking at the different prices paid for gas by unit:
Egypt exports gas to Jordan at $5 per million Btu.
Egypt will import gas for over $10 per million Btu.
The government already signed a contract with Algeria for $11 per million Btu, with predictions that the price could reach $14 for wider imports – the market price for LNG sales to Asia.
As Qatar Petroleum made clear: "We are willing to supply LNG to anybody provided the price is right."
In contrast, the price of Egypt's exports to Jordan is set by a long-term deal, guaranteeing low prices to the Jordanian regime. For many years, Jordan paid only $1.27-2.30 per million Btu. This was negotiated upwards in December 2011, with the pricing level to be reviewed again in December 2013. (I'm not quite sure how King Abdallah calculates his $2 billion figure. At $5 per million B tu, Jordan pays Egypt $450 million annually. Replacing this with LNG could triple the cost to $1.35 billion. Either way, Egypt is providing vast quantities of scare resources to Jordan.)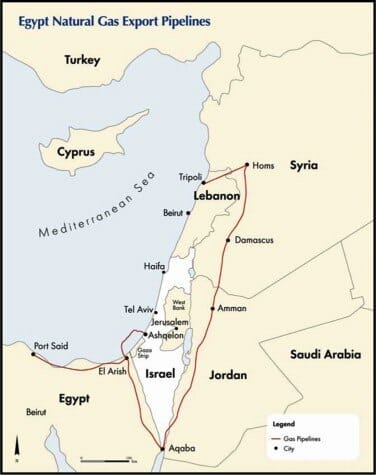 When Egypt will actually start importing gas is unclear – initial government promises to import gas by May 2013 were widely seen as completely unrealistic and empty talk. After private equity Citadel Capital's initial hype about a joint deal with QInvest to import gas from Qatar to a floating LNG regasification plant, things have gone quiet.
The gas export contract with the Israel Electric Corporation was cancelled because of its controversy, but the Egyptian government is continuing to bail Jordan out with gas worth huge sums. EIPR and Platform are currently finalising a report calculating the losses caused to the Egyptian economy by underpricing gas exports to Israeli companies, Jordan and Spain.
The larger lesson from this ridiculous situation is the danger of maintaining this dependency on natural gas in both Jordan and Egypt – not least given that both countries have such enormous solar wealth.