Whether it's BP's sponsorship of the Tate galleries, Shell's funding for the Southbank Centre or Tullow Oil's controversial deals with Sunderland football club oil company sponsorship of the arts is a familiar phenomenon.
But what about oil dictators? Do they also need a social license to operate? What kinds of institutions would they throw money at in the hope of keeping the international community quiet about their repressive practices?
In Azerbaijan the ruling family, the Aliyevs (who have held onto power in Azerbaijan through fraudulent elections, arresting opposition candidates and the country's vast oil wealth) are a keen sponsor of arts institutions. This April I was in Baku talking to democracy activists, journalists and oil workers' unions. Many people told me about the President's generous attitude to western European cultural institutions. It seems the President, Ilham Aliyev, has been taking lessons from Contract of the Century partners: BP who certainly have a thing or two to share on how sponsorship deals can detract attention from a whole range of things you'd rather not talk about: the Macondo disaster…for example.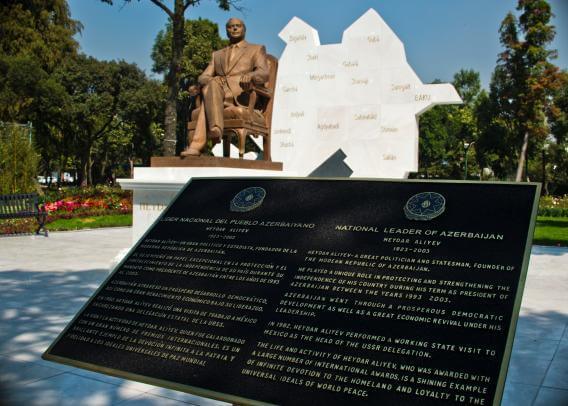 The Aliyevs have taken a particular interest in France. Since 2010, under the auspices of the 'Heydar Aliyev Foundation' (named after Ilham's father who ruled before him and presided over by his wife Mehriban Aliyeva) Azerbaijan has generously donated to a number of French cultural institutions. 40,000 EUR went to renovating Strasbourg Cathedral's stained-glass window and some renovations at the Palace of Versailles, while 1 million EUR was spent on an exhibition of Islamic art at the Louvre. In return Mehriban Aliyeva received the Legion of Honor, France's highest award for outstanding service to France. Aliyeva was given notice of the award by a personal letter from Nicolas Sarkozy, then President of France. Francois Hollande, the new President, has continued France's warm relationship with the Aliyevs by expressing his gratitude to them at public opening of the Islamic Art exhibition the sponsored.
The Aliyevs' generosity doesn't end there. In August 2012 Azerbaijan paid around $5million for the renovation of part of Paseo de la Refoma park, in Mexico City. In return for this money Azerbaijan not only asked for that part of the Park to be renamed the Mexico-Azerbaijan Friendship Park but also for a life sized bronze statue of Heydar Aliyev to be installed. Protestors forced the Mexican government to remove the statue at the start of this year after an advisory commission said that the authorities should not have accepted money from a foreign government to decide which political figures are commemorated in Mexico. Luckily for the Aliyevs they have a raft of other 'Heydar statues' installed in cities around the world. The removal of one likeness doesn't stop Heydar appearing in Turkey, Georgia, Egypt, Iraq, Uzbekistan, Kyrgyzstan, Russia, Ukraine, Serbia, Romania, and Moldova.
Many Azerbaijani citizens are disgusted by the President's penchant for throwing vast amounts of money at foreign cultural institutions. In Azerbaijan citizens have to pay large sums of money in order to use basic services, like health care. Much of the county's infrastructure: the roads, drainage systems etc, is in need of repair and the oil wealth that should have secured the nation's future is mostly spent. So what do the Aliyevs get from these deals – other than very inflated egos? The answer is the continuing support of the international community. Despite the many arrests, beatings and human rights abuses committed by the regime, Azerbaijan is still a member of the Council of Europe. A recent report on political prisoners in Azerbaijan was voted down in the Council despite the number of political prisoners arrested this year already reaching 40.
In some cases international support can be used to secure deals with oil companies. Aliyev's sponsorship of the Louvre came at a time when, according to many people I spoke to in Baku, relations with BP over production levels had already soured. Aliyev was looking to other companies to develop future fields and was, as one activist told me "embarking on a flirtation with Total". According to Aliyev's website it's a dalliance that's continuing. No doubt relations will Total have been smoothed by Aliyev's generous donation and Sarkozy's very public gratitude.
Of course BP are the international oil company with the largest share of Azerbaijan's oil wealth, the UK government have played a key role in that relationship ever since the contract between Azerbaijan and BP was signed under the watchful eyes of Margaret Thatcher. It's no coincidence then that activists I spoke to time and again singled out the UK as the member of the international community who was particularly silent on Aliyev's repression and rigged elections. So what do the Aliyev's sponsor in the UK then? Well it's not art galleries, we have BP for that, instead they give their money to MPs.
Through an organisation called The European Azerbaijan Society (TEAS) the Aliyev government have secured close links with British MPs. TEAS was created in 2008 by Tale Heydarov. His father is Azerbaijani Minister for Emergency Situations, a key member of Aliyev's ruling elite. A leaked US embassy cable described Heydarov as possibly
more powerful than the president himself… Heydarov controls more visible assets and wealth within the country than the president
The oil revenues, which should belong to the citizens of Azerbaijan, are going into the pocket of UK MPs. TEAS founded the "Conservative Friends of Azerbaijan" which has 25 Tory parliamentarians in it and aims to
promote awareness of Azerbaijan as a democratic country which subscribes to the Helsinki Principles
They also donated £7500 to the Labour pressure group Progress. TEAS provides secretarial support to the Azerbaijan All Party Parliamentary Group, whose stated purpose is
to develop good relations between the legislatures and governments of Azerbaijan and the UK
Human rights and democracy are not on their list of considerations. And chair of APPG Tory MP Mark Field, was recruited as a member of TEAS advisory board in 2011, and paid £6000 a year for the role. TEAS have also covered Field's expenses on multiple trips to Azerbaijan including one in May 2011 when he laid a wreath at yet another statue of Heydar Aliyev.
Perhaps then it's BP who can learn from the Aliyevs, art galleries are good to sponsor but politicians are even better.