The recent attack on a gas plant in Algeria is a horrible reminder of the costs involved when companies relentlessly pursue oil and gas extraction in conflict regions. 38 workers were killed during the violence. Since the crisis there has been a lot of speculation about what it means for security spending in the region. While French warplanes are attacking neighbouring Mali, oil companies will be ploughing even more money into a militarised response.
BP is no stranger to conflict in Algeria. The company signed its first deal in the country in 1992, only six months after the military coup that prevented the Islamist FIS winning the Parliamentary elections. The crackdown by the military forced the FIS underground, and sparked the civil war which saw between 75,000 and 120,000 people killed.
The violent context in which BP operate is shown in the testimony from one of the survivors of the slaughter of 349 villagers in Rias Algeria, on 29 August 1997
There were up to 100 men who came into our village from three directions – they were here for at least three hours. We hid in the house, but they threw bombs through the windows and broke down the door with axes. My baby son Mohammed was five and they cut his throat and threw him out of the upper window. Then they cut the throat of my eldest son Rabeh and then my brother's throat because he saw them kidnapping his wife and tried to stop them. They took some of the girls.
The massacre at the village of Rais continued for three hours, only 500 yards from an army barracks. At precisely the same time, 350 miles south of Rais, BP employees worked at an oil company camp in Hasi Messaoud, Algeria's main oil installation. They operated behind three sets of electrified fences, patrolled by Doberman dogs and screened by cameras to supplement the army unit stationed outside the camp.
BP has maintained solid relations with the extremely repressive Algerian regime – the only North African regime to successfully prevent and quash the Arab Spring uprisings.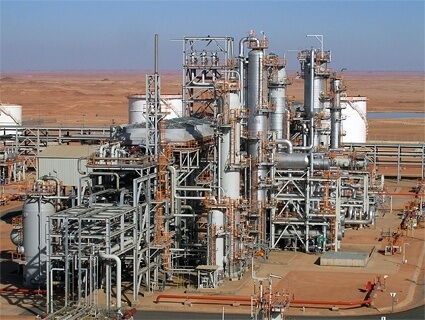 Similarly, Shell has been drilling for decades in Nigeria, despite exacerbating violence through their operations. The company's massive security spend in the Niger Delta has driven conflict and caused loss of life for both fenceline communities and oil workers. Oil companies factor in enormous security costs, it is an expected part of their operations and, thanks to financial subsidies and continued state support, it does not stop the companies making substantial profits.
Much of the money that oil companies pump into security is likely to go to mercenaries. Private military security companies (PMSCs) are clamouring to reap financial rewards from the current crisis. They've been lining up in the media claiming there's no security risk they can't deal with. Will Geddes from International Corporate Protection, who provide everything from 'whistleblower management services' to escort teams, boast that there is
no environment you can't go into where you can't provide a minimum level of security.
PMSCs are currently unregulated and unaccountable – they cover a wide range of security and military functions: including, intelligence gathering, interrogation of detainees and protection of military assets. While more and more activities fall under the shadowy auspices of PMSCs there seems to have been no consideration of what functions should be carried out by states as opposed to private companies.
As Platform's work in Nigeria has shown the recourse to private contractors for security purposes is often associated with human rights violations and violent repression of communities living near oil and gas infrastructure. The increasing use of PMSCs enables companies to operate in more and more complex conflict situations regardless of the risk to local people and their own staff.
BP will continue drilling in repressive countries like Algeria, but with significantly increased military-security spending, and increased causalities. An Oil Industry Consultant commented recently
Companies will always go where the hydrocarbons are, no matter what the dangers are.
Preventing this tragic type of loss of life for both oil workers and local residents requires asking why oil companies are allowed to operate at all in sensitive and repressive conflict regions.