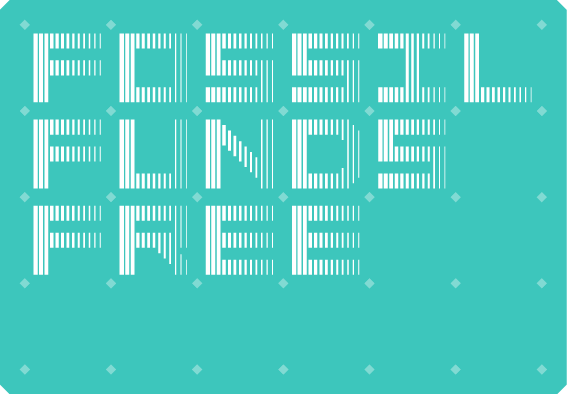 Over the past ten days since the launch of Fossil Funds Free, ever increasing numbers of artists, writers, performers, and organisations have joined the Fossil Funds Free commitment. This is what they are committing to:
'We do not take any oil, coal, or gas corporate sponsorship for our cultural work. We call on our peers and institutional partners to refuse fossil fuel funding too.'
We now have over 300 participants! Please keep spreading the word.
As theatre director Rebecca Atkinson says:
If an oil company offered a £200,000 donation should they accept, knowing that the biggest issue affecting humanity over the next 20 years will be climate change, and knowing that their theatre forms part of a cultural narrative that must drive the shift towards a more sustainable future? … It's important that we consider what harm we do by allowing unethical brand identities to align with our own. Will that rock opera about childhood obesity be quite as hard-hitting if it's sponsored by a soft-drink manufacturer? Will that devastating play about the exploitation of cheap labour in developing countries change anything if its costumes are sponsored by a high-street clothing chain?
Here's what Australian pianist Michael Kieran Harvey said about his response to fossil fuel sponsorship:
We face another bottleneck in the human story. I'm for the future, not the past, which is why I reject fossil-fuel arts funding.
The participants commit to rejecting direct fossil fuel sponsorship, e.g. a BP-branded exhibition or event. When working with, or selling work to, an institution that does take fossil fuel money (such as Tate galleries in London or Metropolitan Museum of Art in New York), the participants commit to raise the issue with the institution.
Vicky Featherstone, Artistic Director of Royal Court Theatre (London), said:
The Royal's Court's response to the key issues of the day is always through our work and our brilliant writers who lead the agenda. They ask the big questions and respond to the moment. We see quite clearly through their eyes and words the terrifying impact climate change is having not only on our world but on the future for our children and grandchildren. We therefore do not feel it appropriate to accept sponsorship from fossil fuels and have this ratified in our ethical policy.
To join the Fossil Funds Free commitment, click here.
To encourage your favourite gallery, museum, or theatre to sign up, you can use the sample email here.
The commitment is coordinated by Platform with support from Art Not Oil Coalition (UK), Not An Alternative (US), The Natural History Museum (US), BP Or Not BP? (UK), and Stopp oljesponsing av norsk kulturliv (Norway).
FFF Logo designed by Minuteworks