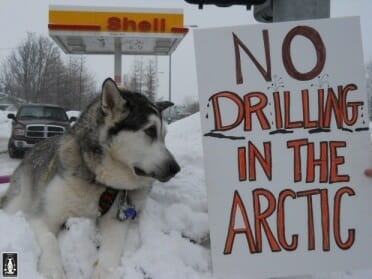 A tricky, or should I even say embarrassing, moment in Shell's history: on 31 October 2013 the company announced that they would be returning to drill in the Arctic in 2014, after all the mishaps and near-disasters of 2012. Three months later, they had to announce they wouldn't be drilling in 2014 after all. Was the company's board unaware of the ongoing courtcase that could, and did, stop their plans? (And by the way, why did Shell also fire their legal boss on 13 January?)
Mismanagement in Shell's Arctic project is easy to see. Nick Butler, FT energy analyst (who I'd rarely find myself agreeing with):
Shell's mistake in recent years has been its ill fated adventure in Canada and the Arctic. Some put the total cost at $10bn and the ability to write off that amount without blinking is further evidence of just how strong the majors still are. The reality was that Shell was not Arctic-ready.
The US Department of the Interior:
[There were] significant problems with contractors on which Shell relied for critical aspects of its programme. [Problems with contractor management and oversight were] the most significant shortcomings in Shell's management systems. […] In submissions to the Department of the Interior, Shell consistently underestimated the length of time required to complete each step of its drilling operations. The timelines provided by Shell proved to be unrealistic and did not account for complications and delays that should be budgeted for when operating in the Arctic
How can anyone trust a company like that to drill in the world's most challenging conditions? And to risk an entire region's subsistence economy?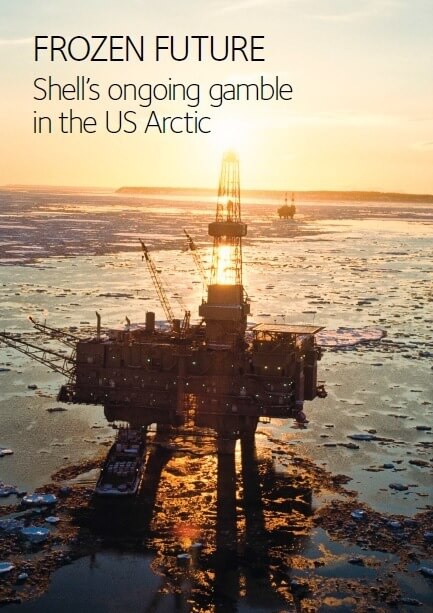 There's more on this in Frozen Future, the report for Shell's investors we just co-published with Greenpeace UK, ShareAction, Oceana, Oil Change International, and Pacific Environment. But why are we gearing all this towards the company's investors?
Shell's extravagant spending on exploratory frontier drilling is also partly to blame for the company's plummeting profits this year. And this is something that really ought to make Shell's shareholders (pension funds and investment banks) stop and think – and  then to tell the company to stop putting money into this risky and dangerous project. So investor pressure can add to the immense amount of public bad press that Shell's already getting for its Arctic ambitions.
Now is exactly the right moment to make strong demands for change, in the Arctic as well as Nigeria. Shell's got a new CEO, Ben van Beurden, who has to start on the job by reviewing the company's overall strategy.
For the slightly longer term: "capital discipline," i.e. limiting spending, is a buzzword within the investment banking community. Shell's picked it up, too. The team working on engaging Big Oil investors between Platform, Greenpeace UK, and ShareAction see this as an opportunity to get investors to think about the future beyond this year's profits. As BP and Shell's relatively-easy-to-drill resources run out and the companies are pushed further into dangerous frontiers like the Arctic, their profit margins will shrink, and they will stop being the reliable cash cows that they have been for recent decades. So investors can start asking for their money back, becoming a lever to shrink the Big Oil companies and their power.
Raising these issues with the investment community involves translating what I for myself understand as climate justice concerns into the language of risk, return on investment, capital expenditure, and oil price, for an audience that takes these words and solid research seriously, but does not think of justice or climate change in and of themselves as 'material'. Much is inevitably lost in translation, so discussing the work publicly is as difficult as it is important – to keep ourselves true to what we're trying to achieve.
Update: you can urge your pension fund, or Shell's largest shareholder Blackrock, to tell Shell to drop Arctic plans using ShareAction's action tool.