Two days before the launch of the Edge Fund last December, there was a panic to find a bigger venue at Tonybee Hall because so many people wanted to go. The organizers seemed surprised and happy as no doubt their experience of launch parties is to book a small room to make it looked packed. The party eventually spread into two rooms and still ran out of seats.
The excitement surrounding this fund isn't because of its vast amounts of money, but because it's shifting the expectations of what funding is all about:
An attendee from Black Mental Health said:
The spirit of this event is like something new is being born; a new age and a new dawn. Something is rising up from quite an ugly and despicable state of affairs. Something very good is coming and it's coming from people's hearts and minds who are committed to seeing justice in their lifetime.
It's a truly democratic and collaborative process. Members and supporters will come together to discuss and vote on which projects should be funded.
It has a two page application process that's simple and clear allowing the busy,  radical groups to apply. No long forms that require good English, complex budgeting skills, large amounts of time and dedicated fundraisers.
The fund also encourages peer to peer mentoring. If you have some fundraising skills you can help by mentoring successful applicants, many of who may be grass roots groups without experience.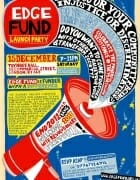 The launch event itself was unlike any other: nibbles were replaced by a pot luck. Smart dress was replaced by a carnival of colourful outfits. VIPs were replaced by poets and performers: Jennifer from Migrant Artists Mutual Aid explained how poverty rendered her stateless. Performance poet Pete the Temp mimicked politicians in the style of a human beat box. Selina Nwulu (an alumni from Platform's Shake! project) performed a poem describing how the "job centre pulled in it's reigns and squeezed my mind of its optimism." The audience wrote their pet hates of 2012 on pieces of paper, then burned in the courtyard at the interval before welcoming a more hopeful 2013.
Compare this to the last, and more mainstream fundraising event I went to where the buzzwords were competition, cuts and investment; the language laced with austerity and the atmosphere tense.
There's a lot we could all learn from the language and atmosphere of the Edge Fund. If we want to build a world of empowered citizens emphasizing words and values like universalism, equality and justice this might be a great step forward.
 You can watch more videos from the night here. Shake! is currently taking applications from 16-25 year olds for a free 5 day course on arts, media, race and power in February. More info here.
Edge Fund launch party from Edge Fund on Vimeo.