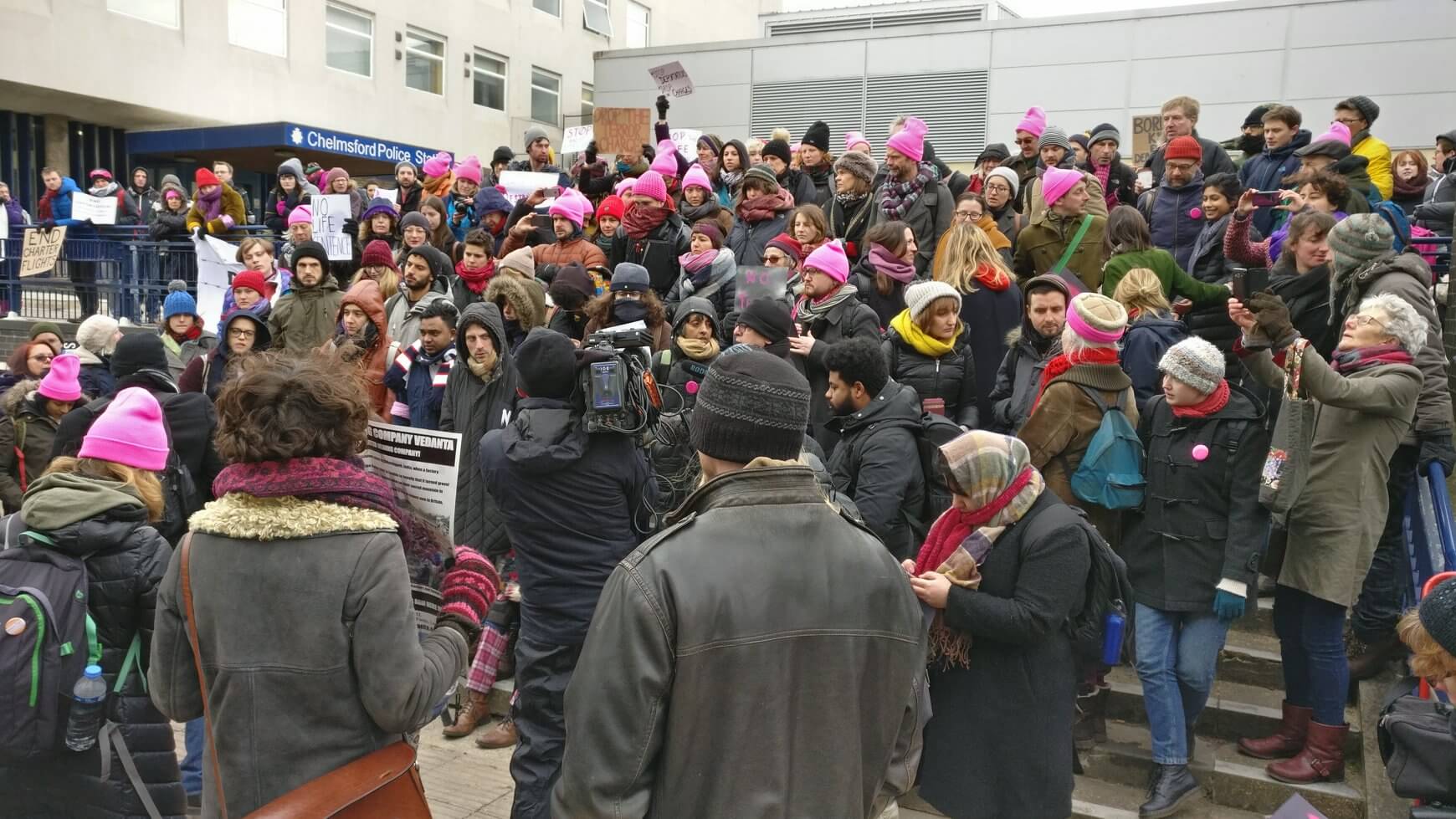 'Home is a hostile lover'  a poem by Selina Nwulu is read from the concrete steps of Chelmsford Crown Court. London's former young poet laureate, gives a powerful indictment of the UK's 'hostile environment'. Hundreds listen in the chill morning outside Chelmsford Crown Court to stand in solidarity with fifteen people who begin trial this week for blocking a secret, deportation flight to Nigeria and Ghana. Two of the fifteen defendants are Platform staff members – Jo Ram and Emma Hughes. Whilst Platform had no role in this action, as an organisation committed to human rights, it does stand against racist and inhuman deportation flights and the UK's 'hostile environment'.
It was on another cold March day last year that the fifteen defendants stopped a Titan airways plane from taking off
by chaining themselves around it
  and lying on the airport tarmac for ten hours.
The flight was due to send 57 people to Nigeria and Ghana. As a result of the group's action, 34 people were not immediately deported and many were given the chance to have their appeals heard. One man was able to be with his partner for the birth of their child, as the fifteen activists were lying on the runway she was already in labour. If the plane had left that night he still might not have met his child.
Deportation flights are brutal and secretive. People who may have arrived in the UK as children, who grew up in places like Manchester, Croydon or Glasgow, are ripped from family and friends, locked up and eventually sent to a country where they have little connection. Sometimes people face the threat of persecution or death when they get there. The defendants knew the stories of people who were due to be on the flight including a lesbian woman whose abusive ex-husband threatened to kill her on arrival in Nigeria.
For those on board, these ghost flights are violent and terrifying. People are handcuffed and waist restraint belts are regularly used, despite an independent panel advice that they should only be used in exceptional circumstances. In 2010 Jimmy Mubenga, a father of five from Essex,
died on a commercial flight that was sending him to Angola
. He was heavily restrained by G4S security guards and collapsed after complaining of not being able to breathe. We only know what happened to him because passengers on the commercial flight were witnesses. On deportation flights there are no witnesses.
A few weeks ago a bus taking people to Stansted airport caught fire. The people on board were being sent to Pakistan. When the fire broke out, the Tascor staff started
handcuffing people before they allowed them off
. Just minutes before the bus exploded, and as it was filling with fumes making it hard to breathe, the guards were handing out cuffs. In the panic one person broke their arm.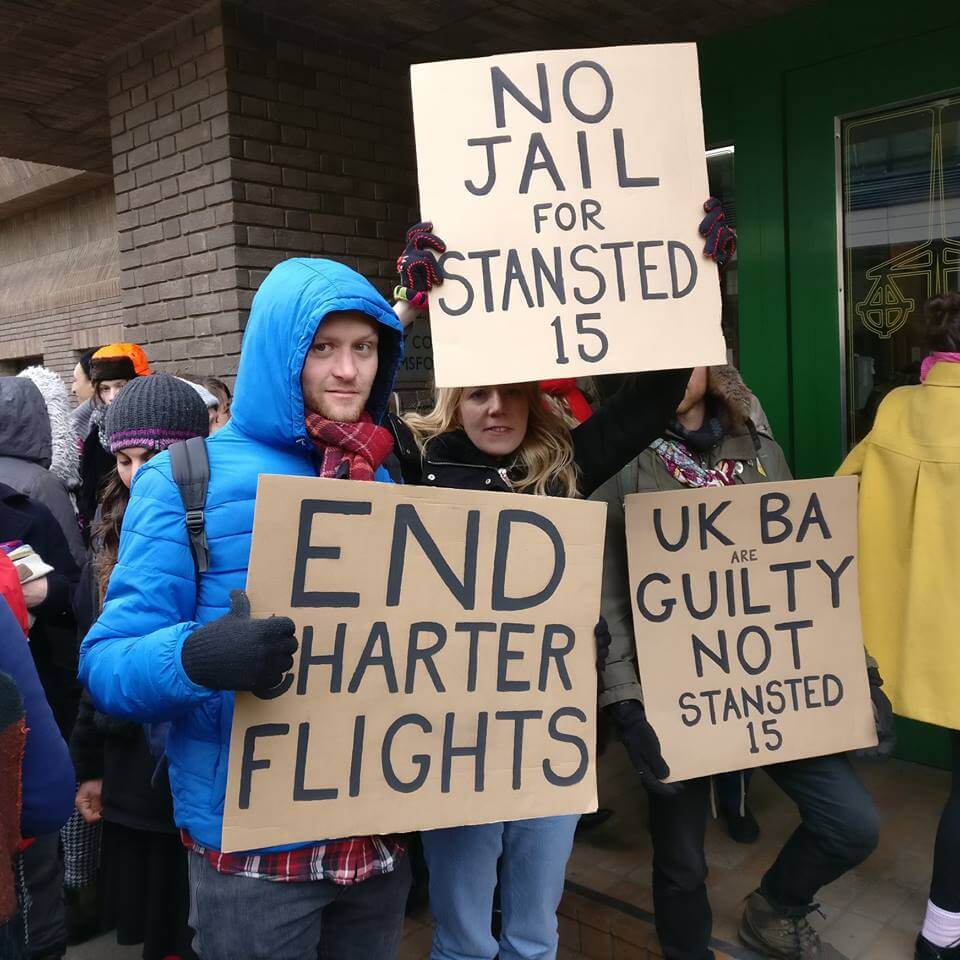 Months after the fifteen defendants in this case were arrested the CPS changed the charge from Aggravated Trespass to the terrorist related crime of endangering an airport under the 1990 Aviation and Maritime Security Act, a piece of legislation written in response to the bombing of Pan Am Flight 103 over Lockerbie in 1988.
As new waves of 'terrorist' legislation have been introduced by successive governments, the repressive implications have become clear. First in relation to our muslim communities who face constant surveillance, racial profiling and hostility. Now it seems terror laws are also being used to shut down dissent. That's just one reason why this case matters, if found guilty it will mark a serious blow for all those who believe civil disobedience is an important part of how progressive change is achieved.
Whatever the outcome of the trial, the government's draconian actions will not stop the growing movement against deportation flights. Today, 120 women in Yarlswood detention centre continue their
month long hunger strike
.
Beginning their hunger strike on 21 February this year, the women escalated their action to an "all out strike" saying "we will cease to participate in detention, we will not eat, use their facilities or work for them." The strikers have occupied the Home Office and Healthcare departments within Yarls Wood after the government refused to recognise the hunger strike.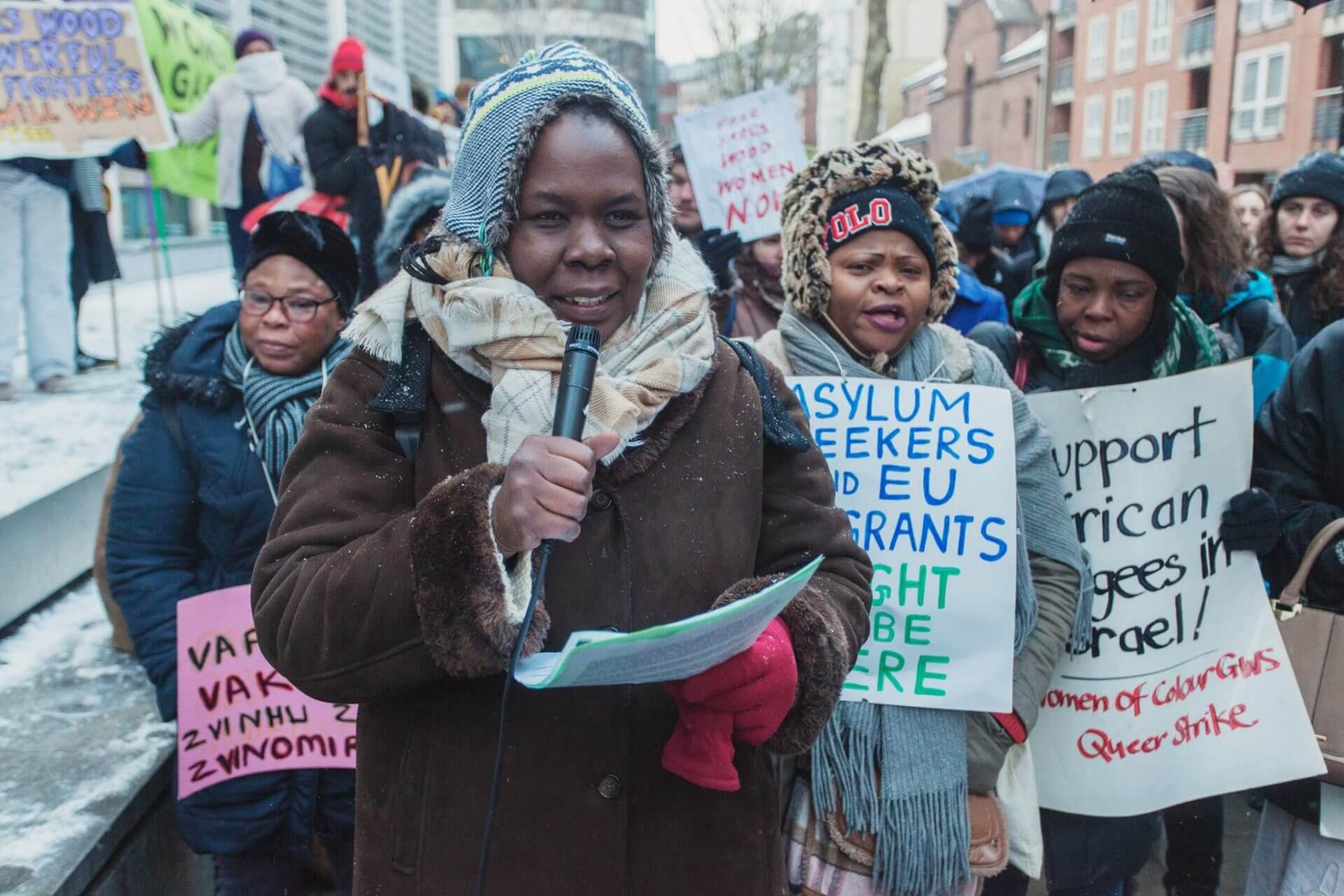 In response the women have been told they will be moved to prisons, targeted for individual deportation and there are reports that people are being rounded up and separated from other detainees, for a charter flight to Nigeria and Ghana. The strikers' demands read as a liturgy on the brutality of detention:
We want the Home Office to stop deporting people before their cases are decided or appeals heard
We want adequate healthcare
We want the Home Office to stop detaining the vulnerable people, that is victims of rape, that is torture, all forms of torture, trafficking, forced labour, the disabled, the mentally ill
We want amnesty for all people who have lived in the UK for more than 10 years and an end to the exiling of those who came as children and are culturally British.
We want an end to the Home Office's of employing detainees to do menial work for £1 per hour, it prays on the vulnerable and forces them to participate in their own detention.
We want an end to charter flights and the snatching of people from their beds in the night and herding them like animals.