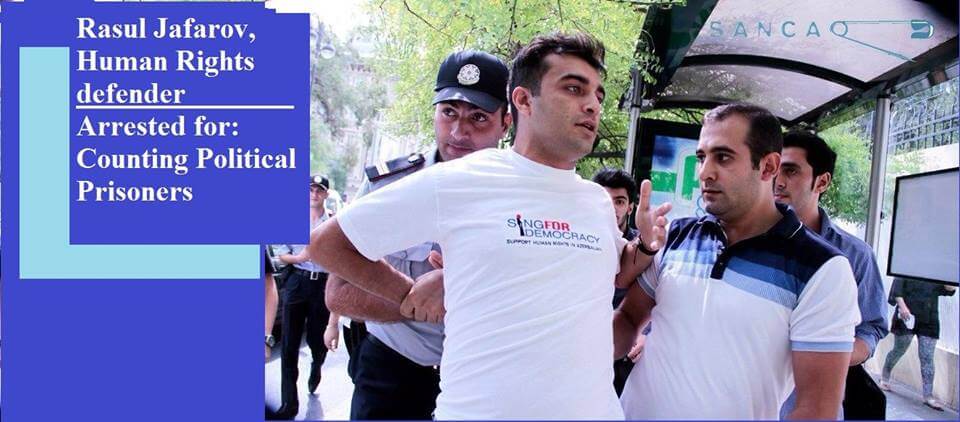 Democracy activist and Platform ally, Rasul Jafarov, was arrested and detained in Baku over the weekend. Rasul has been charged with tax evasion, illegal entrepreneurship and power abuse. These are the same falsified charges that saw independent Azeri election monitor Anar Mammadli jailed for 5.5 years. Rasul's arrest comes shortly after the prominent human rights campaigner Leyla Yunus and her husband Arif were charged with high treason and also jailed.
These are dark days in Baku – the latest arrests represent a new phase in Aliyev's assault on those organising for democracy. Just last year activists were concentrating on surviving the pre-election attacks. Activists believed that Aliyev's violent attempts to quash dissent would ease up after the 2013 presidential elections. But as Rasul told me when I met with him in June things kept getting worse:
In the last two months the government really started to interrogate civil society in Azerbaijan – in February 2014 they applied draconian law indirectly prohibiting the activities of non- registered NGOs – there are now very high fines of NGOs even if they make a small technical mistake.
During the last few months activists have been unable to register grants, their bank accounts have been frozen and they are prohibited from leaving the country. In the week before his arrest Rasul had such a ban imposed on him and was interrogated by the regime. Yet Rasul remained optimistic, in his last email to me – sent the day before his arrest – he wrote, "They don't arrest me yet!" As someone who spent much of his time organising in defence of political prisoners Rasul was well aware of the risks his work entailed. He was already sure the regime were monitoring his calls, when he tried to hold events venues would mysteriously cancel minutes before and his colleague at Art for Democracy, Rebecca Vincent (an American-British human rights activist), was expelled from Azerbaijan two years ago
Rasul first came to the attention of the regime in 2012 as one of the key organisers in the Sing for Democracy campaign during the European Song Contest held in Baku. The campaign highlighted the growing repression in Azerbaijan as well as documenting the forced eviction of people from their homes to make way for Crystal Hall which was used to host the contest. The seizure of people's homes is not uncommon in Azerbaijan, where the construction boom allows the corrupt elite to siphon thousands of Azeri Manat into offshore accounts. The campaign scored a PR co-up when Loreen – the eventual winner of the competition – publicly supported Sing for Democracy activists – she has now tweeted her support for Rasul.
My friend the #humanrightsdefender Rasul Jafarov has been arrested by #Azerbaijan authorities.… https://t.co/kObMaVwRR5

— LOREEN (@LOREEN_TALHAOUI) August 5, 2014
More recently Rasul has been doing the methodical and detailed work needed to document the numbers of political prisoners in Azerbaijan. It was thanks to his work with the Human Rights Club that the full extent of political prisoners in Azerbaijan was revealed weeks before the 2013 election. At 143 the numbers were much higher than most people realised. This was in part because Human Rights Club documented the number of religious activists jailed during 2013 – many due to participation in protests about the hijab ban in schools. These prisoners had been overlooked in previous lists.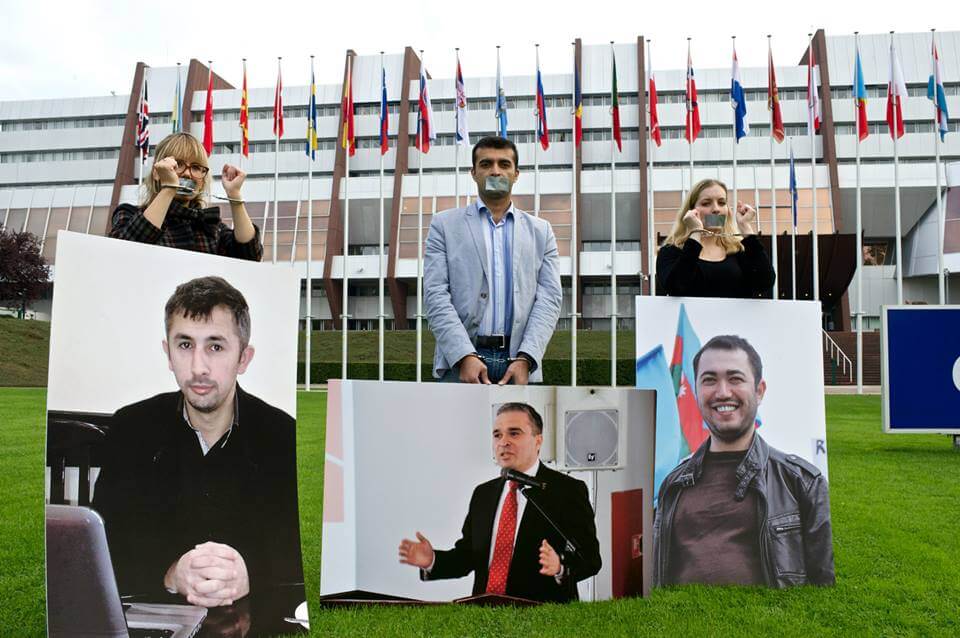 Rasul also helped found Art for Democracy (a spin off from Sing for Democracy) which documents attacks on freedom of expression and works with dissenting artists who are penalised for their political message. When I met up with Rasul in June he was keen to show me the studios they have established for musicians. The image obsessed Aliyev family fully understand the power of culture to legitimise. They sponsor art galleries, magazines and football teams around the world in a bid to buy themselves acceptability. Art for Democracy's reappropriation of the cultural sphere is a powerful challenge to Aliyev. As Rasul commented: "lham Aliyev told the American Ambassador that he considers Art for Democracy a campaign against himself".
It's clear why the regime choose this moment to arrest Rasul. 2015 is Aliyev's next big moment, and Rasul was already planning how to rain on Aliyev's parade. The parliamentary elections are happening in 2015 as are the European Olympics. Rasul was planning a Sport for Rights campaign in the run up to the Olympics. A Eurovision style campaign designed to challenge Aliyev's carefully orchestrated PR opportunity.
As Rasul – along with Leyla Yunus, Anar Mamadli and many others languish in jail – Europe's support for the Azeri dictator continues unabated. Lured by the promise of diversified gas supplies (a myth given that most of the gas from the pipeline is likely to be consumed before it passes through Turkey) European decision makers are continuing to support Aliyev. Just a few weeks ago the EBRD announced it was going to fund part of the Euro-Caspian Mega Pipeline – the money from which will entrench Aliyev further. In addition it's just been revealed that ex-UK Prime minister Tony Blair is being paid by BP to be on the Southern Corridor Advisory panel. Of course Blair has quite a history with fossil fuel dictators and presumably will have no qualms about this latest appointment, despite the appalling repression in Azerbaijan.
Over the last few months Rasul had been working with Leyla to finish the political prisoner list for this year; they were just about to publish it. The timing of their arrests suggests it is a tally that Aliyev doesn't want the world to see. Despite the arrests the list of political prisoners will still be published but now tragically there are two more names to add to it: Leyla Yunus and Rasul Jafrarov.
Join the Free Rasul Jafarov! facebook group to find out more about Rasul's work and get updates on case.