Press release: Information Commissioner in U-turn over Tate's BP secrecy

* Information Commissioner argued in court hearing today that Tate failed to show how disclosing sponsorship details would harm its commercial interest.
* The art museum is refusing to publish sponsorship fees despite ending the deal with BP.[1] Tate representative argued that commercial confidentiality bound them to keep sponsorship details secret "in perpetuity"
* British Museum, National Portrait Gallery, and Royal Opera House believed to be reconsidering their sponsorship deals with BP by the end of 2016, as new report details BP's interference in museums' curation, events, and security procedures.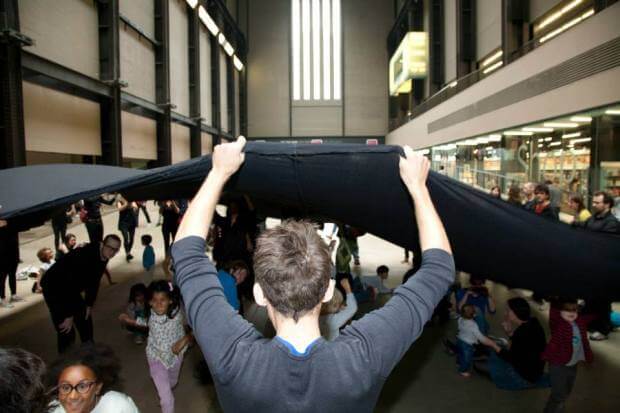 Contact: Anna Galkina, Platform / @platformlondon / [email protected]

The Information Commissioner, who previously supported Tate in its refusal to disclose BP sponsorship fees for 2007-2011, today concluded at a court hearing that Tate had not shown how the disclosure would harm its commercial interest. London arts group Platform, represented by law firm Leigh Day and Monckton Chambers, and supported by information rights group Request Initiative, took forward the appeal heard at the Information Tribunal in London.
Tate had previously argued that disclosure of sponsorship amounts could show new potential sponsors a "price list" for Tate. But at today's Information Tribunal hearing, Tate's Head of Development and Events Polly Bidgood confirmed that there could not be a price list since Tate's corporate partnerships were bespoke offers.
The barrister for the campaigners, Julianne Morrison, argued:
"Tate gave no evidence of significant impact of the potential disclosure. Whereas the public interest in whether the taxpayer is getting value for money in Tate's sponsorship is great. Tate decided to go ahead with BP's sponsorship despite a major incident in Texas that killed 15 of BP's workers, and despite the Deepwater Horizon disaster in 2010. Why did Tate renew the sponsorship? Was it right to do so?"
In 2015, Tate was forced to reveal that BP fees accounted for under 0.5% of Tate's budget between 1990-2006 (£150,000-£330,000 a year).[2] In its judgment the Information Tribunal made clear that Tate should disclose historic sponsorship figures. In the current case, Tate is refusing to disclose the figures for 2007 to 2011 and citing "commercial confidentiality", despite the fact that they are now also historic.[3]
Newly released internal emails from three of the institutions show how as a sponsor BP interfered in the running of its sponsored museums. The revelations, published in a report by the Art Not Oil coalition,[4] include BP hosting security briefings about protest for senior museum staff, and being given curatorial influence over displays and events.
Platform's Anna Galkina said:
"Tate's insistence on commercial confidentiality is symptomatic of a broader creeping commercialisation of our public cultural institutions. It's only right that the Information Commissioner changed his position. As Tate's deal with BP ends, the oil company can no longer use Tate's spectacular displays to distract the public from its destructive business. Tate should review its funding in relation to its climate impacts, rather than continuing to fight on behalf of BP's interests. And the British Museum, National Portrait Gallery, and Royal Opera House should join Tate in breaking free from oil branding."
Brendan Montague, director of the Request Initiative, who gave evidence at the tribunal, said:
"We are delighted that the Information Commissioner today performed a dramatic u-turn and has agreed with us that there is no justification for Tate's secretary around the amount of sponsorship negotiated with BP. The real harm to Tate comes not from transparency but from its continued association with BP in the context of climate change and its appalling safety record which has resulted in the worst environmental disaster in US history and the death of its own workers.'
The Information Tribunal is expected to rule on Platform and Request Initiative's appeal in a matter of weeks following the hearing.
Lord Browne, who worked in BP for most of his career and was CEO of the company for 12 years, is Tate's Chair of Trustees. His term as a Trustee is also due to end in 2017.
Solicitor Rosa Curling of Leigh Day said:"It is clearly in the public interest for Tate to disclose details about its 2007-2011 sponsorship deal with BP. Tate has previously tried to prevent details about its sponsorship deals becoming public, and the Information Tribunal found this to be unlawful. It is regrettable that Tate does not seem to have learnt from its mistakes in past and again,at public and its membership expense, is forcing our client to seek intervention from the Information Tribunal."

British Museum and the National Portrait Gallery both previously voluntarily disclosed recent or current amounts that BP paid them as sponsor [5].

Notes

[1] The end of the sponsorship relationship was announced in March 2016 via an article in the Independent. According to a BP spokesperson, the decision to end the sponsorship was taken by BP, due to "challenging business environment".[2] 
https://platformlondon.org/p-pressreleases/tate-forced-to-reveal-bp-sponsorship-details/
[3] The previous Tribunal considered that the 2006-2011 figures were sufficiently recent at the time they were originally requested – in 2012 – that their release could have harmed Tate's commercial interests. Campaigners argue that in 2015 (and now in 2016), these figures are no more likely to harm Tate's interests than the figures from 2006. This accords with the reasoning of the Tribunal in its judgment where it drew a distinction between: (a) current and recent figures (assessed as at the time of the request; and (b) historic figures.
[5] The National Portrait Gallery disclosed the fees for an ongoing BP sponsorship deal (£1.25m over five years) in response to a FOI request in 2008.
British Museum disclosed BP sponsorship fees up to 2011 in response to a FOI request in 2015.