Press release: Court orders Tate to disclose BP sponsorship figures, campaigners celebrate legal victory
Contact: Anna Galkina / [email protected] / @platformlondon
Images available (1)
Information Tribunal gives Tate 35 days to disclose sums of BP sponsorship from 1990-2006
Tate argued in court that disclosure of internal decision-making details would cause further protests and so risk to health risk to health; Tribunal "wholly unpersuaded" by this argument
Tribunal ruling criticises Tate's "protracted, misguided reliance on [an irrelevant] document", as well as "mistaken" and "somewhat fanciful" use of Freedom of Information exemptions over details of internal decision-making.
In a ground-breaking Freedom of Information ruling, the UK's Information Tribunal has bound Tate galleries to disclose the sum of money BP paid as a sponsor over the years 1990-2006 and details of internal decision-making on the controversial sponsorship deal.(2) The present ruling follows an almost three-year long legal battle between Tate and campaign groups Platform and Request Initiative over Tate's refusal to disclose sponsorship information.
In response to the ruling, Platform's Anna Galkina said: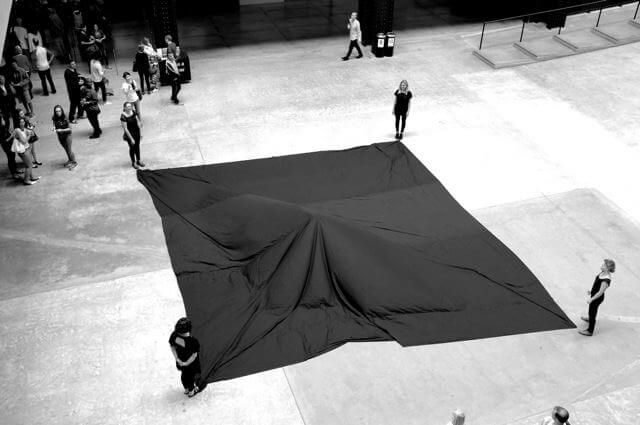 "We are delighted the sponsorship figures will be revealed. Tate's sponsorship deal provides BP with a veneer of respectability when in reality it is trashing the climate, and involved with a series of environmental and human rights controversies all around the world. BP is desperate to maintain its 'social licence' through arts sponsorship. But Tate can do without BP, considering the deal is likely worth less than 0.5% of Tate's budget. Sponsorship secrecy makes BP seem more indispensible than it really is – and our culture must dispense with oil corporations." (3)
Tate renewed BP's sponsorship contract for five years in 2011. Director Nicholas Serota commented during BP's Deepwater Horizon spill, "you don't abandon your friends because they have what we consider to be a temporary difficulty."(4) BP publicly declared it was providing £10 million over five years to four cultural institutions including Tate, which if split equally provides Tate with £500 thousand a year.
Tate's Head of Legal Richard Aydon gave evidence to the Tribunal that disclosure of information about sponsorship would mean that "protests might intensify", which would pose a risk to public safety and wellbeing. The Information Tribunal ruled,
"We were wholly unpersuaded by [this argument]. Mr Aydon expressed a concern about an increased risk of accidental injury, such as by slips or trips. … We see no sufficient reason to conclude that disclosure of additional information would make a material difference to that risk."
Oil sponsorship of the arts has become an increasingly controversial issue, with figures like Archbishop Desmond Tutu saying in 2014:
"People of conscience need to break their ties with corporations financing the injustice of climate change. … We can encourage more of our universities and municipalities, foundations, corporations, individuals and cultural institutions to cut their ties to the fossil fuel industry."(5)
The Tribunal's decision also states,
"[Tate argued] that Tate would not want BP to see its activities placed under explicit scrutiny, in case BP was thereby offended in some way that might prejudice the relationship. We … consider this concern to be somewhat fanciful. We have no doubt that BP is well aware of how its activities are reported in the public domain, and of the nature of the controversies arising around them. It would be most surprising if BP expected Tate not to give careful consideration to whether any of the controversies arising from BP's activities should impact on the continuance of the sponsorship relationship."
Tate and campaigners have 28 days to appeal the Tribunal's decision.
Rosa Curling, the solicitor from Leigh Day who has been working on the case, said:
"The Tribunal has rightly recognised the importance of disclosing all sponsorship figures received by Tate from BP, between 1990 and 2006. Tate argued that these figures should be kept secret, that their disclosure would "upset" BP and deter the company and others from becoming sponsors. The Tribunal resolutely rejected this argument and has ordered that the BP sponsorship figures are now released. Our client agrees. It is crucial these sponsorship figures are in the public domain.
"The long standing relationship between BP and the Tate is controversial. Only when the public are fully informed about how much money Tate actually receives from the company, can a properly informed debate take place about whether BP is an appropriate sponsor for the art gallery and its work."
NOTES:
1) Images of 'Hidden Figures' performance by art collective Liberate Tate responding to the Freedom of Information appeals can be found at
https://www.demotix.com/news/5698731/liberate-tate-reinterprets-malevich-over-bps-hidden-figures#media-5698040
2) The Tribunal ruling in full is online at https://www.informationtribunal.gov.uk/DBFiles/Decision/i1440/Montague,%20Brendan%20&%20Tate%20Gallery%20EA.2014.0040,%200070%20&%200071%20%2822.12.2014%29.pdf
3) The 'less than 0.5%' figure is derived from dividing BP's £10 million sponsorship deal between four different arts institutions over 5 years, which represents less than 0.5% of Tate's £157,281,000 budget in 2013
See the Platform research and infographic at https://platformlondon.org/p-publications/artoilinfographic/
4) https://www.thejc.com/arts/arts-interviews/34470/interview-sir-nicholas-serota
5) https://www.theguardian.com/commentisfree/2014/sep/21/desmond-tutu-climate-change-is-the-global-enemy