Having followed the now numerous stunning images of performance interventions at Tate galleries in response to BP sponsorship, when I visited Patrick Keiller's The Robinson Institute exhibition last week, I was drawn to the BP related content and the ways it resonated with the protests that have taken place in the same space.
I recommend that others take a peek, and I'm interested about what people think about Keiller's intentions? He has not ever made a statement for or against BP's presence in the gallery to my knowledge. Yet this exhibition, commissioned by Tate curators, contains material that is potentially antagonistic to the gallery's relationship with BP.
The Robinson Institute occupies the whole of the Duveen gallery and makes for a wonderful meander through Keiller's exploration via fictional character Robinson (previously evolved through his films Robinson in Ruins and Robinson in Space) through factual histories and geographies of South and South West England, using his own and other works in Tate's collection. The stories he weaves together link sites including Aldermaston Atomic Weapons Establishment with the history of the Anglo-Iranian oil company, ahem BP.
The Duveen gallery is directly adjacent to the BP Walk Through the 21st Century. Visitors step from being guided by BP logos in one part of the upper floor at Tate Britain, to being confronted with anti-war art including that of Peter Kennard and vintage BBC footage looking at oil in Iran. Take this list of exhibits in one area of the gallery for example:
British Council, Potential War Areas, 1942 (English version), 1945 (Arabic version). Oilfields and pipelines marked in red.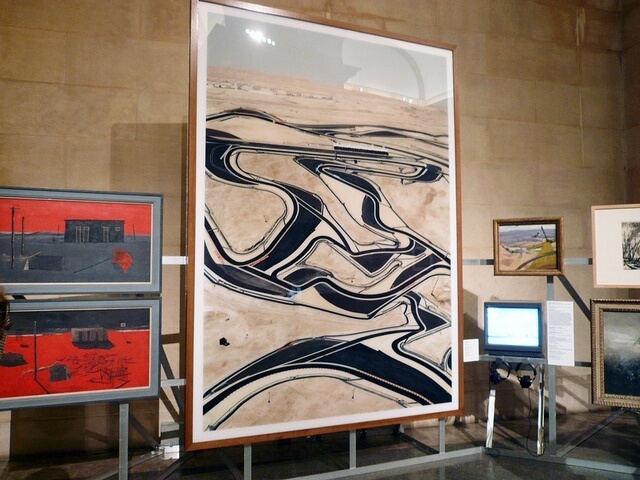 James Boswell, Untitled (Iraq), 1948
James Boswell, Untitled (Iraq), 1948
Andreas Gursky, Bahrain 1, 2005
British Pathé, Oil for the 20th Century, 1951
Sydney Carline, Over the Hills of Kurdistan: Flying above Kirkuk, 1919
Muirhead Bone, Building Ships: On the Stocks, c.1917
Leonard Rosoman, Bomb Falling into Water, 1942
Patrick Keiller, Footage from Robinson in Ruins, 2010. RAF Brize Norton, Harwell, Greenham Common, the Atominc Weapons Establishment at Aldermaston and the Government Pipeline and Storage System.
Jackson Pollock, No. 23, 1948
Peter Kennard, Haywain with Cruise Missiles, 1980
Peter Kennard, Defended to Death, 1983
Perhaps both Kennard and Keiller would dismiss my categorizations anti-war and anti-BP art. But I'm interested in what other visitors feel, see and hear when they experience the exhibition in a gallery that takes sponsorship from BP and is littered with the company's logo.
I thoroughly enjoyed my meander through Keiller's labrynthine contemplative exhibition, and am interested in anyone else's thoughts on the exhibition as institutional critique. Here's the choice quotes I picked up from my travel with Robinson in Tate Britain:
British Pathé (1951) "Striking oil is one thing, finding a market another. According to Churchill any navy must have oil. We had got our customer."
The History of the British Petroleum Company, Volume II, The Anglo-Iranian years 1928-1954 p.489 "Having failed to resolve the dispute by negotiation, the two western governments resorted to a coup, which, by overthrowing Musaddiq, did some later damage to the relations between the western powers and Iran."
And more on the delights of 'Robinson'