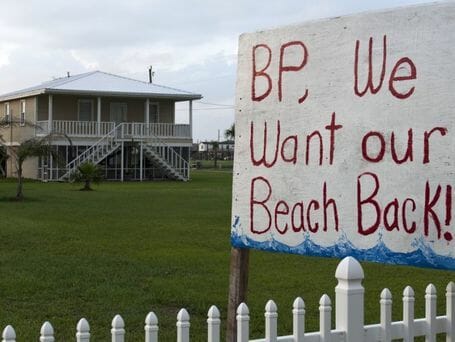 Point 4.1b of Tate's Ethics Policy (that you can download here) states that Tate will not accept funds in circumstances when:
The donor has acted, or is believed to have acted, illegally in the acquisition of funds, for example when funds are tainted through being the proceeds of criminal conduct.
I'm not from any sort of legal background, but I am wondering just how much more criminal BP needs to get before Tate feels that it's violating it's own Ethics Policy by accepting money from them.
Earlier this month, BP agreed to pay a record  $4 billion settlement for criminal charges regarding the Deepwater Horizon Disaster. It pleaded guilty to 11 felony counts relating to the deaths of the 11 workers aboard the rig, two misdemeanors, and another felony count of obstruction of Congress. A former BP executive David Rainey was charged separately for allegedly lying to Congress about the amount of oil that was gushing from the well.
Then just a couple of days ago the US Environmental Protection Agency blocked BP from seeking new contracts with the government because of the oil company's "lack of business integrity" during the Gulf of Mexico oil disaster. So even US government agencies think that BP is too dodgy to do business with.
It's important not to get too focused on Deepwater as BP's sole catastrophe. The Daily Telegraph recently provided a convenient recent history of BP's disasters in the US alone, including the Texas City refinery explosion in 2005 that killed 15 workers and injured 180 in one of the worst industrial accidents in US history, numerous pipeline leaks on Alaskan tundra, and another explosion in August 2012 in Colorado that killed another worker.
And that of course is just the US, and doesn't take into account BP's controversial operations in so many other parts of the world, many of which seem to have quite questionable legal underpinnings, such as the recent approval of its £7.5 billion expansion to the LNG plant in Tangguah West Papua, a region that is illegally occupied by Indonesia.
It feels like we could do with some clarity from Tate about their Ethics Policy about what constitutes 'criminal conduct', why none of this seems to be covered by it and how the Tate Ethics Committee goes about making these decisions. Do we need to see Bob Dudley violently mugging customers in petrol station forecourts before Tate acknowledges that something might be amiss?
It's worth adding a note of caution about seeing these record breaking fines as constituting justice being done with regards to the Deepwater Disaster. As the Public Citizen advocacy group noted:
The $4 billion penalty is equivalent to just a fifth of the company's 2011 profits. The point of the criminal justice system is twofold: to punish and to deter. This does neither. It is a weak-tea punishment that provides zero deterrence to BP or other companies. Consider that after the 2005 Texas refinery explosion that killed 15 people, BP pleaded guilty to a criminal charge and paid a fine. Now, after a 2010 event that killed 11 people, BP is again pleading guilty and paying a fine. Zero deterrence.
Some of those from the Gulf Coast also pointed out that the size of the fine doesn't mitigate the reality that communities are still facing in the fall out from the disaster. A Huffington Post piece reported questions remaining unanswered such as "Why are certain marshes not producing shrimp and crabs like they did in the past? Why have parish sales tax collections remained down? Why aren't sport fishermen chartering boats like they once were?"