What enables artists and activists to keep on making work that challenges the status quo?
How can we sustain ourselves, our imaginations, and our communities while keeping on speaking truth to power?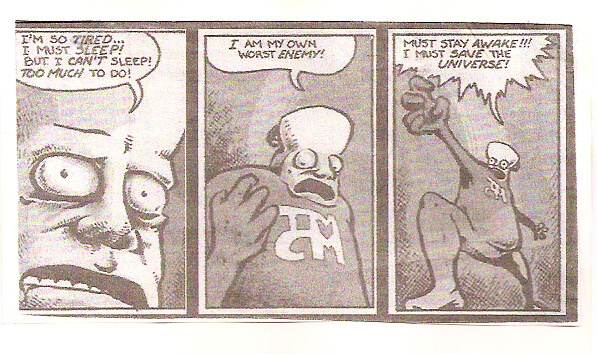 On 14 March 2012, I wrote this to some people I have been working with recently:
"I'm giving a presentation called "Keeping on: sustainable art-activism" next Wednesday at the Chinese Arts Centre in Manchester on how creative activists sustain themselves, methods to keep on going over time…The talk will look at Platform's work and some of the strategies and lessons learnt over the years from artists, social movement activists and others.
I had an idea to ask you what your own seasoned tricks of the trade are? Secrets of outlasting, keeping creative, of not going under or giving in, or selling out.
If any of you would be happy to share some thoughts (images?) by next Monday, I would be delighted. If you want to be anonymous, let me know. Hoping you are all thriving."
I was stunned by the responses: Thanks to Kooj Chuhan, Will Essilfie, Jaya Graves, John Jordan, John Fox, Ewa Jasiewicz, Lucy Neal, David Haley, Gary Anderson, Tanya Hawkes, Maria Adebowale, Natasha Machin, Diane Wittner, Suzanne Lacy, Mark Brown, Free University of Liverpool, Britt Jurgensen, anonymous, Ackroyd & Harvey, Benjamin D, Aidan Jolly, Rebecca Beinart, Emily Johns, Alejandro Meitin & Silvina Babich, Sarah Amsler, Richard Houguez.
Anyone with more contributions, please use the comments box below..
From Kooj Chuhan
good question – long answer will have to wait but some short thoughts:
– addicted to it
– great people
– only way to deal with the anger about continual injustices that get me down
– deep belief in developing the values that underpin real long-term progressive change, these are my values and beliefs or at least ones I want to make more my own
From Will Essilfie
here's an article I found a while ago but haven't yet read, so I've no idea of the quality of it but hopefully it's got some decent bits that'll be relevant for you.
Barker et al – Emotional self-management for activists by Chris Barker, Brian Martin, & Mary Zournazi, School of Social Sciences, Media & Communication, University of Woollagong, Australia, in Reflective Practice: International and Multidisciplinary Perspectives, Vol 8, No 4, Nov 2008, pp 423– 435
Abstract: It is important for activists to be able to deal skillfully with their emotions, a process we call emotional self-management. Done both individually and collectively, this can help activists to be more effective and help create the sort of society they believe is desirable. One approach to skillful management of emotions is through the concept of mindfulness, which involves paying attention to one's state of being. Activists have much to gain by moving from negative emotions to ones such as 'joyful hope'.
Keywords: activism; emotions; mindfulness; self-management; joy
From Jaya Graves
Just bloody-mindedness is not bad.
Solidarity – being in regular contact with colleagues who feel the same.
Writing
Reflection/meditation
Knowing it won't last forever… as it won't… as it isn't
Knowing that we are only planting seeds for others to reap… as we do ourselves (good or bad). As other activists do.
Knowing that creativity is in how we live and applying it to our relationships
It's not that different for artists as it is for anyone who in involved in the process for change. We may just have different groups with whom/from whom we gain strengths. Just for starters…
From John Jordan
off the top of my fingers.. The five finger technique to keep going:
1. The fight should be filled with the same amount of fun and pleasure, creativity and audacity than the world you want to create – always !
2. Remember you are not alone, realise that rebel friendships are like little packets of magic dust that can explode in your pocket and make you fly.
3. Look at the victories rather than focus on the horrors. Sometimes its the things that DIDN'T happen that show we won – the people that were never rounded up for the slave trade, the wars that were too politically costly to be fought, the nuclear power stations that were cancelled, the GMO's that never got planted….
4. Get energy from the ancestors that you admire those that fought before you – (the diggers, luddites, chartists, suffragettes, etc) and never forget that they all had complicated lives as well, that they sometimes took breaks, sometimes went on holiday, often fell in and out of love, went for walks in the forests and even read poetry on the beach to each other….and none of them knew what the outcome of their struggles would be !
5. Finally try to see create new languages and symbols so that activism does not feel like a repetitive ritual but a living work of art. You could start by reworking the symbol of the clenched fist for example, from something raise in anger and ready to punch to something more adapted to the 21st century of networks and multiplicity – an open hand, prepared to share and give and with five agile fingers ready to wave goodbye to capitalism.
From John Fox
I was just asked by NASA – national association of street artists – to write a letter to a young artist. The full letter is on both their website and ours www.deadgoodguides.com (under Dead good words) but here is a relevant paragraph.
As I come to the end of my letter here is some advice
1. Work practically and physically.
2. Practice a musical instrument and sing and dance a as much as you can
3. Take holidays. Remember in a sick society arts (and social) workers are scapegoated and used up as safety valves for the benefit of the status quo.
4. Read, write and shout poetry every day.
From Ewa Jasiewicz
Ok, so off the cuff: Keep being inspired – listen to other people, activists, the people you work with, sometimes its important to keep your ears open and your mouth shut. Also find and appreciate beauty – films, a walk, a beautiful sight, get out of the city, into the hills, down to the sea, let your gaze stretch out and fall on something other than a computer screen, feel the sand or earth between your toes
Move your body! – its part of you, more than the mousepad or i-phone. Just a big run can jiggle up and out all the tensions and anxiety, clear your noggin, clear the lungs. Exercise is a positive personal struggle, and it gives you more stamina, muscle, headspace and de-toxification, physical and emotional. Ive just started running and ive only been twice! But i already feel like a badass and less of a jiggly-ass. Yez.
Find your inner chimp and express it! – its good to be monkey-like, it can help esp if you have children or nieces and nephews, its a great way of letting loose and not taking yourself seriously.
Don't také yourself too seriously – see above as well. A friend working on palestine issues always takes the piss out of himself, makes jokes when he does talks, about egos, clothes, hes a bit like bill hicks. We cannot disappear up our own arses it is Fatal.
You are replaceable – see above too. It is possible to step out and back in with activism. There is a sense sometimes that activists needs activism more than activism needs the activists. Dont get routine or rote about it all, the creativity will Slump
Spend time with your family and non-activist mates – if you can, if there are good relationships there. There are diff conversations, realities, perceptions, priorities, ways of having fun, ways of getting pissed off! But its a change and sometimes a bit of a rest, can keep you grounded.
Get totally off your face/trashed sometimes with yer mates, be a bozo, be a boozehound, be scandalous! – works for me! (:
I think that's it you know! Hope that's Helpful
From Lucy Neal
Cooking my family one meal every Sunday at around 7pm which they all more or less get to and which they know will be happening. (4 daughters 26, 24, 18 and 14 + 1 husband)
Swimming at the Tooting Bec Lido when ever I can (4 minutes from my door) around the whole year and therefore being able to BE the seasons: cold, wet, windy, snowy, wintery, sunny, foggy, indifferent, dappled, bright, clear, blue, brilliant, splashy, sprinkly, bloody freezing and pleasantly warm. All of these I embrace and immerse myself in. Sometimes there are two ducks, Bertie and Gertie and it is nice indeed to share the water with them. It is elemental and important for me to immerse myself like this. I lose the boundaries of myself and it always calms and settles me.
Knowing that even when I am dead I will be a part of the world – connected to a web of life. Just standing quietly next to a tree for me is enough to give me some peace and quiet in my soul to know this. Also holding stones in my hand – ones I've collected here and there and hold onto. Their shape and texture connects me to something simply real and true about what I am a part of.
My father – an important person for me. I cant put everything down here but he delights me. He is my teacher.
I also keep myself going like a little tug boat with a faith in things: providence, kindness of strangers, love of friends and family, knowledge that change can and does happen little by little if you keep on keep on going.
Poems, books, people writing things that illuminate what I think and feel (Suzi Gablik!!!)
Maps
Blessed abstractions of art.
Humour.
The thrill of knowing and working with very very clever, kind, inventive, good, creative people.
I have to go shopping now to feed my family
From David Haley
My response to your request. Despite manic busyness, its important to take time out to reflect on something like this.
Forever Active, or 'Reasons to be Cheerful'
Yvonne and our daughter, Claudia Jazz, and then…
1. Sun Tzu, The Art of War – The most powerful strategy is to have no strategy, but to be constantly vigilant.
2. Shifting Thinking – Its not a question of making new knowledge, but changing the way we think – when a room full of people question, really question their own normative thinking patterns and glimpse another reality.
3. Fundamental Justice – Fundamental Culture (Edgar Morin)
4. Ecology in Action – Transdisciplinarity – seeing the ecology of many simultaneous realities – Yin | Yang. Rta – the dynamic process by which the whole cosmos continues to be created, virtuously.
5. Seeing the detail within the context of the whole, and the detail within the whole.
6. 'Pathological optimists' – John Fox, Welfare State International
7. PLATFORM – as a constant point of reference.
8. Passion for the intensely beautiful – music in particular…
Orchestra Marrabenta Star De Moçambique – Nwahulwana
Jimmy Cliff – Many Rivers to Cross
Miles Davis – Filles De Kilimanjaro
Bob Dylon – Buckets of Rain
Ladysmith Black Mambazo – Shosholoza
J S Bach / Pablo Cassals – Cello Sonata 1
9. The Lagoon Cycle – Helen Mayer Harrison and Newton Harrison
From Gary Anderson
I've just spent the past two hours trying to answer. I build sentences as carefully as I can, then a paragraph, then I just feel silly or proud so I rub it out. Can't really answer you: mixture of feeling unworthy and conceited at the same time. Don't want to give quick answers either. Keep feeling suspicious of the words I'm coming up with. Maybe that means I don't really have anything in place for 'keeping going'. Maybe I'm not really fighting either, you know, fighting like Ewa or you and James or the zapatistas or primary school teaching assistants in north liverpool. Maybe my struggle is just about comfortable enough for me not to have to worry about keeping going. I have a nice job, a beautiful, clever wife, adorable children, front and back gardens, a car and I pay into a pension. Of course I'm sustainable…My question has always been 'What can that kind of arsehole do for justice?' I think the question sustains me.
From Tanya Hawkes
When I feel despondent, I listen to this
https://www.youtube.com/watch?v=LjvUMr1-AAU
From Maria Adebowale
A few thoughts for staying creative:
surround yourself with things, people that inspire you
remember that things ain't changed yet ..so you got to keep on going
and give yourself time out to play
From Natasha Machin
Cool questions! Thanks!
What motivates me and sustains me as a social change artist is ART that I hope will do all the things that I know art can do. Art that helps define, put words to, create images and a space that offers its part in a unversal conversation and practice of change, which informs my practice and contribution to the conversation and action of change. It is work that feels like I'm getting into water, being held by the mass, at first challenging and invigorating.
It is important for me to know when to get out in case I start to grow algi and gills. I know I am not a mermaid! Funny how we often come to metaphors about sustainability that are drawn to how we negotiate water.
I've been really inspired recently, working with women on a play called Seven (by Vital Voices) about the lives of seven women worldwide who tell their story of how they affect change and where it started. I directed and co produced it, we performed it twice, to audiences above 100 people on International Women's Day. What helped me keep going was always starting with a circle, warming up and singing- grounding and connecting – actively acknowledging the individuals presence and self and celebrating the collective. Also knowing when to have tea breaks with some biscuits! The text of Seven is very humbling and inspiring so it kind of brings our egos into proportion. I say this because I think it is so important to sustain ourselves to bring about change by doing it together in groups, and for this to happen lots of trust needs to be built. Yes and in a group you learn how each person has their own way of looking after themselves and they are like tips, just like you are asking now.
What recently floated my boat is the work by two artists, currently at Arnolfini, I felt that the conversations that were happening during C Words* were continuing in the space with Shilpa Gupta 'Someone Else' including the piece 'Singing Cloud'. It envelops the whole exhibition space and leaks out of the doors in to the rest of the building, pictures and info here. My first experience of the Severn Bore was through digital sound and video! by Sophy Rickett 'To the River.'
People who are committed to taking care of themselves and each other, collective spaces, respectful spaces, safe spaces, containers of safety, learning about learning and risk taking.
Occasionally having a bath!
Practising LOVE in all that we do. Like Augusto Boal said 'We seek ourselves in others, who seek themselves in us.'
From Diane Wittner
As Pina Bausch said "Dance, dance. Or all is lost." In my darkest moments, I dance salsa…and am infused with joy! Though I know other dance, I am only a beginner in salsa, so this will be a wonderfully long and deliciously challenging path.
Extra from John Jordan (speaking of an artist-activist friend in need)
a bunch of neolithic stones and a gaggle of belgian monks should do the job
From Suzanne Lacy
There are some amazing activists out there who manage to keep going in spite of the scale of oppressive forces at work now, a life-threatening fundamentalism. Strong relationships with other like-minded souls- this is something they all seem to share with each other. My relationship with activists outside the artworld is part of what keeps me going….it keeps me focused on the real and substantial issues.
Recently I've been thinking about Jodie Evans, co-founder of Code Pink, who, with her vast global posse that includes the likes of Gloria Steinem, Eve Ensler, Elizabeth Sackler (among many, many others). She manages to keep going, it seems, by not letting her eye off the ball. Homelessness and the banking industry, Occupying for the 99%, the war in Afghanistan, the Palestine occupation, global violence against women—she tackles the real issues with an optimism and courage that is often beyond my grasp. As for me, I seem to need to make art to keep from personally diving into a trench and giving up, so I like making art alongside activists.
Watching the real activists keeps me humble. And connected. [email protected]
From Mark Brown
a well-stoked sense of wonder
From Free University of Liverpool
This is the FUL contribution to your question about sustainability:
From Britt Jurgensen
My contribution is:
Rule No 6: Don't take yourself too seriously.
From anonymous
Hmm. Creative sustainability in the face of violence, injustice, and almost worst of all, total indifference. I'm not sure I have an answer to your question, or at least, a succinct strategy.. .
But personally, I like to have a lot of plates spinning, which I think, in our 'one career/identity at a time' culture, is rather frowned upon as foolish, incomprehensible, or unproductive at best. And there is some truth to this: it can wear you out. But what I mean, is that I have different outlets, or forms (for a severe lack of a better term), to address certain creative or political needs.
For instance, I have found that making graphic novels allows me to address, in a much more direct or didactic way, political issues (using research, journalism, and my most hated expression ever 'the artistic license'), in ways I would not do with another medium. When needed, I can churn out and design flyers, posters and banners literally overnight, which is sort of the apex of instrumentalizing creative energies for a specific purpose. But it's a needed skill, and sometimes, amongst the different skill sets of activists on a campaign, it's one of few things I can readily and easily offer.
But I also see the value in creating things whose immediate message or reading is obsfucated, open ended, recursive, or simply vague. It's a Dr. Jekyll and Mr. Hyde-type dynamic. I need to create things whose end results are not only not known at the beginning, but become strange, alien and baffling to myself in the end. It's a strange way to work, but it keeps me going.
As for selling out, that to me, has not really been an issue (though I am still open to offers!). Working in the art world has made me, (un)fortunately, rather cynical. But at least it's sharpened my sense of what I value, and where my priorities lay, and in knowing that, I don't experience the same level of frustration I did when, say, I graduated art school, when a lot of friends of mine went on to be represented by big galleries.
I'm in mexico at the moment, in Chihuahua and Juarez, doing research on a multi platform project about femicide, human rights, and the drug war. I'm working with mexican activists in their 60s, who have more fortitude, more energy (positive energy, in the face of a daily barrage of, well, frankly, incredibly fucked up shit) than anyone I've ever met. And they've all had their lives threatened. And I'm at a loss to explain how they do it. I can barely keep up! It makes being an artist/activist almost a bourgeois (another hated word of mine) pursuit. But when I ask them how they do it, I think it's a contextual difference between what we in the UK experience, and them: they're having to fill a gap that the state (another hated concept) has utterly failed to do, which I think should give pause for thought for anyone with anarchic leanings. It's a real practical, judicial, philosophical and ethical mess. So for them, there is no schism between activism, down time, day job: it forms the entirety of their life. I think because most of them know someone who's been killed. And the sense of official indifference is absolutely enraging, and at the same time, propelling.
Sorry, I didn't think I would waffle on like this for so long! Hope this made some iota of sense…..
Just very quickly: I forgot the most obvious reason/strategy: my nearly bottomless contempt of power and those who exercise power without experiencing the consequences of their actions.
It's a good thing I can channel this contempt creatively! And also not beating yourself up for taking a break. I think activists sometimes feel mightily guilty for putting their own health/well being first.
From Ackroyd & Harvey
Okay, here we go. The strictures of a work environment of someone else's making holds no appeal whatsoever. We answer to ourselves, free-ranging, free-thinking, free radicals! We share everything together, creativity, ideas, studio, home, child-care, cooking, work. We're not in competition with each other for time, resources or recognition. So, we can approach situations, work and otherwise as they arise as a shared concern. Imagination and artistic liberation are uppermost in our rationale for living. We don't actively chase the money and celebrity. What is happening in the world matters greatly to us, and is often reflected in our art-making. We have survived artistically through generating projects, exhibitions, public art initiatives, receiving Arts Council funding, guest lectures, research grants, residencies, commissions, occasional prize money. Our work moves between and integrates different disciplines including sculpture, photography, architecture, film, biology, ecology, environmentalism, philosophy and a broader approach to science. Poetics and politics of place and space are key motivators in our work. We love what we do. Ackroyd & Harvey
From Benjamin D.
Unfortunately it is Sunday night, I have only just finished a job application to teach English at a Workers' Educational Association summer school, and I really don't have the energy to write about how I keep going as I am too busy trying to answer that very question. I still have an enormous bag of skipped mushrooms to process before they go bad. I also have to lay a concrete floor in the morning, in time for a forthcoming Bikefest and I simply must work in my garden tomorrow – very busy time of year.
Emotionally, I keep myself going by dancing tango, which I can thoroughly recommend. However, that lead to a very late night last night so I absolutely must go to bed now, before I fall asleep at the computer. If you need to conjure up an image, you can imagine me with my head in a wheelie bin, looking for dinner and desperately hoping that my Tax Credit will arrive before my water bill… I don't imagine that the Tories plan to replace Working Tax Credit with a new Universal Credit – when/if they get around to doing that – will be great for creative professionals.
From Aidan Jolly
Keeping on going…
1) What choice do we have? Not sure I could opt out, due to inability to cope with the real world – last time I tried the real world, it contributed to serious mental health problems – getting creative was a process of re-integration for me (and I think many of us). Creativity is a healthy response to a sick society.
2) I have not yet had an opportunity to sell out. So bring on the record deal, the money, or the fame, and then if I turn it down, I will let you know. If I do sell out, you can let ME know – though I expect to able to justify my sell-out by the influence I am able to wield on decision makers, and my work for the UN, and also I will give 5% of my income to the charity I will set up – actually, make that 2%, as long as I get tax relief and my OBE. Then again, it's just possible I have already sold out. I often question whether I am still (was ever?) an activist. I used to be more involved in direct action, now I find that 'activism' is just a click away, very handy when my son is due home from school and I have to get the tea on. Perhaps I am still an activist in the head, in that I still question the compromises that are made every day in projects that often fall far from the ideal in terms of funding or who you are collaborating with, or how much energy I can invest in them. I am fairly clear that this is not enough, less clear in how I can become more activist again.
3) What is creative activism? Some of the things I do are rooted in my local community (keeping the community centre going while the council is privatised and sold off). Some are political, eg anti-deportation campaigns. I suppose I try to bring my creativity such as it is into these arenas because it's the skill I have to offer. Perhaps if I had trained to be an accountant, I could use that instead (might be more useful). I think sometimes we have to convince our political allies that creativity has a place in activism, especially as there are often more pressing needs, such as food, warmth and shelter. So I think it's better to address the creative part of activism to the long term issues. Creativity has a unique place in the tools available to us to ask questions and invite people to 'feel' the issue at stake. Creativity offers lateral responses and positive energy. Also, I cannot bring myself to sit in meetings where dogma is spouted by political factions with little or no actual experience of something.
4) I keep asking myself why I expect to make a living out of working as a musician, especially one who would like to see the established order overthrown…is it really possible to be a state-subsidised revolutionary (and not a very active one, see 2 above)?. It's easy to answer why we should expect to make a living as artists – partly, why not? Partly, we are not really being subsidised by the state, we are demanding proper distribution of the commonwealth collected on our behalf through an inequitable tax system which rewards cultural elites disproportionally. But if we want to subvert, criticise, and even overthrow dominant cultural forms, then even if we got our fair share of the common wealth we would probably be compromised, because funding is always used to control what is created, who creates it, and where it is seen, and to divide organisations from each other, and because we need to eat. I am not sure there is a solution to this dilemma – there are very few organisations that exist that can offer alternative means of support, and having worked with trade unions on projects, they have an even more restrictive agenda than the mainstream (besides which probably most of us would agree on the historical function of unions as managers of unrest). Should we all have part-time day jobs that give us some independence of funders (what jobs)? Should we be going down the road of crowd sourcing? Bankruptcy is usually no more than six months away…sometimes less. How much is it possible to take on projects that 'cross fund' less well financed but more worthwhile projects?
5) When I started working as an artist, there was a movement, to be sure a very loose one, based around some key ideals, especially that of cultural democracy, and creative initiation and participation rather than consumption. I think it's fair to say that in the UK at least this movement has failed for a variety of reasons (which are well documented). I still believe in these ideals and I think they are still relevant, but I think we need to rebuild the idea of a movement.
finally – what has kept me going (so far)
– collectivity – working with like minded people and organisations – networking with them (as opposed to schmoozing)
– a low mortgage, and a supportive partner who shares my ideals. It would be dishonest not to mention this as a huge factor, not that my partner earns a lot either, it's more that we have similar expectations and values and so have deliberately chosen to live reasonably simply (by some standards….)
– continual learning
– lack of ambition in the traditional sense (I don't want to be a goodwill ambassador for the UN anyway)
– luck
– being proactive, seeking alliances, initiating projects rather than waiting for them to come to me fighting our corner
– I try to look to the long term…organisations and individuals who are around over many years may not reach large audiences day by day, but gain influence through longevity (In a couple of weeks I will be talking to students on a socialist theatre course about Banner Theatre, who I was with in the 90s – they were founded in 1973 and are still going, and have some how ended up as part of the theatre studies curriculum…)
From Rebecca Beinart
I think the essential thing for sustaining politically engaged creative work is to keep working with other people, to feel part of networks, get inspired and challenged by what others are doing. I also think it's useful to talk to and collaborate with people who have very different perspectives. And important to feed yourself – to keep learning, have space and time to develop ideas, go and see other projects/ exhibitions/ performance. I've been engaging a lot more in this recently, it helps me to define both what I do and don't want to do.
Not becoming institutionalised, but finding cunning ways to get support from institutions!
On a slightly more controversial note – I've been questioning some of the decisions I make that seem to prevent me from earning much of an income/ developing my 'career' – sometimes I wonder if it's misguided not to sell out! – would it be more personally sustainable to work on less 'ethical' projects and have enough to live on & to fund more activist work? (I'm probably just saying this cos I'm skint at the mo!) Are obviously activist projects the best way to communicate radical ideas?
Not being right on for the sake of it, being honest about who you are and how you want to work – not to get buried in ideas of collective production if you do want to initiate and lead projects, and not to get too wrapped up in your ego if you do want to work collectively. I think it's important to have the confidence to do what you do – I think (particularly for female artists I know) the biggest thing that holds them back is not feeling they are 'valid' enough to be making public work.
And finally – this is a question I take from working with Platform – it's always important to ask 'Who's not here'?
I'd like to add something in memory of my Granny, Margaret Stanton, who passed away last week. What kept her going from the age of 16, when she first became politicised to the age of 93 when she finally became too immobile to attend meetings? We've been talking about this as a family, and some of the things we recognise in her over her lifetime are: enormous energy and determination, a constant recognition of injustice and oppression in their many forms, an overarching political analysis – which for her stemmed from joining the Communist party in her youth, an insistence in being engaged at a grass roots level throughout her life, a passionate interest in other people (which might be called nosiness!), and a lot of care.
From Emily Johns
I think that sustainability comes from deciding who i am making work for. I make pictures for speaking to people who matter to me, my friends, neighbours, community and comrades; all the real people in the world. I am sustained by their real responses. Thinking about the Art World etc I find destabilising, it distracts.
Sometimes I work in the sense of making magic spells – the picture is efficacious from a distance. Some of these pictures particularly about Iraq have never been shown because in a way their function was as much about me hanging on very tight to the world and wishing it well, as them being looked at. Maybe that all sounds a bit bonkers, but that is the strand that keeps my power. Maybe that is my secret to outlasting.
I like to think of my pictures as functional like medieval stained glass windows, images that help with thinking. Deciding that poetic vision is of practical use to the world is important. I do lots of political talks around the country with pictures as the basis. Direct contact with my audience is enormously sustaining.
From Alejandro Meitin and Silvina Babich, Ala Plastica
This is a short but heartfelt reflection. As David Harvey has expressed "any alternative to the contemporary form of globalization will not be given us from above. This alternative will have to arise from multiple local spaces combined with a broader movement to encourage spaces of hope". In this sense, our actions are an adventure, an exploration that searches and creates contexts for new spaces of hope as a position on survival. This intention, promotes and maintains our search, relying on the emergence of a new future for which we have been and continue to be active participants.
From Sarah Amsler
Though I'm not an artist, I hope to be able to answer your other email about keeping on going this weekend! Laylah is ill, there is a Social Science Centre meeting, and we have to be in London for a family holiday on Sunday. If I can keep on going through all of this I'll make some space to write about activist work. Not being ironic! But in the interim, a few key words spring to mind: militant hope, love, ethic of care, confidence, recognition (of a particular sort, not official/institutional), mindfulness of the beauty and promise of small things, collective theorising of social change in practice, perspectives on time, courage, determination. Being around other people's courages and determinations, both small and large. I am inspired by everyday courages. Revolutionary patience? Maybe that's a cop out, though I have been permanently outraged at various points in my life and that is neither easy to sustain nor terribly effective in terms of building relationships and knowledges. Beauty. Newness. Something about the possibility of seeing/feeling something immediate (life-giving energy) but also not needing immediacy.
From Richard Houguez
iv been thinking about this quite a bit recently, in relation to autonomy of practice- recognising interdependence and support as opposed to purity and isolation. I think also in relation to care, and care being uneconomic- precisely because you go beyond what is expected, or accounted for when you care about something. who hasnt stayed up all night or travelled enormous distances for a friend at the drop of a hat? but dont parents just look knackered all the time?
I spoke to a junior doctor recently, who was telling me about how private healthcare doesnt really work as a model, with the example of private wings in public hospitals, because it the same staff who are treating both public and private patients, and often the doctors treat the private patients for free because whats important to the medical professionals is health, not money. I think the parallel im interested in is that you have thousands of committed health professionals who currently go beyond whats expected of them on a daily basis because they care about public health ethics, and the healthcare bill thats just been passed is completely threatens that ethically driven model, and i wonder how doctors will respond to this. just wonderin.
just started reading through this [below] – it's pretty dense language that needs unpacking, but I think it could be good to bring into your presentation on sustaining ethical practice in light of austerity, reduced funding etc and still remaining critical of alternative emerging models. perhaps?
Subject: delusions of revolt – notes on e-flux Time/Bank Delusions of Revolt: An encounter with the limits of aesthetic praxis
Anton Vidokle likes to the think of himself as an artist and his various projects, which primarily fall under the umbrella of the e-flux enterprise, as his (among collaborators) works of art. The e-flux Time/Bank, launched in 2010 in collaboration with Julieta Aranda, is the latest in a line of 'artistic' exploits achieved by our protagonist that are said to ostensibly balance the imaginative terrain of aesthetic expression with the materialistic concerns of instrumental political praxis. Taking form in a style not unlike past projects such as the international mailing list, journal, research platform (Art & Education), United Nations Plaza, etc, the Time/Bank presents itself as a communications technology that on one hand offers a utility value: a functioning currency and networking platform where users can exchange through the medium of the time-note; while on the other hand the system functions as a speculative projection of an imaginary economy in which labor would once again be united with value, where a society would have a fully integrated participatory relation with financial institutions, and the artist-laborer (who is of course the subjective vanguard of our political-economy fairy tale) is an emancipated subject who fulfils their creative desires within an autonomous egalitarian economy "where all are valued equally."
Problems are evident with this seemingly seductive position: the Time/Bank – a system that's representative of the increasingly popular push towards a pre-figurative politics that concerns itself with molecular forms of revolt that often take the shape of affirmative calls for self-organization with the intention of an immediate social secession from capital – embodies a dangerous confluence between the pure idealism of the bourgeois subject who is unable to 'apply their idea of individual freedom to the whole society without the self-negation of the social order that brought this ideology into being in the first place.' And a 'seemingly' materialist concern for the structural conditions that would enable a more wide spread subjective self-realization economically. Although there are without doubt tactical insights entertained in the 'harmony' realized between the aesthetic (idealistic) and politico-economic (materialist) fields touched upon in the Time/Bank, e.g., insights concerning the potentials of a transformatory aesthetic practice who's truth ruptures the reified conditions of a monopolized social reality and potentiates visions of a present not yet realized; the project ultimately manifests as nothing more than abstract idealism with a materialist t-shirt. Meaning, the currency system transposes an idyllic vision of non-alienated economic relations over an existing reality of extraordinarily alienated and repressed social relations. And in doing so nullifies – by way of aesthetic mystification – the lived conditions of exploitation (many face) and hence the consciousness of those conditions by the middle-class demography's that are in the privileged position of exploiting this complementary currency service.
The Time/Bank is essentially an 'aesthetic economy' that is geared towards a creative middle-class workforce. It can be considered aesthetic in the same way as our current market-economy, which is driven by speculative finance, could be said to have an increasingly aesthetic nature; both systems embody a general abstraction in value. The time-bank structures value through 'hours' and is said to achieve a humanistic representation of labor through recovering the long lost 'labor theory of value' which attributes value solely in relation to the investment of labor time. Not only is this value system a retrograde delusion of revolt from the existing system in that 'labor time' itself is nothing more than a construct of neo-classical capitalist economics; Marx's critique of Proudhon's time based currency is telling here: 'Time is everything, man is nothing; he is, at the most, time's carcass. Quality no longer matters. Quantity alone decides everything; hour for hour, day for day; but this equalising of labour is not by any means the work of M. Proudhon's eternal justice; it is purely and simply a fact of modern industry'; but it also misrepresents the extent to which the picturesque reality projected is actually realized in the actual – as opposed to purely ideological – situations in which it operates.
The Time/Banks international restaurant franchise called Time/Food, which has opened shop in Berlin, NYC, and Moscow, vividly elucidates the inner-contradictions spoken of. The Moscow franchise, open from May15 to July15, offers an ethicalized Disney land experience where guests can participate in an alternative reality of exchange that has been covertly financed (with real capital) by the Stella Arts Foundation. A foundation backed by the notorious oligarchette Stella Kasaeva whose revenue is sourced from the murky waters of a Russian tobacco empire – Kasaeva has become an emblematic figure of cultural corruption in the current struggles against the very monetary liberalism that a project like Time/Bank purports to be supporting.
Putting the particular situation of corrupt finance in Moscow's Time/Food aside for a moment, we most also come to terms with a more general reoccurring contradiction that is at play in the Time/Bank between aesthetized consumerism and its feudal capitalist backing. This contradiction, which in essence is the noted conflict that occurs in the hybridization of aesthetics and economics, idealism and materialism, autonomy and heteronomy, etc, can be quickly illustrated by simply depicting how the time-note equates value through a purely relational protocol. The value of labor and the objectified products of its ends under the time-note are represented through the biased looking glass of the cognitive service industries. The time-note simply disregards the material conditions that underpin the social or relational nature of the services exchanged within the time/bank economy e.g., as a consumer I pay for my food with the illusion that the value attributed to the received commodity is equivalent to the labor time expended in its production by the server who provides it to me. In doing so I receive a false sense of ethical gratification: The laborer, as I am convinced by what we could call this labor-certificate system, receives the full compensation for the product of their social investment of labor instead of, as would occur in a capitalist transaction, only receiving a fraction of the total profit generated through the exchange. This of course brings us back to the problems of the hybridization, which I hope now can be fully understood as the basis of the delusion that is occurring here.
The aesthetized consumer oriented service economy only furthers the alienated and hierarchical relation between cognitive and manual labor – the system is directly supporting the further residualization of manual labor and the feudal working conditions that are the effect of its under representation.
While the service economy is valorized through the egalitarian time based economy, the manual laborer who manufactured the primary resources that were invested in the production of the food is completely devalorized. As industry is increasingly automated and financialized increasing volumes of wealth are produced with a decreasing volume of capital and labor. As a result, production distributes a decreasing amount of pay and wages to a decreasing number of workers. What follows is that a currency anchored on units of time necessarily devalorizes manual labor while simultaneously valorizing machines/capital and the cognitive work forces that are in the privileged position of controlling them.
THE URGENCY!
Vidokle and Aranda's 'artistic' project is an explicit transgression of the ethical convictions that we believe most be defended with increasing fervor in a moment when the cultural sectors of many societies have come under attack by right wing policies by way of austerity measures. In the Netherlands, which received the blow last year of an austerity package that was directed towards the literal obliteration of critical institutions (half the cultural budget was cut) the Time/Bank surfaced as an archetype for a new product line of state sponsored art. Innovation driven cultural practices that vocationally situate the artist as a precarious social worker with a face that is conducive for mass media exposure is exactly what the Dutch Minster of culture, education, and science Halbe Zilstra has in store for the future. The economization of art by way of its functionalization may be seductive in its illusion to an insurgent visionary alternative, but what were left with in a project such as the Time/Bank (but also many others) is art, along with politics, as a complementary service: the necessary steam-valve for the unbearable pass of capital.