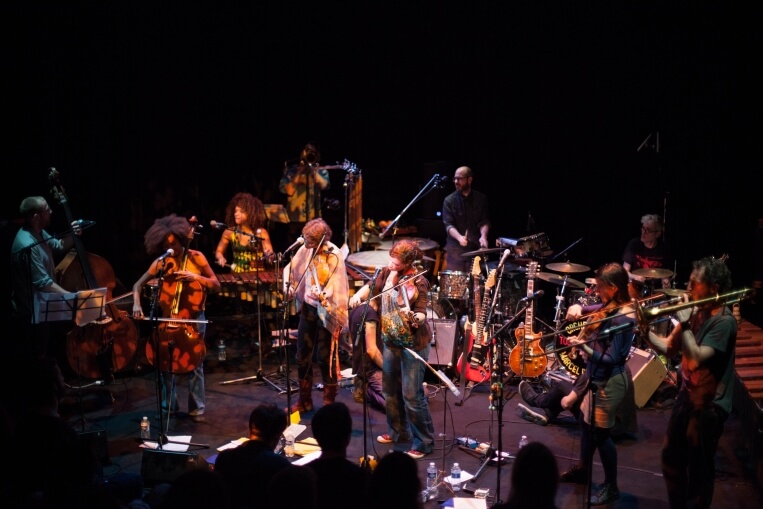 We're in the middle of the crowd. Standing some way back from the stage, watching transfixed and elated at the performance of Orchestre Tout Puissant Marcel Duchamp. Two trombones, two drummers, two marimbas, two electric guitars, two cellos and five other musicians blast out such a blissful riot of sound that our souls sail above this extraordinary gathering.
The banner on the stage reads:
Notre Dame Des-Landes ENRACINONS L'AVENIR sur La Zad 
For this is a festival to celebrate not only the victory of the people of Notre Dame des Landes, in alliance with others all across France and across the world, over the planned mega-airport after 50 years of struggle. It also a festival to declare that La Zad is putting down roots.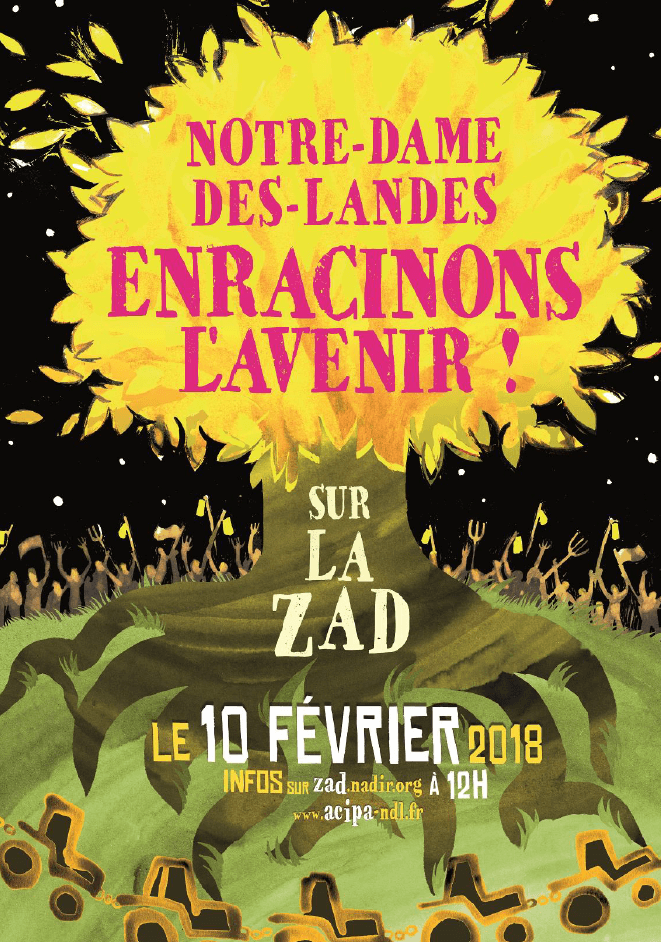 We look around and take in the scene. A huge crowd of people of all ages, many of whom have travelled for hours from cities across France – Paris, Toulouse, Lyons – and others from further afield – Belgium, Netherlands, England, Ireland.
Whilst we are watching this whirlwind of a band, in marquees nearby there are cabaret acts, a techno dance tent, a traditional Breton Fest Noz, and much, much more. Amidst this there are rows and rows of covered field kitchens serving coffee and cakes, wine and beer, vegan and vegetarian food, sausages or chicken.
At this level, the day with 20 to 30,000 people gathered to celebrate a victory in muddy fields of the Pays de Loire near Nantes, although joyous, is perhaps not that remarkable. What makes it unique is what is not visible, but can only be sensed.
We paid no ticket to attend this gig of a major international band. Nor did the other people in the crowd. None of us are wearing those ubiquitous day glow 'festival wrist bands'. The food and drink at almost all of the stalls is 'Prix Libre'. Meaning that the price is not fixed, which emphasises that a donation is desirable if possible. Here and there are washstands at which those who have eaten their Prix Libre meals clean their ceramic plates and metal knives and forks, and leave them to dry in racks. There is an absence of plastic packaging, plates and cutlery. And there are no ground staff clearing bins or collecting rubbish. Indeed there is everywhere a notable lack of rubbish. It is as though the crowd of 30,000 visitors has been infected by the La Zad spirit, of self-determination and self-responsibility.
The land that we are standing upon as we watch the band, or wander among the stalls, belongs to everyone and no one. It is a commons, like the rest of La Zad, liberated from the French state and the private corporation Vinci, that had been working for years to build the airport. This liberation was achieved by an occupation of the land and extraordinary acts of resistance against eviction. Some of these acts, taken in the face of violence meted out by the police, are part of what lies behind the attainment of this peaceful festival scene.
The stage on which the band is performing is constructed within a beautiful barn, built by the free labour of the communards of La Zad in 2016, using timber mostly cut from communally worked common woods of the zone. There are no security guards hanging around at the sides of the stage, no figures wearing those ever-familiar black bomber jackets and ear-pieces. And there are no police.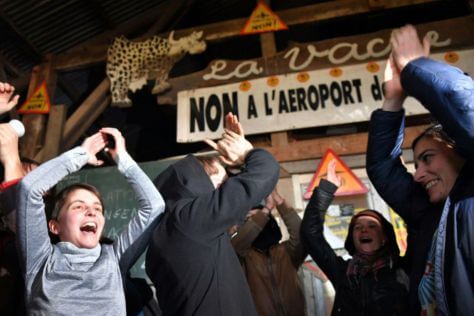 All day we had processed in a carnival column winding its way across La Zad, with a massive newt at the head made of cloth and wood. At several moments we took a double take that here was a gathering of several thousand people blocking the roads as they passed along them, and yet there were no police, no women in uniforms and hi-viz jackets, no burly men videoing the 'protestors' and only occasionally did we hear the thudding of a helicopter above.
At no other event of this scale in my life have I ever been to has there been no visible state presence. But the explanation for this is obvious, the land of La Zad is outside the state. As the Paris politicians declare 'It is land lost to the Republique'. However the absence of police comes as a shock.
Later I heard that on another part of La Zad there was a heavy and oppressive police presence at a parallel event celebrating the victory. That I had no sense of this points perhaps to my ignorance but also to the sheer scale of the land area of La Zad. However this new information only detracts a little from the intense memory of the lack of police presence in those hours.
For what makes this day and the evening gathering remarkable are the 'absences'. What is not: no private ownership of the performance space, no privately owned land, no security, no prices for the food, no event tickets. Yet when I think about this 'No', this absence, I can sense a 'Yes', a presence. It is the presence of the future in the present. Not a possible future, not a possible 'other world', but an actual future, another world now. It is an idea explored in this video from La Zad:
It is as though La Zad is a part the future now. Not so much an experiment of another way of being, but an incubator of the future. And this day is less about celebrating a victory, celebrating an achievement of the recent past (the airport cancellation by the French government a month earlier) but rather a dissemination of the future. La Zad is a plant putting down its roots, but it is also one spreading its seed. How many of the 30,000 people who have come to this event will carry away its spores? How many of these seeds will take root elsewhere?
These fertile messages are not blueprints or plans. At no point is La Zad 'explained' or delineated to the visitors. There are no information boards or brochures. There is no attempt to suggest that this is a model that should be perfectly replicated elsewhere, like a 10th century monastery or a 20th century Soviet experiment.
Instead La Zad is a future that runs like a rumour through the crowd and is carried as the gift of a story to kitchen tables, work places and lovers' arms by all those that have gathered here on this day. For perhaps they too sensed the future in this place.
Thanks to John Jordan, Isa Fremeaux, Kirsty Wright & Jane Trowell