Today's Times has published an open letter from Mark Rylance, Naomi Klein, Nnimmo Bassey, Matthew Herbert, and 215 artists, actors, arts managers, musicians, frontline activists, campaigners, and scientists, arguing:
We cannot afford another five years of BP-branded culture.

Last Thursday BP announced the renewal of its flagship sponsorship programme. Its partners, this time: British Museum, National Portrait Gallery, Royal Opera House, and Royal Shakespeare Company.
Oil sponsorship is meant to buy artists' silence and audiences' approval, and silence the people who live on the frontlines of oil extraction and climate change. Well, this letter is the refusal of silence. More and more artists, culture professionals and academics are no longer happy standing by while BP brands the UK's biggest museums and theatres for a pittance. BP is wrecking the climate and wrecking lives, from the Gulf of Mexico to West Papua, and deserves to be cast out of our culture. As Clayton Thomas-Muller says:
By signing this new deal with BP, the British Museum is helping the oil company drill more wells and build more pipelines – poisoning Indigenous communities and destroying our planet's future. With public culture supporting fossil fuel colonialism, it's up to frontline struggles to keep the oil in the soil.
Among the signatories: Mark Rylance (yes, the BFG), writer and activist Naomi Klein, Nigerian poet and campaigner Nnimmo Bassey, environmentalists Jonathon Porritt and Bill McKibben, composer Matthew Herbert, artist Conrad Atkinson, climate science historian Naomi Oreskes, and West Papuan independence leader Benny Wenda. Also supporting the letter are the directors of a number of arts organisations: from the Gate theatre to Colchester Arts Centre, from Artsadmin to the Centre for Contemporary Art and the Natural World.
So: we cannot stay silent. This battle is not over yet. The new deals aren't due to formally begin until 2018, so there's still time for institutions to change their minds – or indeed, to end their funding contracts partway through, as happened at the National Gallery with an arms company a few years ago. It's still possible for some or all of these institutions to follow in the footsteps of Tate and the Edinburgh International Festival.
This spring it was announced that Tate's sponsorship would not be renewed, due to a "challenging business environment". We know what that phrase really means: the thousands of art lovers, frontline activists, Liberate Tate performers, Deadline Festival participants, and cultural figures who spoke out, created art interventions, and wrote to Tate to encourage it to drop BP.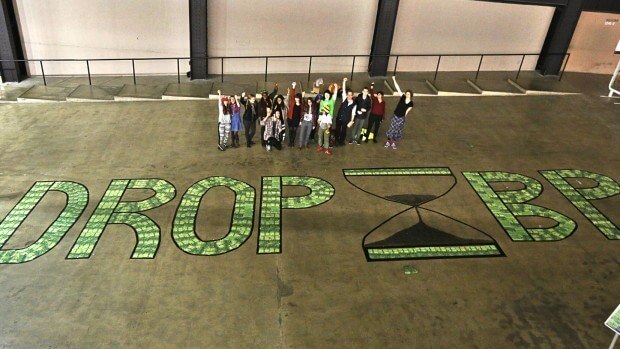 Let's get on with it.
---
Here is what you can do:
If you make artwork (of any kind), or work in the cultural sector, sign up to the Fossil Funds Free commitment – refuse oil company branding for your own work.
If you would like to get more involved in creating interventions against oil sponsorship in the UK, drop us a line: both Platform and others in the Art Not Oil coalition have plans afoot.
You can write to the British Museum, National Portrait Gallery, Royal Opera House, or Royal Shakespeare Company directly. Let us know what response you get!
---
Here is the letter text in full:
Re: Another five years of BP-branded culture
BP's announcement of five-year sponsorship deals with the British Museum, Royal Opera House, National Portrait Gallery and Royal Shakespeare Company is outdated and unacceptable. 
We cannot afford another five years of BP-branded culture. We believe museums, theatres and galleries are public institutions that must play a positive role in taking urgent climate action and defending human rights. If the world is to avoid rapid and devastating climate change in the coming decades, most of the oil on BP's books cannot be burned. Meanwhile, the company continues acting in defiance of the Paris Agreement on climate change, and harming lives every day – despite community resistance from the Gulf Coast to West Papua to Australia.
We know now that BP sponsorship comes with strings attached. A recent report revealed how BP leant on the British Museum to hold events timed with BP's bid for drilling licenses in Mexico, and how the museum checked in with BP on curatorial decisions. 
Branding a major museum or theatre has become cheaper for BP (just £375,000 a year for each institution). This is less than the cost of a short billboard campaign. Recent surveys show that a majority of Londoners, and the British Museum's own staff, are against BP sponsorship. These institutions' decisions are badly out of step with the mood of their own staff and audiences. BP is not welcome to use our culture to promote its destructive business – these deals must be cancelled.
---
Full signatory list:
Mark Rylance, Oscar-winning actor and director
Conrad Atkinson, artist, Emeritus Professor, University of California
Naomi Klein, author and activist
Professor Naomi Oreskes, historian of climate science, Harvard University
Ezra Miller, actor
Professor Richard Sandell, Professor of Museum Studies, University of Leicester
Cherri Foytlin, Gulf Coast resident, Bold Louisiana and Life Support Project
Matthew Herbert, composer
Bill McKibben, author and environmentalist
Clayton Thomas-Müller, Mathais Colomb Cree Nation, Stop it at the Source Campaigner, 350.org
Jonathon Porritt, environmentalist
Maja S.K. Ratkje, composer
Benny Wenda, West Papuan independence leader, Free West Papua campaign
Dr Jeremy Leggett, Founding director, Solarcentury
Nnimmo Bassey, director, Health of Mother Earth Foundation, Nigeria, and winner of the Right Livelihood Award (Alternative Nobel Prize) 2010
John Sauven, director, Greenpeace UK
Dr David McCoy, director, Medact
Bunna Lawrie, Mirning Elder-Whale Songman, Nullarbor/Great Australian Bight
Judith Knight, director, ArtsAdmin
Melina Laboucan-Massimo, Lubicon Cree First Nation, campaigner, Greenpeace Canada
Gill Lloyd, director, ArtsAdmin
Baroness Jenny Jones, London Assembly Member
Rhodri Davies, musician
Dr Tony Birch, author, Bruce McGuinness Research Fellow, Moondani Balluk Academic Unit, Victoria University
Ed McKeon, director, Third Ear Music
Gilberto Torres Martinez, Colombian trade union leader, victim of kidnapping by paramilitary groups backed by BP
Julie Ward MEP, MEP for the Labour Party
Prof Malcolm Miles, Professor of Cultural Theory, Plymouth University
John Metcalfe, musician
Dawn King, Award-winning playwright and screenwriter
Clara Paillard, President, PCS Union Culture Sector
May Boeve, executive director, 350.org
Andrew Simms, author
Derrick Evans, Turkey Creek Community Initiatives, Mississippi
Kelly Lovelady, artistic director, Ruthless Jabiru
Lyndon Schneiders, national campaign director, Wilderness Society
Rodney Kelly, Aboriginal activist
Hannah Lawson, PCS Union Chair, National Museum Wales
Filipa Bragança, actor
Clive Adams, director, Centre for Contemporary Art and the Natural World
Amanda Starbuck, climate and energy program director, Rainforest Action Network
Jim Thatcher, Art Against Blacklisting
Wallace Heim, writer
Charlotte Webster, founder & director, Human Nature Show Ltd
Megan Henwood, musician
Kay Michael, artistic director, Empty Deck Theatre
Ben Twist, director, Creative Carbon Scotland
Dr Matt Lodder, Lecturer in Contemporary Art, University of Essex
Dr Chris Fairless, Meteorologist and Climate Scientist
Peter Owen, director, Wilderness Society South Australia
Sophie Gainsley, illustrator and artist
David Somervell, Edinburgh Centre for Carbon Innovation, University of Edinburgh
Trevor MacFarlane, Cultural affairs manager, European Parliament (Labour Party, S&D)
CJ Mitchell, Co-director, Live Art Development Agency
Dr Gary Anderson, Senior Lecturer in Drama, Liverpool Hope University
Lois Keidan, Co-director, Live Art Development Agency
Kieran Hurley, Playwright
Candy Udwin, PCS Union, National Gallery
Annet Henneman, director, Teatro di Nascosto – Hidden Theatre
Paula Benson, artistic director, Get Over It Productions
Anthony Roberts, director, Colchester Arts Centre
Dr Stuart Parkinson, Executive director, Scientists for Global Responsibility
Dr Andy Fugard, UCL
Founding Member, Association for Psychosocial Studies
 Leah Borromeo, Disobedient Films
Professor Neil Cummings, University of the Arts London
Tom Lebert, Senior Programme Officer: Resources and Conflict Programme, War on Want
Louise M. Fitzgerald, Fossil Free Berlin
Dr Anna Bull, researcher, Kings College London
Lola Perrin, composer and Pianist
Paul Whitty, composer
Lucy Frears, Associate Lecturer, Falmouth University
Claire James, Campaign Against Climate Change
Dr Chris Garrard, composer and Campaigner
Darragh Martin, Children's Book writer
Beth Johnson, Designer
Ben Comeau, Pianist and composer
Ragnhild Freng Dale, Campaigner and performer
Lucy Patterson, composer and Pianist
Ellen Victoria Timothy, Singer and musician
Lucy Ellinson, actor
 Dr Paula Serafini, arts educator
Mel Evans, author, artist
Jim Telford, composer and researcher
 Dan Jeffries, composer
Dr Jonathan Oppenheim, UCL
Dr Geoffrey J Supran, Harvard University
Mieke Bal, Cultural critic, video artist
David Cross, artist, Reader, UAL
Amanda Grimm, Former professional ballet dancer
Claire Robertson, Campaigner
Paul Burgess , Theatre designer and director
Karen Bates, artist and campaigner
Hugh Chapman, artist and campaigner
Dominic Latham, director, MinuteWorks design studio
James Marriott, artist, Platform
Jane Lawson, artist
Sai Murray, Poet
Beka Economopoulos, Co-founder, The Natural History Museum
Jason Jones, Co-founder, Not An Alternative
Dr Alice Bell, Campaigner and science writer
James Brady, artist and curator
Emily Johns, Visual artist
Theresa Easton, artist
Rebecca Beinart, artist and educator
Ruth Potts, artist, Bread, Print & Roses
Molly Conisbee, artist, Bread, Print & Roses
Tim Jeeves, artist
Velenzia Spearpoint, actor & Theatre Maker, Co-founder Get Over It Productions
Dr Hamza Hamouchene, Algeria Solidarity Campaign
Emma Cameron, Stage manager
Professor Peter Newell, University of Sussex
Fay Roberts, poet and musician
Richard Tyrone Jones, performance poet, writer and comedian
Brian Briggs, musician
Harry Giles, poet, trustee, The Forest (SCIO)
Dan Barnard, lead artist, FanSHEN
Luke Lewis, composer
Ben Bailes, Lighting designer
Sophie Walker, Spoken word poet
Ruth Ben-Tovim, Encounters Arts
Kate Joyce, creative writing tutor
Liz Hodgson, Singer
Isa Suarez, composer
Jess Worth, writer and performer, BP or not BP?
Bridget McKenzie, Educator and Consultant, Flow UK
Jo Tyabji, performer and director, Ivo Theatre
Martin Bassant, Retired deputy headteacher
Miranda Shaw, Violin teacher
George Roberts, Poet
Angie Dight, artist
Andrew Blackwool, arts manager
Louise Allan, arts manager
Danny Chivers, Performance poet and author
Mika Minio-Paluello, author, campaigner, Platform
Hanna Thomas, Campaigner, SumOfUs
Beth Rice, PhD Science researcher
Drew Pearce, PhD Science researcher
Thomas Frank, artist and Activist
Athena Corcoran-Tadd, composer
David Shaw, musician and teacher
Francesca Shaw, musician, composer and writer
Karen Savage, Life Support Project
Mark Jones, artist
Imani Jacqueline Brown, artist
Rosemary Lee, artist
Rachael Taylor, artist
Phoebe Demeger, Activist and writer
Christopher Kelly, Designer
Rhiannon Kelly, performer
Diana Morant, Human rights campaigner
Sian Rees, PhD researcher, Goldsmiths College
Georgia Brown, artist
Simona Azurduy, Expression inka
Emiliana Bolivar, London Latinxs
Juana Zapata, Movimiento Jaguar Despierto
Frantz, Wretched of the Earth
Liam Barrington-Bush, London Mining Network
Jimena Pardo, artist
Charlie Phillips, filmmaker
Anne-Marie Culhane, artist and community activist
Jules Lowe, artist
Hasse Farmen, musician
Ellie Harrison, artist
Miranda Pennell, filmmaker
Drager Meurtant, artist
Dr Michael Hrebeniak, University of Cambridge
Daisy Anna Lees, Arts La'olam
Eleni Papaioannou, artist
Harry Mann, Poet
Lizzie Homersham, writer
Ingrid Kleiva Møller, sponsorship coordinator, Øya Festival
Patrick Jones, artist
Meg Ulman, artist
Alex Hetherington, curator and visual artist
Dr Alison Klevnäs, Department of Archaeology and Classical Studies, Stockholm University
Johanna Mitterhofer, researcher
Emma Frankland, artist
Khadiza Shahid, social activist
Stefan Szczelkun, artist
Rafael S Guillén , UK Zapatista Movement
Livvy Murdoch, arts educator
Anders Lustgarden, Playwright
Andrew Day, Earth Quaker Action UK
Kristen Irving, Poet and Publisher
Jon Stone, Poet and Publisher
Steve Lyons, artist and art historian, Not An Alternative
Jane Trowell, arts educator, Platform
Sheila Menon, Freelance Film Maker
Matthew Chester, biologist
Phil England, Co-founder, Resonance FM
Anna Lau, Poet
Lorraine Leeson, artist
Kate Honey, composer
Isidora Markovic, artist
María Gómez, Edinburgh Chiapas Solidarity Group
Juan Pérez, Kiptik (Bristol)
José Hernández, London Mexico Solidarity
Guadalupe Fernández, Manchester Zapatista Collective
Camilo Rodríguez, Meso-America Solidarity Action Liverpool
Ernesto Moctezuma, UK Zapatista Education, Culture and Communication team
Marcos Juárez, UK Zapatista Translation Service
Iván Maldonaldo, Zapatista Solidarity Group
Jacob Thompson-Bell, composer
Lázaro Cárdenas, H.I.J.O.S. México
Jessica Bell, artist
Steve Larkin, Poet
Joanna Kalm, artist
Bridget Lappin, artist
Daniel Persson, artist
Isa Fremeaux, artist, Laboratory of Insurrectionary Imagination
John Jordan, artist, Laboratory of Insurrectionary Imagination
Kevin Smith, Art Not Oil Coalition
Dr Benjamin Franta, associate, Harvard School of Engineering and Applied Sciences
Laura Ferriman
theatrical costumier
Hannah Davey, Liberate Tate
Holly Dove, musician and writer
Christopher Haydon, artistic director, Gate Theatre
Stephen Pritchard, Dot To Dot Active Arts
Save
Save