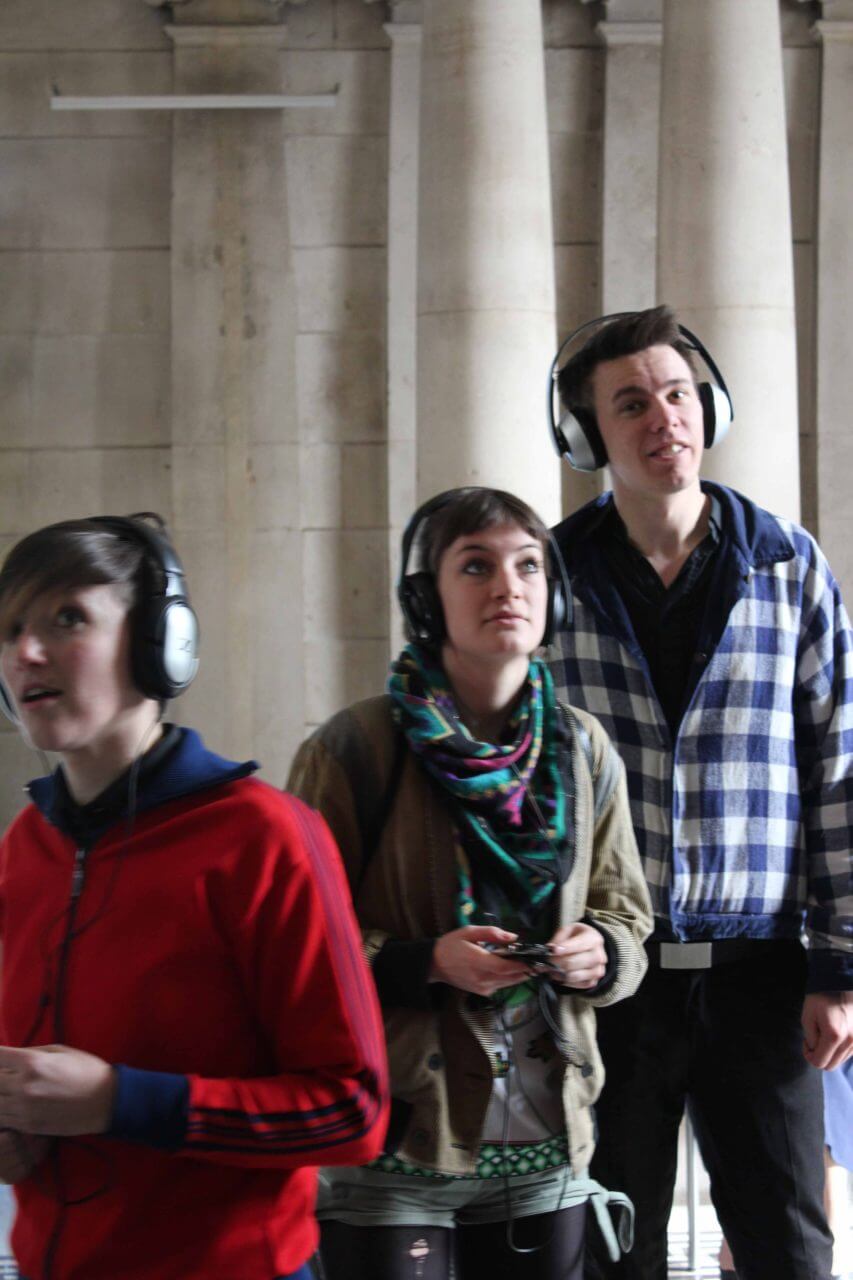 Dr Andrew Filmer, Lecturer in Drama, Theatre and Performance at Aberystwyth University reports back on his experience with the Tate à Tate audio tour.
What I love about audio tours – such as Lavinia Greenlaw's recent Audio Obscura, or Platform's And While London Burns – is the way they help me sidestep the sensory overload of everyday life and put me in another place where I can see and hear more clearly, drawing my attention to aspects of the world that are vitally important but which usually go unnoticed. Now, perhaps BP's sponsorship of Tate (along with the British Museum, the National Portrait Gallery, the Royal Opera House, etc.) doesn't exactly go unnoticed, but it's the unthinking acceptance of this sponsorship that the creators of Tate à Tate's three audio tours seek to disrupt. And, at their best, these works provide a subversive re-scripting of the Tate galleries and the ferry journey between them. By mapping out a web of associations between BP's dubious corporate record, the galleries, and the art works they house, these tours profoundly question the wisdom of Tate's current relationship with BP.

In Tate Britain Ansuman Biswas' Panaudicon looks back to the former Millbank Penitentiary, which stood on the site now occupied by the gallery. The design for the Penitentiary was partly inspired by philosopher Jeremy Bentham's concept for the ideal prison, the Panopticon. If the Panopticon offered a new and pervasive technology for the visual surveillance of prisoners, then Biswas' tour employs Tate Britain as a structure that enhances our ability to hear events and activities that are dispersed in time and space. The gallery is opened up to the sounds of ancient forests and far-flung oil fields, and sittin
g before J.M.W Turner's Childe Harold's Pilgrimage with its poignant depiction of a ruined civilization, I'm invited to look through the painting, directly towards the Clair oil platform, creaking and groaning, 1500 miles away in the North Sea.
In Tate Modern, Phil England and Jim Welton's Drilling the Dirt ('A Temporary Difficulty') engages more directly with the form of the gallery audio guide, only this is a more playfully subversive guide, which employs selected artworks, by artists including Jannis Kounellis and Marisa Merz, as illustrations of, or metaphors for, aspects of BP's operations. While touching on more sobering material, including BP's history in Iran, Iraq and Azerbaijan and the human cost of the Deepwater Horizon disaster, Drilling the Dirt ('A Temporary Difficulty') is also a bit more fun than Panaudicon, managing to inject humour into the format and actively enlisting the listener in an occasional self-conscious subversion of gallery norms.
This is not an Oil Tanker by Isa Suarez, Mae Martin and Mark McGowan is created for the 'Tate Boat' that links the two galleries, and here the format is more fragmentary, using the waters of the Thames as inspiration to reflect on the social, cultural and environmental costs of oil extraction. Cruising downstream, I heard protest song and stand up juxtaposed with recordings of fishermen and a first nations woman whose lives have been directly affected by the dirty realities of oil drilling and oil spills.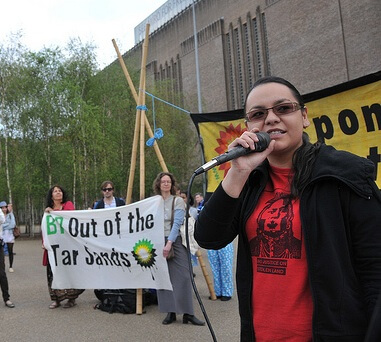 Each of these three pieces seeks to disrupt any sense of fit between BP's profit driven corporate agenda and Tate's mission as a public arts institution, and the form of the audio tour enables an imaginative and creative re-scripting of the galleries and a re-contextualisation of selected art works that serves this end very well. I'm not going to walk into either Tate Britain or Tate Modern again without remembering what I've heard there before and nor am I going to see BP's logo without immediately associating it with corporate irresponsibility.
But there is also an uneasy fit between art and activism in these works, with heavy-handed moments that feel too didactic. In Panaudicon, when left considering Holman's The Awakening Conscience, I felt annoyed, as if I wasn't trusted to join the dots myself and had to have them joined for me. Both Panaudicon and This is not an Oil Tanker exhibit contradictory impulses in this regard: they want to be taken as art works and to stimulate my response, but through narration and sound design they also seek to indicate what my response should be. This is something Drilling the Dirt ('A Temporary Difficulty') avoids because of its clearer adherence to the format of a gallery audio guide where instruction and information are the norm.
Tate à Tate presents a thought-provoking experience that asks its listeners to question the ethics of Tate's acceptance of BP's sponsorship and to consider this in the wider context of escalating global climate change. It's well worth taking the tours, wandering the galleries and listening in. Increase the burden of your awareness of these issues, and then choose what your next step will be.
You can download all the audio files and get more instructions of what to do from the www.tateatate.org website. Groups of students, activists, academics, artists or others are welcome to arrange a workshop time alongside their group trip to experience Tate á Tate. The workshop takes place in a location close to Tate Modern and lasts approximately 1.5 hours. Please contact [email protected] to make arrangements. Academic institutions will be charged a small fee for the workshop where budget is available.