Azeri democracy activists were enraged when in September, the new US Ambassador to Baku bowed down in front of the memorial to the late dictator Heydar Aliyev, father of the current dictator Ilham Aliyev.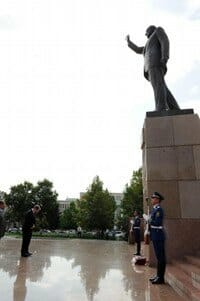 The State Department initially tried to claim that Richard Morningstar had only laid a wreath of flowers at the memorial to the "Glorious Leader Heydar Aliyev", although the image tweeted by the Embassy itself clearly shows the Ambassador bowing his head. A follow-up explanation that this was part of  official diplomatic protocol wasn't taken seriously, with the pro-democracy Azeri Report questioning: "Since when have the US ambassadors become required to join personality cults of foreign dictators?"  The article goes on to explain the particular relevance of bowing to the statue:
"During Ilham Aliyev's reign, bowing to Heydar Aliyev's monument has turned into a ritual of displaying to the Azerbaijani public the loyalty to the existing regime. Every now and then, the Azerbaijani State TV shows that a former opposition activist or a civic activist with (formerly) independent views visits Heydar Aliyev's monument and bows to it. The symbolic meaning of that gesture in the Azerbaijani state propaganda is that the Azerbaijani government scored a victory over yet another dissident, public figure, opposition politician, or civic activist etc."
But should we really expect any different from Morningstar, who upon arriving at Baku airport (also named after Heydar, like most major landmarks in Azerbaijan) told journalists that he had many "fond" memories of previous visits with the dictator since the 1990s.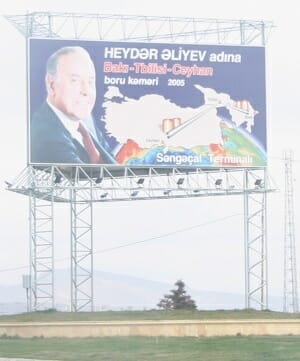 Ambassador Morningstar's previous engagement with the Caucasus, and Azerbaijan in particular, is documented in The Oil Road.
As Bill Clinton's special advisor for Caspian energy, Morningstar lobbied intensely for construction of BP's Baku-Tbilisi-Ceyhan pipeline, co-ordinating meetings between the CIA, USAID and Department of State. These institutions planned how to pressure both the oil companies and the governments of Azerbaijan, Georgia and Turkey to build the pipeline that the US demanded.
Morningstar even explained that the fundamental objective of US policy in the Caspian was, 'not simply to build oil and gas pipelines. Rather, it is to use those pipelines, which must be commercially viable, as tools for establishing a political and economic framework.'
But when a diplomat makes this sort of statement, we need to break down which "political and economic framework" is being referred to, and how one is determining what is "commercially viable". Given the USA's heavy use of "freedom" and "human rights" rhetoric, many buy into the narrative of "democracy promotion". Morningstar's support for Azerbaijan's father and son dictatorship shows clearly that once again, oil comes first. The political and economic framework is one of US energy dominance. The BTC pipeline pumps oil, but it is also a tool in imposing a neoliberal social vision, in which Caspian crude is "naturally" destined for distant markets, for consumption by those in Bavaria, Tokyo, Southampton.
We all know that diplomats are the masters of spin – but Morningstar's concept of "commercially viable" is especially bizarre. In the late 1990s, as Clinton's diplomat he was crisscrossing Anatolia and the Caucasus, pushing the governments of Azerbaijan, Georgia and Turkey to offer tax concessions for construction, and to agree to charge the lowest fees for the transit of oil across their countries. As he asserted, 'Turkey clearly shoulders a major responsibility for providing incentives required to make Baku–Ceyhan as commercially attractive as possible.'
"The United States views its proper role with respect to Caspian pipelines as that of a facilitator. Enhancing commercial opportunities for US and other companies is one of our strategic objectives in the Caspian region."
It was this political pressure that lay behind BP cutting the 'Turnkey Agreement' with Turkish state oil company BOTAŞ, thereby ensuring that two-thirds of BTC could be built $600 million cheaper than expected. Furthermore, US diplomacy ensured that the cost over-runs on the pipeline were carried not by the private oil companies, but by Turkish taxpayers – eventually leading to an investigation by the Turkish parliament as to how such an inequitable and uneconomic agreement could have been signed by BOTAS.
Morningstar was one of the 'invisible fathers of the BTC pipeline', guaranteeing both profits for the oil companies and continued US energy dominance.