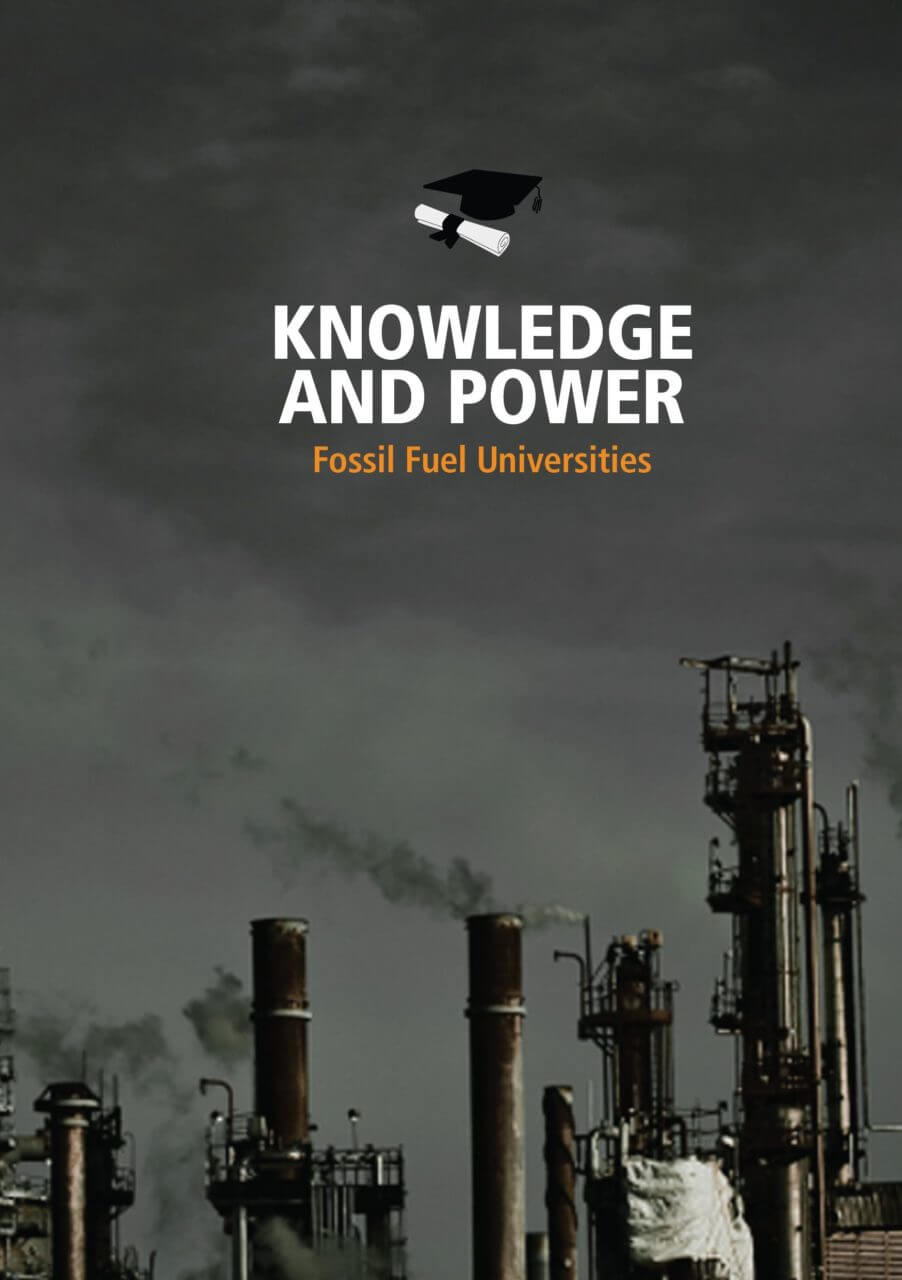 New research reveals extensive links between fossil fuel industry and UK universities
A new report by Platform, People & Planet and 350.org has exposed the extent to which the fossil fuel industry is financially interconnected with UK universities. The report, Knowledge and Power – Fossil Fuel Universities [1] reveals that:
Universities have an estimated £5.2 billion invested in the fossil fuel industry, equivalent to £2,083 for every student in the UK.
Senior executives from BP and Shell have received 20 awards and honorary degrees from UK universities in the last decade alone.
Of the 250 papers published by the Oxford Institute of Energy Studies, only three are on renewables, with the Institute receiving more than half of its grants from oil and gas companies.
In 2013 Imperial College London has more research funding from fossil fuel companies than any other UK institution. It received £17.3 million from Shell and BP alone.
The report, which was in part crowd-sourced from students and staff at universities across the country, coincides with the launch of the Fossil Free UK divestment campaign by student organisation People & Planet.  In collaboration with 350.org co-founder and acclaimed author Bill McKibben, students will embark on a UK tour to kickstart the divestment movement the following week. [2]
Both the report and UK tour come at a time when the Fossil Free campaign to get higher education institutions to divest from fossil fuel companies is reaching an unprecedented degree of attention on both sides of the Atlantic. A study released earlier this month by the Smith School at Oxford University concluded that fossil fuel divestment campaigning posed "the most far-reaching threat to fossil fuel companies." [3]
20 student groups in the UK have so far launched campaigns for their universities to divest from fossil fuels, including at the 3 universities with the largest endowments and investments in fossil fuels: Cambridge, Oxford and Edinburgh.[4]
Miriam Dobson, a student spokesperson for campaign group People & Planet at Edinburgh University said:
"Our universities are public institutions and as such have responsibilities to the wider community as well as the planet – investing in fossil fuel companies, which harm communities and destroy the climate, is simply not OK."
Kevin Smith from oil and gas watchdog Platform said:
"UK universities have become the victims of corporate capture at the hands of the fossil fuel sector. We are allowing vital public infrastructure to be used to subsidise and expand a dangerous, out-dated energy model that only benefits the profits of oil and gas companies."
Bill McKibben from 350.org said:
"Severing our ties with the companies digging up the carbon won't bankrupt them – but it will start to politically bankrupt them, and make their job of dominating the planet's politics that much harder. Universities have a central role to play in this regard since they are one of the few places in our civilization where reason still stands a good chance of prevailing over power. Students establishing some power of their own as they organize serves as a testament to that."
Notes
For interviews please contact:
Louise Hazan, People & Planet, [email protected]
Kevin Smith, Platform, [email protected]
[1]The report, including detailed case studies, can be downloaded from https://bit.ly/fossilfuelunis
[2] People & Planet is leading the Fossil Free UK divestment movement that is rapidly spreading across UK universities.  Inspired by 350.org divestment campaigns in the US, Britain's largest student activist network is campaigning to sever the ties between our universities and the fossil fuel companies fuelling the climate crisis. https://peopleandplanet.org/fossil-free
The Fossil Free UK tour will include inspiring speakers from across social movements, powerful videos, and music from the ground-breaking artist Filastine.
With stops in Edinburgh (30 October) and Birmingham (31 October), it culminates in London for the opening night of Shared Planet (1-3 November) – a weekend full of workshops, debates and action aimed at building the Fossil Free student divestment movement.   Full details: https://bit.ly/fossilfreetour  Contact: [email protected]
[3] https://www.theguardian.com/environment/2013/oct/08/campaign-against-fossil-fuel-growing
[4] New student campaigns are being launched daily at: https://campaigns.gofossilfree.org/partnerships/fossil-free-uk
Contact Louise Hazan [email protected] for details