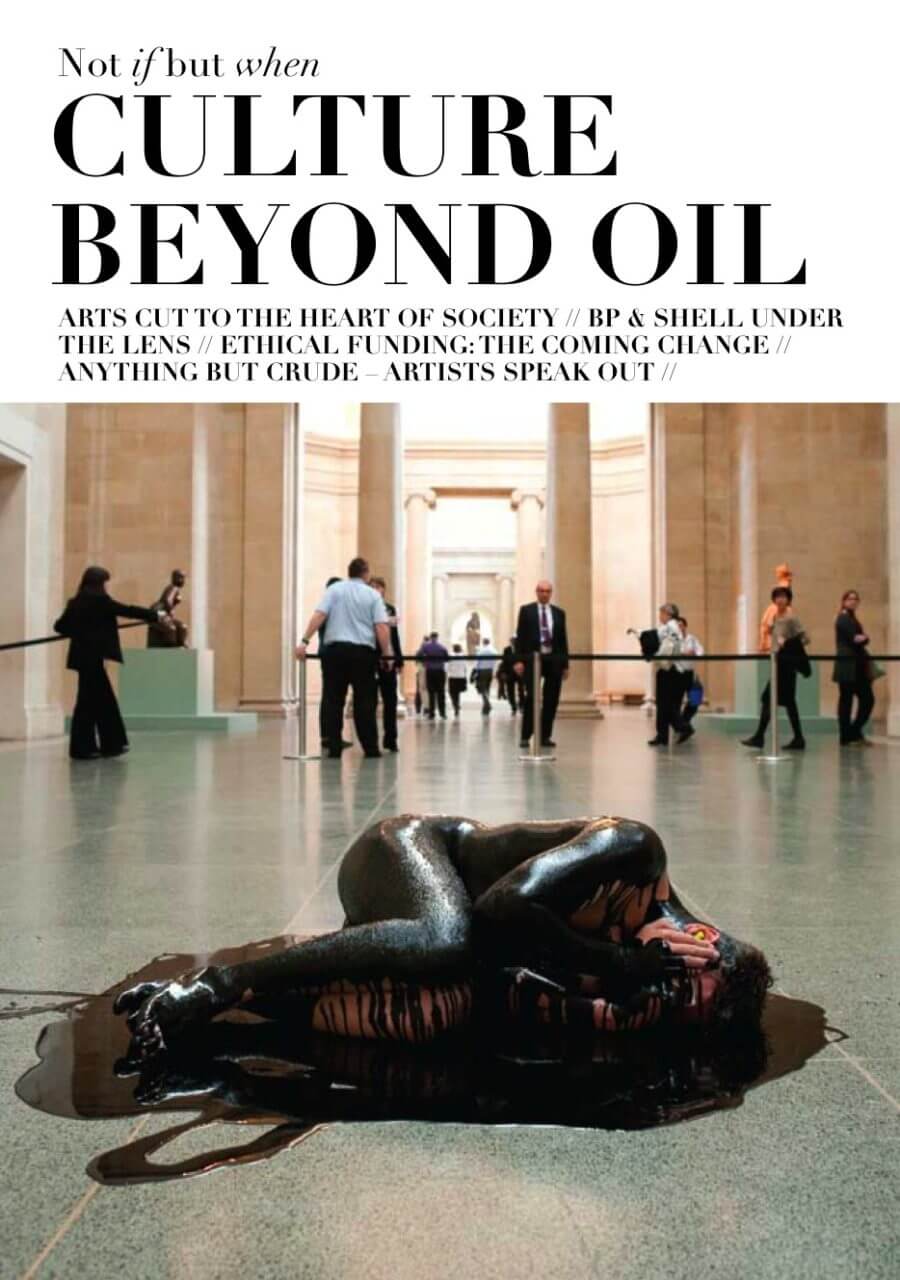 'Not if but when: Culture Beyond Oil' is a publication that sets out to discuss oil sponsorship of the arts. The single issue, limited edition publication features artworks in dialogue with the BP Gulf of Mexico catastrophe and articles that set out the compelling arguments for an end to BP and Shell's murky involvement with many of the nation's favourite cultural institutions.
Each copy of this full colour 1000 limited edition will be numbered and daubed with oil from Gulf of Mexico beaches by featured artist Ruppe Koselleck, as part of his ongoing Takeover BP project, in which Koselleck sells artworks to buy shares with the aim of ultimately taking over BP.
Platform and Liberate Tate are co-publishing the publication with Art Not Oil, as part of an ongoing collaboration that will also see the launch of the site-specific Tate à Tate audio tour in January 2012.
To bag a copy of this limited edition publication, you can buy in advance for £10. All the proceeds are going towards the production and distribution of the work, and an online version will be free to access. Platform is a registered charity 1044485. You can either:
– Send payments via paypal to [email protected]
– Transfer direct to our account 'Platform London', The Coop, s/c 080228, a/c 65013427 and email your postal address to [email protected]
– Send a cheque made out to Platform London to us at Platform, 7 Horselydown Lane, London, SE1 2LN.
Please join us at the Culture Beyond Oil Publication Launch to collect your copy on Tuesday 29th November (if you can't join us we will post it to you).
Liberate Tate is an art collective exploring the role of creative intervention in social change dedicated to taking creative disobedience against Tate until it drops its oil company funding. Contact: [email protected] @LiberateTate.
Platform is an arts and research organisation bringing together environmentalists, artists, human rights campaigners, educationalists and community activists to create innovative projects driven by the need for social and environmental justice. Contact: [email protected] @PlatformLondon.
Art Not Oil encourages artists – and would-be artists – to create work that explores the damage that companies like BP and Shell are doing to the planet, and the role art can play in counteracting that damage. Contact [email protected].