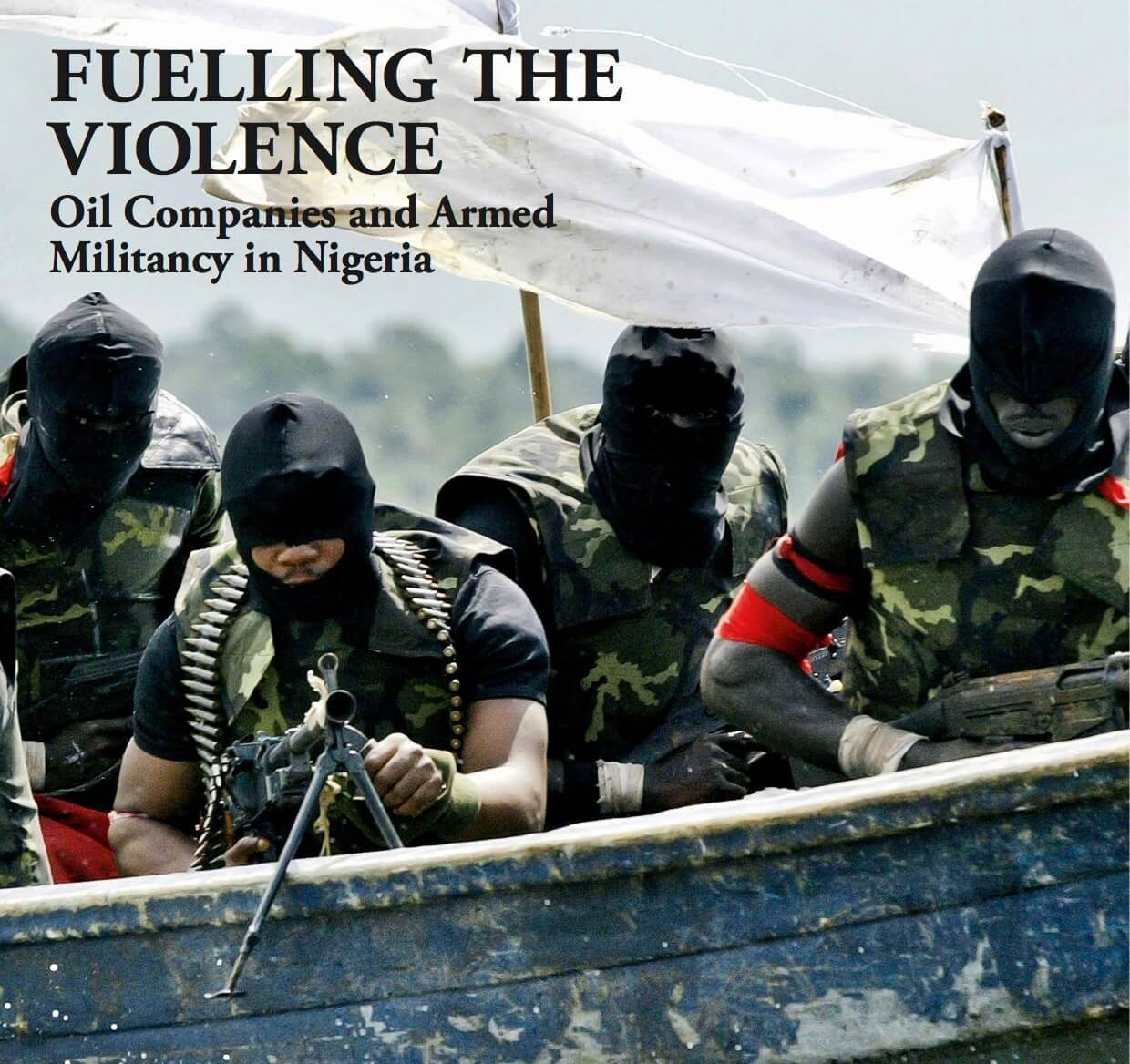 Shell and Chevron have funded armed militant groups in the volatile Niger Delta region of Nigeria since at least 2003, according to Both oompanies have also paid 'protection' money to other hostile groups for decades.
Platform's new briefing, ais called Fuelling the Violence: Oil Companies and Armed Militancy in Nigeria. It details how company payments have had a serious impact on human rights and stability in the region, where an estimated 1,000 people died annually in the conflict.[1]
Th follow Platform's 2011 report, Counting the Cost, which showed how Shell's reliance on government forces in Nigeria and its routine payments to armed militant groups had exacerbated specific cases of human rights abuse. It builds on Platform's 2012 briefing, Dirty Work, which exposed the vast scale of Shell's security spending and its devastating impact on human rights.
Key findings include:
A Shell manager admits giving 'special surveillance' contracts to militant groups in 2011, in an attempt to incorporate them into the company's security arrangements. These contracts have rewarded violence.
Chevron developed a close working relationship with Government Tompolo, commander of MEND, one of the main militant groups in the Delta. Chevron rented houseboats from Tompolo's company, and routinely made calls and sent text messages to Tompolo's army of MEND militants.
Shell and Chevron have provided funding for militant groups in the Delta. Both companies reportedly paid $300 per month to individual armed militants in Warri in 2003, enough to provide weapons and supplies for several weeks. An estimated 500 people were subsequently killed in the Warri conflict.
UK government documents obtained under the Freedom of Information Act suggest that despite repeated promises, Shell continued making harmful payments to pacify armed groups. In 2004, Shell inadvertently informed theForeign Office that it had made very little progress in implementing its policies on "no cash payments" and "no ghost workers".
he practices fuelled conflict and on human rights. Leaked Shell data suggests that in 2009 alone, the company spent $75 million on 'Other' unexplained security expenditures – a vast infusion of cash into the Delta conflict. According to independent analysts, the distribution of cash and contracts by oil companies has contributed to "the killing and displacement of thousands of local people" in communal and ethnic conflicts.[2]
Furthermore, the Nigerian government appears to be making the same mistakes, paying millions of dollars to former militant leaders in "security contracts".[3] Yet the underlying problems of poverty, unemployment, environmental devastation and political grievances that stirred militancy in the Delta's creeks remain unresolved.
Ben Amunwa from Platform said, "Every payment made by oil companies in Nigeria should be linked to a clearly and accurately recorded transaction. If there is a significant risk that payments and contracts could go to armed groups or worsen conflict, the transactions should stop."
"to increase disclosure of payments made the extractives industry to avoid contributing to human rights abuses and exacerbating conflict."
Laura Livoti from Justice in Nigeria Now said: "Shell, Chevron and the Nigerian government must prioritise the safety and security of local communities over access to infrastructure and oil extraction rates. The limited gains of the government's 2009 amnesty for militants be undermined unless 'security' is based on respect for human rights, the protection of the environment and the peaceful resolution of social and political grievances in the Niger Delta region."
Notes:
[1] Download Fuelling the Violence here. The briefing was created with the aid of Platform's interactive timeline of US Embassy Cables on oil and conflict in Nigeria. For casualty estimates in the Delta see International Crisis Group, (2006): The Swamps of Insurgency, p 7; also see Report of Technical Committee on the Niger Delta, vol. 1 (2008): p 9.
[2] Kenneth Omeje, (2004): The State, Conflict and Evolving politics in the Niger Delta, Nigeria, Review of African Political Economy, No. 101 p 436; quoted in Adam Groves, (2008): (Un)civil society and corporate security strategies in the Niger Delta, p 27.
[3] See Drew Hinshaw, Wall Street Journal, Nigeria's Former Oil Bandits Now Collect Government Cash, 22 August 2012.