Last week, we launched our new publication Not if but when – Culture Beyond Oil, and German artist Ruppe Koselleck came over to help us personalise each and every one that we printed. Here's his take on how it went.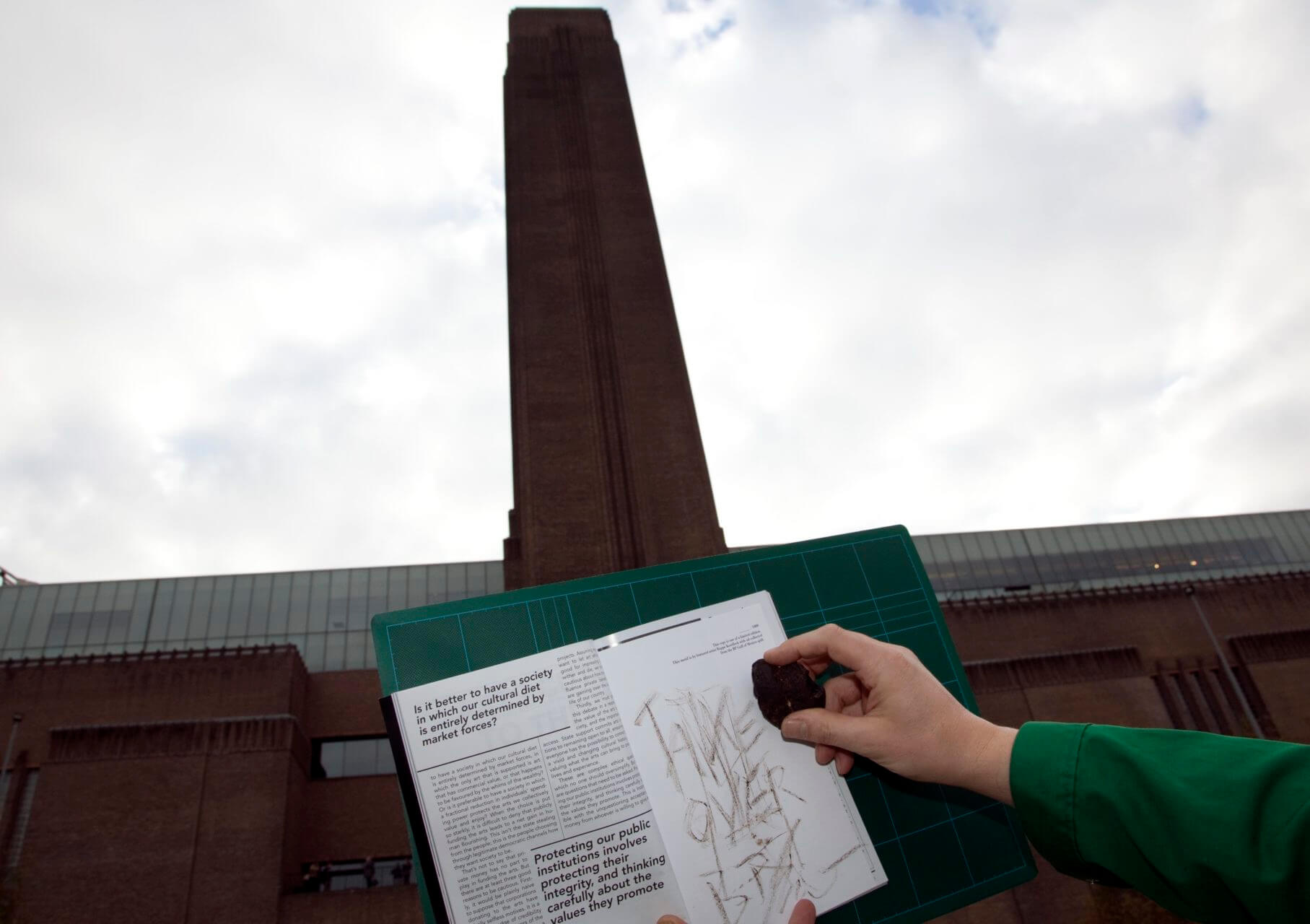 The experiment: 1000 crude oil drawings for 1000 copies to support the end of oil sponsorship of the art. I am a collector of crude oil and tar lumps from beaches all around the world. Wherever I have travelled, I've found oil pollution amidst the sand and stones of the coast. From the North sea to the Mediterranean sea up to the Gulf of Mexico, there exists those documents of our oil-based world. With all the oil spills I collect, I paint my typical CRUDE OIL ON CANVAS and I sell my crude and slippery works with a special aim: TAKEOVER BP with the pollution that BP is responsible for.

Half of the money I earn with my crude oil works is used for me and my family to survive, and with the other half I go to the stock market and buy shares from BP.
That is my way to TAKEOVER BP – share by share, stock by stock. And after my journey from Louisiana to Florida in August 2010, I realised very emphatically IT IS TIME TO TAKEOVER BP,  to make them responsible for the catastrophe and recompense the many victims of oil disasters. But only BP first – BP is for me the most greenwashed oil company with the most sophisticated ecological PR. Llater I will takeover Shell, Chevron, gazprom and so on.
I came to Platform to support the efforts to 'Liberate Tate' from all sponsorship of oil companies, with 1000 drawings inside the new publication Not if but when – Culture Beyond Oil. During my three day trip to London at the end of November, I decided to draw 1,000 times with crude oil directly into the numbered copies. And it was a real physical challenge to reach the target! I used tarballs from the Deepwater Horizon disaster in 2010 from the states of Louisiana, Mississippi, Alabama and Florida and Mel and Kevin from Platform helped me to make it happen.
It was an aesthetic experiment to see if it was possible to find solutions for all the drawing. I mixed the Oil Spill balls, stamped it with their different location like Louisiana or Alabama. I started first at Platform's office under Tower Bridge to practice how it was going to possible to get them all done in the allotted time. At the end of doing each of this 1000 copies and finding an individual variation of slippery oil draw for each one, it felt for me like it symbolised my own fight against BP itself. There surely exists enough oil to takeover BP with my oil spill art, but during the "experiment 1000", the length of time it would take becomes clearer and more imposing in my mind. Like Sisyphus I have to stand up each day again… and again and again. Like David against Goliath or like Sisyphus rolling his stone up the hill every single day?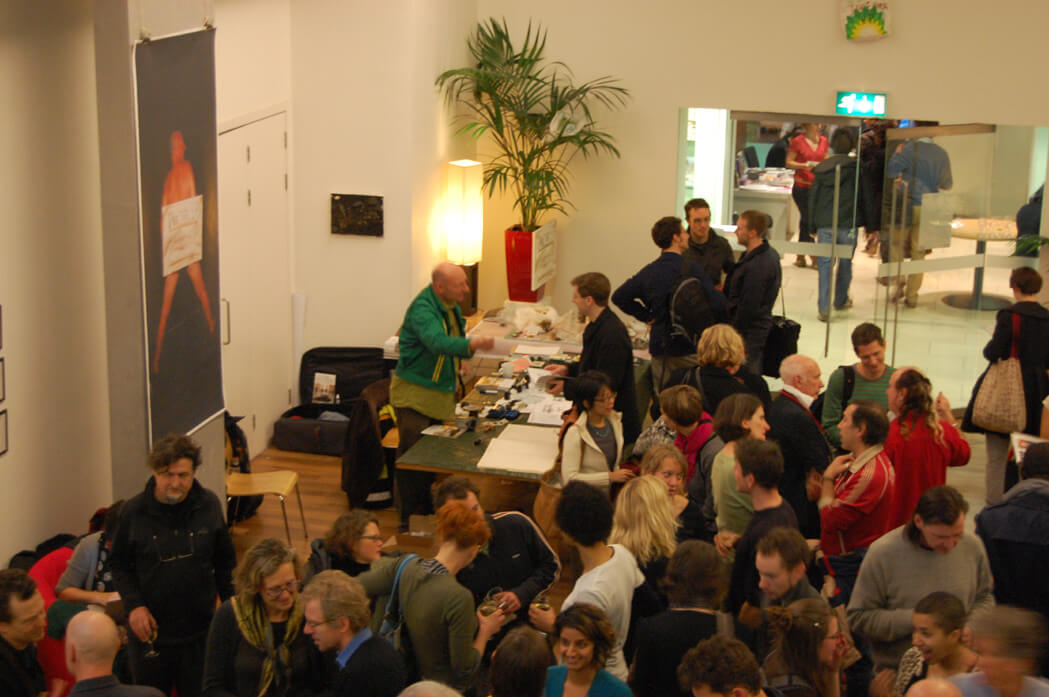 It seemed it would never end, but visitors arrived at the Free World Center (where Platform presented its new publication,) during the process of drawing, and I had to explain the idea. Visitors from Denmark to Spain, from Islington up to the center of the UK and they asked many different things. There existed some esthetical questions (why that black point is exactly there?) but most dialogues were an interesting mixture of ethics and esthetics.The social background of the ideas made an important point in relation to the art itself: an oily or 'blackwashed' answer to a greenwashed reality of public relations. With a friendly kind of black oily humor we will fight and win the hostile takeover of oil companies.
To big to fail?
Yes, we can… – we should?
Sure, we have to do. Nor why or if – but when? Time to takeover, now!
Warmly and hopefully regards from Ruppe Koselleck
Support Liberate Tate and Platform by buying copies of Not if but when – Culture Beyond Oil here, and browse the free online version here.
Or – if you want – support the TAKEOVER BP, buy art – and Koselleck BP.
(Petro Dollar for 10 Pounds)
The TAKEOVER BP hotline: www.dermeisterschueler.de