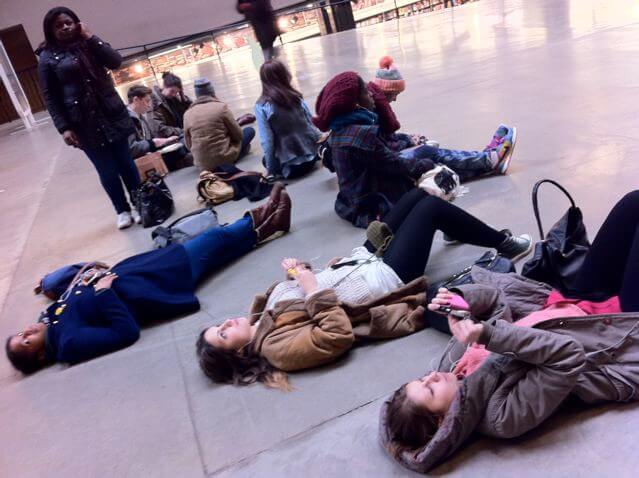 Last Tuesday, a group of 14 students from Middlesex University's BA Fine Art course visited Tate Modern to do the Tate à Tate alternative audio tour. The group are studying on the module 'Art and the Community' with Loraine Leeson and Alberto Duman, and were booked in to come to Platform's space afterwards for a discussion. I haven't been with a group doing the tour before, so I was struck by how much the audio tour stimulates ideas not only about BP, sponsorship and Tate, but also far wider than that. Here's a taste of some of the questions raised by the group in discussion afterwards.
"That was fun."
We talked about feeling like detectives, seeking the pieces out, especially when they change the floor numbering system, change the names of the galleries and move the works, even remove the works (like in room 12!). Lying on the floor…
"Of course you expect your enemy to keep moving the target"
When we couldn't find things, we wondered how Tate were thinking about the alternative tour. Whether it was registering, affecting their hanging policies.
"What will they do without BP's money?"
We talked about how industries or companies become stigmatised… and how Platform thinks BP needs Tate much more than Tate needs BP. it's not a huge amount of money (see below). How Tate as a global brand is supremely positioned to fill the gap in funding with another sponsor. But how it is implicated because its chair of Trustees is the ex-CEO of BP [Lord John Browne].
"The [narrator's] voice… it was the official voice I would expect, but then it would be subversive – 'Get your arse back down….'. I really liked it. Playful but serious."
We talked about the uses of imitating a standard format but subverting it.
"Going up and down the escalators twice, I thought, why am I listening to her? Why am I obeying? But it was fun."
We talked about how audio tours tell you what to do and mostly we don't question that. But this unofficial tour made us ask that question.
"It was interesting listening to the Tate a Tate tour knowing someone else next to you was listening to the official Tate audio. It was odd, weird, but productive. It was good to hear that side of the story. Hearing all the stuff behind it. You usually read the label, hear what they want you to know."
"I had seen one piece before, but hearing the alternative audio, I felt completely different. It wasn't slating the artwork. It was talking about the bigger picture. The tour brings it all alive – plus the sounds, like singing, clapping."
"Powerful moments? Standing on the top floor. It made us remember. We were told to 'Look outside' [it overlooked the financial district of the City of London). It hits you, and then going back in the big turbine hall space." "On the top floor, it was interesting to be among all the really posh people having drinks and coffee."
We talked about the fact that Tate à Tate tour was more about Tate than the works we were standing in front of. The works were the way in.
"I was moved – standing in the room with the hanging pipes, listening to people talking about getting ill, asthma, cancer…terrible things. What I was being told at the time affected how I looked at the piece" (Marisa Merz, Living Sculpture, 1966)
"But it fell short. It felt like 'We're going to talk about oil's impacts so we'll stand in front of things that look like pipes'. That wasn't what the artist intended. I didn't think that worked"
We talked about whether what the artist intended was separable from what the viewer brings to the piece, that the viewer completes the meaning of the piece. How all labels, information panels, and audio tours frame up what the work in very particular ways. When Tate Modern opened it stirred up the art world by taking a thematic approach – putting works from different eras into the same gallery because curators had decided that they had themes in common. The alternative audio tour is also thematic, but made according to themes selected from outside the institution.
"All the artists chosen seemed to have an environmental consciousness. Tate Modern itself seems to say 'Art heals – look, a converted power station that once ran on coal is now a gallery'. Yet it's taking money from BP!"
We talked about institutional contradictions.
"I don't do audio, I don't like listening. I'm a visual person. I find it uncomfortable having someone speaking in my ears" "I like audio – seeing and hearing. Looking at Beuys' work with audio. Saw it differently."
We talked about different media working for different people.
"I got angry with Serota [Tate's Director] . How could anyone take money from BP? It spoke to me. I started questioning it all." "I didn't realise BP was connected to Tate until I did this course."
We talked about the significance of knowing about financial underpinning. Talked about Tate itself being founded in the 19th century on sugar money from enslaved labour.
We talked about Liberate Tate's actions and aesthetics. The discussion about whether to have female nude figures in the 'Human Cost' piece. The decision not to. The tactics behind 'The Gift' piece of the turbine blade being given to Tate. The tactics of using Freedom of Information requests, and the redacted letters and documents you get back. The importance of research.
Comment: "You want to force your opponent into a situation they can't get out of"
"Should Tate give up BP's sponsorship?" Agreement. Then onto discussion of Natural History Museum, Southbank Centre and Shell, Science Museum etc. Spoke about 'managed retreat', that Platform's position is that society needs to stop being dependent on oil and that all sectors need to play their part in this retreat.
Parting questions (provoked by huge new extension being built on top of Tanks at Tate Modern)
"Is art always good for you? Can there be too much art?"
"What will we do if BP want to sponsor the NHS??"