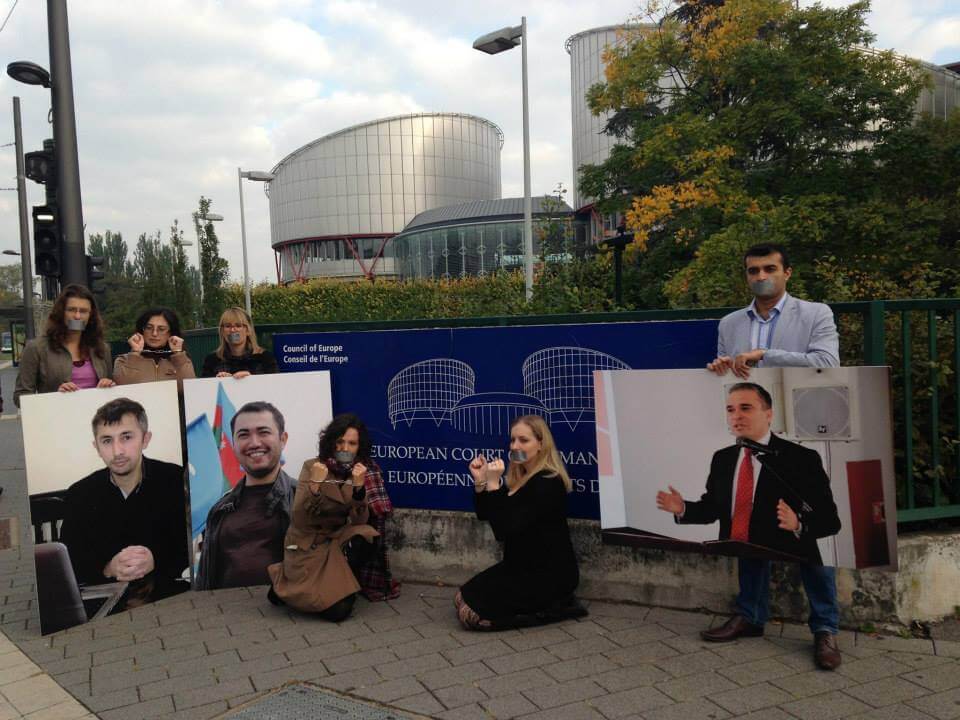 This morning, I knelt handcuffed and gagged outside the European Court of Human Rights, alongside a picture of Rashadat Akhundov, a 29 year-old Azerbaijani activist with the N!DA civic movement who has been detained since March. Akhundov was initially arrested on politically motivated charges of weapon possession, but now faces more serious charges of inciting violent protest, which could land him in jail for up to 12 years.
Since he has been in detention, Akhundov's wife gave birth to the couple's first child, a son called Araz. The boy is now five months old, and has never met his father. His wife, Turkan Huseynova, has been left to parent alone. Then tragically, nearly three weeks ago, Akhundov's 74 year-old grandfather, Anayat Akhundov, who raised him like a father, died in hospital after slashing his wrists when he learned that more serious charges had been filed against his grandson.
Akhundov is one of Azerbaijan's 142 political prisoners, one of 142 people unjustly deprived of his liberty for daring to oppose an increasingly authoritarian regime. His wife and son are among the 142 Azerbaijani families struggling on without their loved ones, many living in conditions of economic hardship after losing a wage-earner, and frustrated by their inability to achieve justice.
Meanwhile, in Europe, a similar number of politicians – 145 to be precise – are living on their own terms, free to enjoy their lives and see their families every day; 145 politicians whose decisions made from their comfortable seats in Strasbourg on a brisk day in January directly impacted the fate of these 142 people in Azerbaijan.
On 23 January, 125 of these politicians voted against a key resolution of the Parliamentary Assembly of the Council of Europe (PACE) on "The follow-up to the issue of political prisoners in Azerbaijan" – among them UK PACE delegates James Clappison; Alexander Scrymgeour, The Earl of Dundee; Baroness Diana Eccles; Cheryl Gillan; Mike Hancock; Robert Neill; Robert Walter; and Dame Angela Watkinson. Twenty others abstained from voting. With only 79 votes in favour, the resolution was defeated, and the hopes of a population dashed.
Now I am back in Strasbourg, where it has been eight months since the Azerbaijani delegation celebrated a victory that the authorities clearly interpreted as carte blanche to continue conducting politically motivated arrests. Together with a group of representatives of the Baku-based Human Rights Club and Institute for Reporters' Freedom and Safety, as well as International Media Support, Platform London, the Polish Helsinki Foundation for Human Rights and Open Society Foundations. I am calling for renewed attention by PACE to the situation of political prisoners in Azerbaijan. We are urging this body to right its previous wrong, by taking steps now to address the ever-worsening human rights situation in the country.
These 142 cases of political prisoners are outlined in a list released today by the Human Rights Club, which includes journalists, bloggers, human rights defenders, civic and political activists, and religious followers, many of whom were arrested in connection with exercising their fundamental rights to freedom of expression, assembly, and association. This pattern of politically motivated arrests shows a regime that is intent on silencing all forms of criticism and dissent, which seems to have taken on a particular urgency in the run-up to Azerbaijan's 9 October presidential election.
Despite these extensive human rights violations, Azerbaijan is set to take Chairmanship of the Council of Europe's Committee of Ministers – the organisation's decision-making body – from May to December 2014. In an ironic twist of fate, Azerbaijan will be in a position of leadership at the Council of Europe at a period when its implementation of its Council of Europe obligations is at an all-time low.
PACE must take action to hold Azerbaijan accountable for its Council of Europe obligations, including by calling for the immediate release of all of the country's political prisoners. To that end, a new rapporteur should be appointed without delay to examine the situation, and Azerbaijan should be held accountable for cooperating with that mandate – unlike with the previous mandate-holder, Christoph Strässer. If the Council of Europe is to continue to function as an institution that promotes and protects human rights, these issues must be addressed as a matter of urgency.
Otherwise, perhaps the head of the Azerbaijani PACE delegation, Samad Seyidov was right in his remarks towards the end of the contentious debate in January: "I am completely against the approach it takes to Azerbaijan, but I will still be a member of the Assembly because this is not Mr Strässer's Council of Europe; it is my Council of Europe, just as it is my Azerbaijan, as it will be for ever".
And whilst European politicians take their time determining just whose body the Council of Europe is and what purpose it should serve, the political prisoner situation in Azerbaijan – and indeed the broader human rights environment in the country – is likely to continue to worsen. Unfairly, prisoners like Rashadat Akhundov and their families will be the ones who are forced to pay the price.
Rebecca Vincent is the Advocacy Director of the Baku-based Human Rights Club. She writes regularly on human rights issues in Azerbaijan for outlets including Al Jazeera English, Radio Free Europe/Radio Liberty's Azerbaijani service, and the Foreign Policy Centre, where she is a Research Associate. You can follow her on twitter here.